Portfolio Company CEOs Are Focused on DEI, but Lack a Clear Path Forward
Dan Hawkins, founder & CEO of Summit Leadership Partners, highlights the gap in talent diversity strategy, despite a rise in prioritization of DE&I initiatives.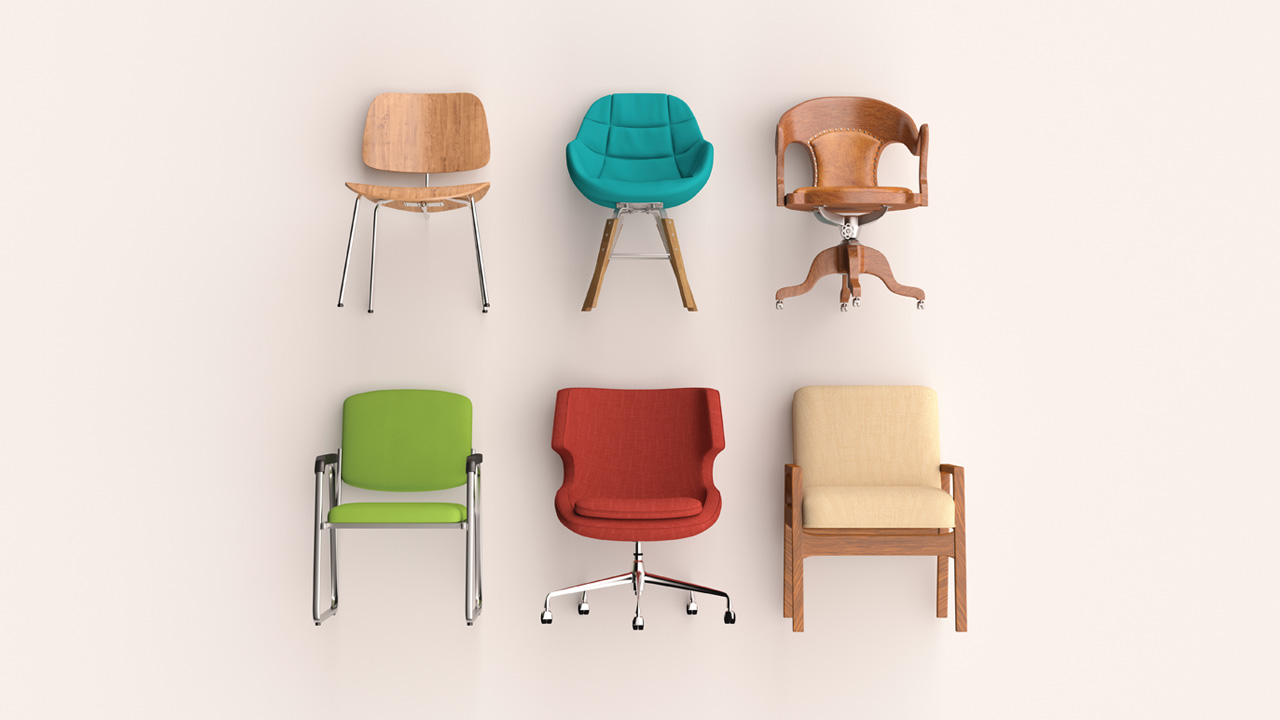 Private equity firms have typically lagged when hiring and retaining a diverse talent pool, particularly in senior-ranking positions, but that is changing as leaders within the private equity space are making diversity, equity and inclusion a focus area.
Private equity companies are performance-driven environments that would benefit from the improved financial returns associated with a more diverse workforce. Yet, despite the desire to increase DEI, many corporate leaders are struggling with implementing and executing DEI initiatives.
---
This section of the report originally appeared in Middle Market Executive's Winter 2022 issue. Read the full story in the archive.
---
A recent survey by Summit Leadership Partners found that most portfolio company CEOs—95%—said DEI is a focus area for their company over the next one to two years. However, roughly 2 in 5 CEOs admitted they lack a formal strategy for DEI efforts. One-quarter of respondents reported that although they have a formal strategy, they have not moved forward with objectives yet.
These responses reveal a significant gap in talent diversity efforts, indicating management teams lack the tools they need to increase diversity. Overall, 83% of portfolio company CEOs do not feel their company is on the right path for meeting their talent goals, according to the survey.
Specific to DEI, CEOs reported challenges in several areas. Just over half said they are experiencing difficulties finding and retaining top diversified talent. Additionally, 38% said management teams lack the support and capabilities to lead DEI, and 37% reported that diverse talent is not historically represented in their industry. Interestingly, 36% of respondents said they have contrasting views with the private equity board on how to increase DEI.
DEI concerns can vary by industry. For example, 50% of healthcare companies consider management team sup- port/capabilities a challenge in carrying out DEI efforts compared to 30% of manufacturing companies and 28% of tech companies. Manufacturing companies consider the return on investment of DEI initiatives as a more significant challenge in carrying out DEI efforts than healthcare companies.
Despite the reported challenges, companies are investing in several strategies over the next one to two years to improve their DEI efforts.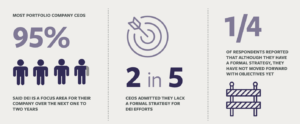 Most portfolio company CEOs who took part in the survey—91%—said they are changing their efforts to attract, develop and retain talent over the next one to two years. Just over one-third—35%—said they are increasing their current efforts, while 22% said they are completely reimagining their efforts.
With guidance from the top, the DEI push will begin at the ground level. CEOs reported that their top strategies to improve DEI include changing company culture to be more inclusive, focusing on efforts on diverse recruiting, and measuring and tracking diversity metrics.
Companies are moving away from the diversity training they embraced as the first line of action in the past. Implementing specific DEI training ranked fifth on the list of strategies to improve DEI, revealing a change in traditional thinking where attending a class was the initial approach.
Increasingly, there is a greater emphasis on preparing leaders first, then hiring diverse talent, which is a more productive approach. Leaders have a greater influence on attracting diverse talent and making people want to be there. Summit Leadership Partners has found that leadership behaviors and setting the tone for the organization are far more impactful than diversity initiatives, training or posters on the wall.
Increasingly, there is a greater emphasis on preparing leaders first, then hiring diverse talent, which is a more productive approach. Leaders have a greater influence on attracting diverse talent and making people want to be there.
Diversity initiatives contribute to culture, which is one of the top reasons employees either stay with or leave a position. It is critical to lead from the front regarding diversity and inclusion and create a fearless and open organization where people can be themselves. It is also important for CEOs to be vulnerable and open to new learning opportunities.
Talent is central to value creation plans, and the pandemic has driven home the point that business performance is increasingly dependent upon talent. That is evident as CEO pay is increasingly tied to diversity goals in the public sector. Consider that 33% of S&P 500 companies now use a diversity measure in compensation or mention diversity in explaining executive pay.
Corporate diversity has become a sustainability metric used in setting executive pay as companies look to increase the share of women and minorities in their workforces. Plus, limited partners are increasingly asking private equity investors what they are doing around environmental, social and governance, and, more specifically, diversity and inclusion.
It is clear that CEOs will need to focus on DEI efforts to create more equitable and inclusive workspaces, attract better talent and improve financial outperformance. For companies to achieve their full potential, investors and leaders will have to invest in the human capital along with the short- and long-term talent management practices that will bring the vision to life.
Dan Hawkins is the CEO and founder of Summit Leadership Partners. He advises boards, CEOs, investors and business leaders on strategy execution and value creation through leadership and organization performance.