Dissecting Go-to-Market Strategy
Bain & Company Expert Partner Kunal Mehta on fine-tuning go-to-market expertise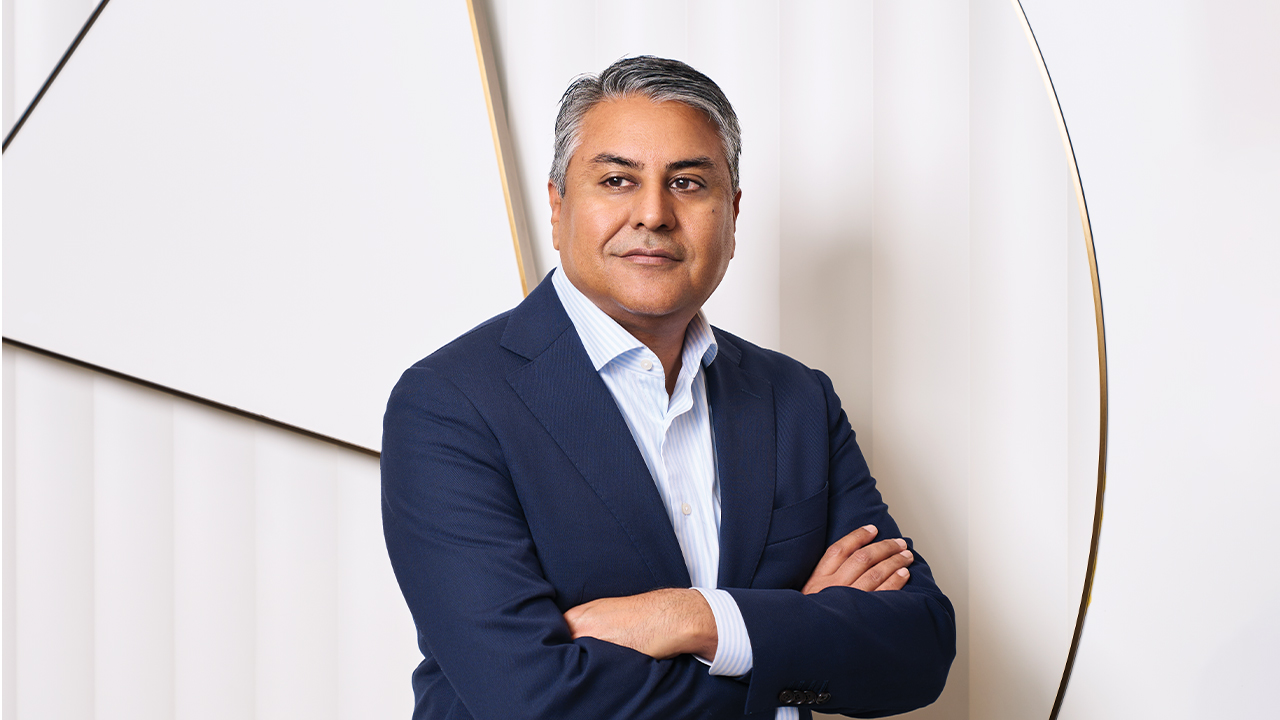 Kunal Mehta learned the hard way that he can't handle seeing lots of blood—a discovery that changed the path of his life.
As an undergraduate majoring in zoology at Washington, D.C.'s George Washington University, Mehta planned to go on to medical school and a career as a physician.
But once the hands-on portion of his undergrad courses started, he began passing out at the sight of blood. Mehta quickly realized he was pursuing the wrong profession. Fortunately, he had double majored, with a second degree in economics.
---
This section of the report originally appeared in the Middle Market Executive Summer 2023 edition.
Photography by Noah Willman.
---
"I was going down the wrong path right out of the gate. … When I saw it all firsthand, and I just couldn't cope, I thought, 'This is not going to work,'" says Mehta, who followed up his undergraduate degrees with a Master of Health Science in health policy and finance from the Johns Hopkins Bloomberg School of Public Health. During a brief stint in public health, exposure to the software industry once again changed the trajectory of his career. "I met a lot of really cool software people and I thought, 'I think I want to spend the rest of my life in software,'" says Mehta.
He went on to earn an MBA with a computer science concentration from The George Washington University School of Business, which launched him into a career that has largely centered around revenue operations, marketing and sales management.
Analyzing the GTM Function
Having begun his career as a consultant at Peregrine Systems, Mehta went on to hold a variety of roles within the marketing and sales arena for companies including HP, cloud computing company VMware and Infoblox, among others.
Today, Mehta is a partner in B2B commercial excellence at Bain & Company. Working primarily with sponsor-backed companies, he focuses on their go-to-market (GTM) strategies. He analyzes companies' approaches to reaching target customers and establishing an edge over competitors—largely by identifying and addressing inefficiencies within their sales and marketing plans. He jokes that he is probably "the only person in software with a zoology degree." Mehta has essentially built a career around dissection, replacing animal specimens with the GTM plans of burgeoning companies.

"Many companies spend a lot on sales and marketing, but they don't get the impact that they should," Mehta says.
One of the biggest mistakes that Mehta believes sales and marketing professionals make is failing to dig into the nitty-gritty of their pipelines. Beyond just looking at whether salespeople are hitting their targets, he says executives should focus on cross-selling opportunities, the value customers derive from products they buy, and whether sales and marketing teams are equipped with adequate resources. He likens his role to the monitoring devices that auto insurance companies install in people's cars to rate their driving habits and reward good drivers with discounts. "What I do is equip sales teams in a way that drives outcomes," he says. "We're seeing patterns of what's working and not working, so we can optimize and drive efficiencies."
When it comes to driving outcomes, people who have worked with Mehta characterize him as one of the most skilled and competent individuals in the business. "He's very strong at operationalizing. People come up with plans, ideas and roadmaps, and they know that he's going to roll them out, manage them and pull all the departments, people and bits together to make things start working," says Catherine Schalk, president and self-proclaimed "chief thinking officer" of sales enablement agency Inkwazi Kommunications. She worked with Mehta in the mid-2000s at Hewlett-Packard, where the pair ran the technology company's enablement operations.
Related content: Prioritize Marketing After the Deal Is Done
Schalk adds that one of Mehta's best attributes is his ability to perform well in stressful situations and to always remain calm. He has an amazing capacity to keep multiple balls in the air at once and still track the detailed minutiae of each one, she notes.
Making Connections
Nina McIntyre was the chief marketing officer of software company ETQ and was already leading a well-oiled, productive marketing team when her path first crossed with Mehta's in late 2019. Despite her team's success, after ETQ was acquired by TCV (Technology Crossover Ventures), she was asked to meet with Mehta to discuss areas for improvement—a request that felt disconcerting at the time. But McIntyre was pleasantly surprised by Mehta, whose sincerity almost immediately put her at ease. "He was a very good listener and built a lot of trust in me," she recalls.
In early 2020, just months before the pandemic hit, McIntyre assumed the additional responsibility of ETQ's inside sales. McIntyre went to Mehta for advice and he introduced her to The Pipeline Group, a provider of go-to-market services, which had a material impact on ETQ's business.
Mehta's collaborative approach and big-picture thinking is exactly what drove another former colleague, Susan Scutt, to recruit him to TCV when she was hired by the PE firm to help bolster its portfolio operations.
Having previously worked with Mehta when she was at Vista Equity Partners and he was in charge of enablement and education programs in the areas of sales, presales, professional services and customers at Infoblox, Scutt reached out to him for help with identifying the biggest needs and challenges of the companies her firm was looking at acquiring. "The deal team thought the problem was X. He came in and was like, 'Yes, that's an opportunity, but the biggest challenge is lack of marketing and that their marketing funnel isn't fully functional,'" remembers Scutt, who is now a managing director at Partners Group. "He's got an ability to look through all kinds of data, people, etc. and really suss out what needs to happen to incite growth within a company."
He's got an ability to look through all kinds of data, people, etc. and really suss out what needs to happen to incite growth within a company.

Susan Scutt

Partners Group
Navigating Through Storms
Mehta's keen eye for assessing challenges and devising solutions is especially relevant in today's environment. While volatility and fears of a looming recession are forcing middle-market PE firms and portfolio companies to batten down the hatches by cutting costs and focusing on near-term goals, he is quick to note that growth remains a strong possibility even in a downturn. "During a recession it's important for a company to invest strategically and get rid of all the 'nice to haves,'" he says.
Companies should focus on the two or three things that will help them grow market share, retain customers, enter a new market or buy out a weaker competitor. "There are lots of ways to skin a cat if you optimize your ability to do that," he says. "You can't save your way to success—you still have to spend on growth opportunities."
He believes many organizations are struggling to adapt to the post-COVID environment and some of the long-term changes the pandemic brought about. "The tailwinds of COVID-led growth have ended, and that is visible in companies' valuations right now," says Mehta.
Despite lower valuations, Mehta thinks most companies are not looking to sell immediately and are instead hunkering down to avoid raising capital through a down market. Since belt-tightening won't be enough to get through the downturn, there will come a point where organizations not growing fast enough will be forced to seek out partners or sell, although that hasn't happened yet. "As valuations went down, so did deals and deal flow," says Mehta. "Right now, I find that deal teams are spending a lot more time with their portfolio companies and digging in there."
Not surprisingly, after the recent collapses of Silicon Valley Bank and Signature Bank, diversifying banking relationships became a top priority for middle-market PE firms. "For a couple of weeks, it was the only thing people could think about, and it took up incredible mindshare for people to make sure they were mitigating any risks within banking relationships," says Mehta.
But the biggest challenge he believes middle-market organizations currently face is attracting talent, a problem that was exacerbated by the so-called Great Resignation, which saw many people leave the job market during the COVID-19 pandemic.
Related content: Embracing Innovation in Business Development
Middle-market companies seeking to recruit experienced candidates face an automatic disadvantage to larger peers that can pay more and provide better perks and benefits. And attracting talent is only half the challenge, with retention proving equally difficult for midsize organizations. To hold on to key employees, particularly star sales representatives, Mehta says PE firms should tailor retention strategies to individuals based on what's valuable to them: bonuses, stock options, coaching programs or something else.
Although virtual work has been used by some companies as a perk and allows employers to cast a broader net in recruitment efforts, Mehta thinks remote arrangements have hurt go-to-market strategies by increasing the time needed to get new sales representatives up to speed. "You have a certain number of months in mind where you expect a new sales rep will ramp up. That number has gone way up in terms of getting a rep productive since COVID because they are not learning from their peers," he says.
A Humble Presence
Affecting meaningful improvements for clients' go-to-market strategies hinges not just on sharp analysis; it also requires the right bedside manner.
Cherif Sleiman, chief revenue officer at Property Finder Group, who worked with Mehta at Infoblox, says there are three main dimensions of his former colleague: conscientious leadership, a capacity for structured thinking and process orientation, and executive presence.
"He's so humble that you wouldn't think of him as this sort of power guy who is so structured and process oriented," Sleiman says. "Then, all of a sudden, you see this out-of-the-box thinking with lots of analytical abilities, problem-solving skills and structured thinking, along with the ability to establish relationships and alliances with any kind of vendor to help problem-solve." Mehta has the rare ability to maintain a calm composure in any executive setting and to give people the feeling that he is on their side, Sleiman adds.
Mehta's affable nature is something that resonates with bosses and employees, too. Jagadeep HG, an instructor architect at Informatica, credits Mehta with helping him develop key skills in his own career. "He is quite compassionate and someone who allows you to work independently, and he believed in my capabilities," says HG, noting that Mehta gave him the opportunity to run a couple of projects on his own. "When he believes in someone, they will deliver for him. A lot of managers don't have that ability and will just take things on themselves."
Mehta's approach to people, analysis and problem-solving has worked out well for him throughout his career across a range of organizations.
"I thought the industry of software and technology would largely be a snowflake, with problems unique to just that area," he says. "But what I've learned since is that many industries have similar issues, so experiences from operating partners can be applied across the board. This includes how you organize your teams and efforts, go to market and how to integrate activities so everyone is aligned around a common goal."
Britt Erica Tunick is an award-winning journalist with extensive experience writing about the financial industry and alternative investing.
Middle Market Growth is produced by the Association for Corporate Growth. To learn more about the organization and how to become a member, visit www.acg.org.