The Great Resignation in the Middle Market
To combat the Great Resignation in the middle market, companies are introducing wellness programs, higher wages and new hiring tools.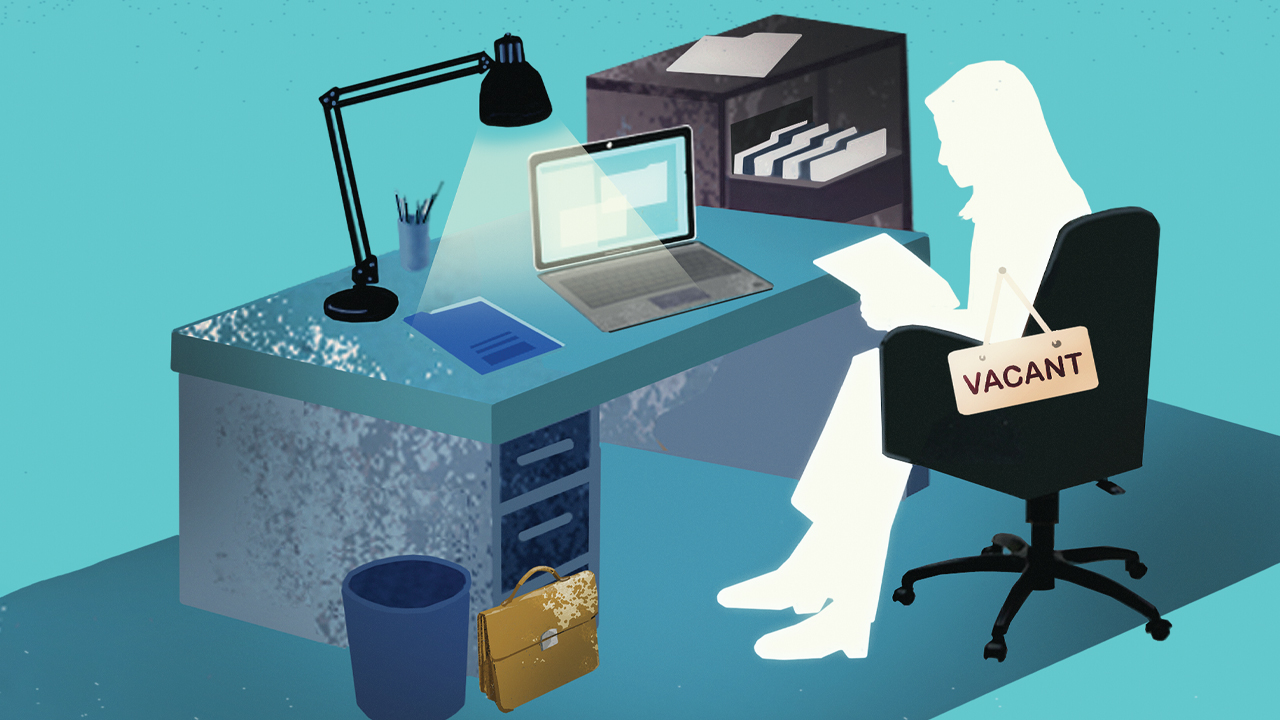 This story originally appeared in Middle Market Growth's 2022 Guide to Dealmaking. This section of the report is sponsored by Globalization Partners and was illustrated by Eva Vazquez. Read the full report in the archive. 
---
The private equity industry is busier than ever and there aren't any signs of it slowing down in the near future. U.S. private equity dealmaking notched a record deal value through Q3 2021 and everyone agrees that the end of the year and at least the beginning of 2022 will be just as busy.
According to Pitchbook Data, U.S. private equity dealmaking closed 6,004 deals for $787.6 billion from January 2021 through the end of the third quarter. Deal count and value totals for 2021 are already above the highest-ever full-year numbers. The U.S. is entering 2022 with a backlog of deals that will likely keep things hopping for a while longer.
The frenetic pace is exhausting employees at private equity firms and portfolio companies alike. Between the great resignation that we've all heard so much about and burnout, U.S. companies are contending with the tightest labor market ever. To deal with the issue of burnout, which could eventually lead to quitting, some firms have demanded staff take paid time off. The Carlyle Group is one of them. In fact, Carlyle is promoting employee wellness with a $750 annual well-being stipend and gave all employees worldwide a week off in the summer. Companies such as Bumble and Nike also gave employees paid time off. Other businesses started initiatives like walking meetings to get people away from their screens and cubicles and no Zoom on Fridays to help mitigate videoconferencing fatigue.
We've never been busier with hiring. We are growing and so are our portfolio companies. We're hiring everyone from associate level professionals to principals.

Lisa Knapp

Talent Manager, NewSpring
Firms hope that helping employees cope with burnout will not only stem the tide of the great resignation, but also lead to better productivity. The World Health Organization pegs the ROI from strategies that focus on mental health at $4 in greater productivity and improved health for every $1 invested. Additionally, there is increasing evidence suggesting that the likelihood of a job change increases substantially following traumatic experiences like the COVID-19 pandemic.
"The world is feeling burnt out. Every stage of COVID affected us. We work in a demanding industry that hasn't slowed down, and in fact, has accelerated. We need to get creative with ways to encourage people to take care of themselves to find what works for them and what boundaries they need from their professional lives," says Lisa Knapp, talent manager at NewSpring, a private equity firm with a variety of different strategies. "People are fatigued and need downtime."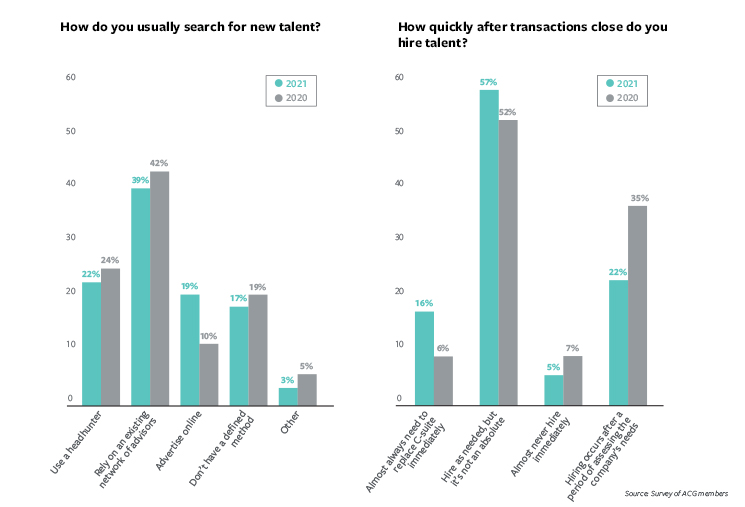 Employee exhaustion, coupled with people making employment changes, has made the search for talent all the more difficult. A record 4.4 million Americans quit their jobs in September. September's "quit" numbers constituted 3% of the workforce, according to the Bureau of Labor Statistics. That number is up from the previous record set in August, when 4.3 million people quit their job— about 2.9% of the workforce.
Private equity firms and their portfolio companies are feeling the impacts of the tight labor market. In fact, 37% of dealmakers say they are looking to hire C-suite employees right now. That is followed by managers and senior leads, according to a recent survey conducted by ACG and sponsored by Globalization Partners1, a company that helps businesses hire globally.
Adam Miller, a founder and managing partner with HYGGE Capital Partners, says that this is in line with what he is seeing in his business. HYGGE is a dedicated human capital management consulting firm that works with The Riverside Company and other private equity sponsors. "Firms are raising more funds and doing more deals and there is a lot of movement with talent. There is also a great deal of back filling happening in addition to growth and expansion," he says.
The proof is in the numbers: 30% of survey respondents say they have had to hire more talent since the start of COVID. Although that figure is not huge, it's up from 6.88% from the year before, which is a significant increase.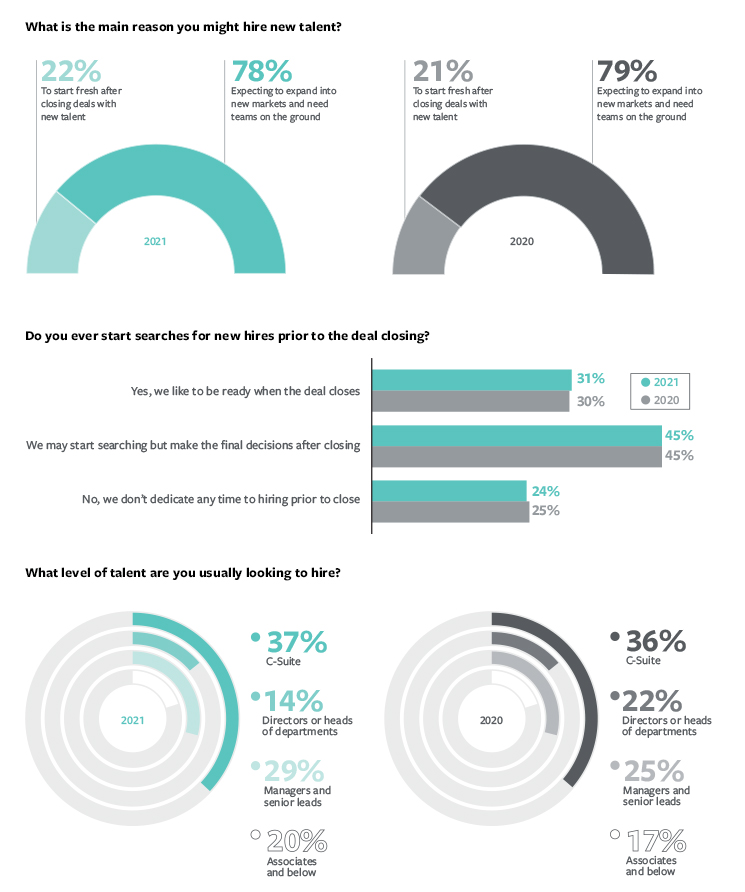 Lower paying jobs are experiencing higher churn rates today. According to a CNBC|Momentive workforce survey completed in the fourth quarter of 2021, exactly half of U.S. workers describe their companies as being understaffed, and these workers are more likely to say they have recently considered quitting. Respondents say higher wages for new hires are a must in the current job market, but existing workers will also need to see pay raises as the starting point for sticking around, and many are expecting a pay bump in 2022, according to the survey.
Sandra Grinker, a principal with AEA Investors, says COVID impacted people's professional work choices. For example, if you look at geographic locations with distribution center-type jobs, they are usually located near other distribution facilities. "Many industries are seeing intense competition for talent. Even doing things like offering employees transportation, free breakfast, or $1 more an hour is meaningful and is fueling turnover in many types of jobs," says Grinker. "It's well publicized that people are reevaluating their lives since COVID and many have decided to make changes. People have changed careers, looked for different positions or decided to retire."
How firms are searching for talent has changed as well. In 2020, most firms relied on their network to find talent (42%), with only 10% using online methods. While most still rely on their networks, use of online methods has nearly doubled. In 2021, 19% of respondents said they are using online methods to advertise for openings while fewer are using headhunters.
"Digitization and automation of human resource operations is driving innovation. Advances in the latest technologies, such as AI and predictive analytics, are facilitating the integration of human resource management solutions with analytics. The industry has a strong emphasis surrounding attracting the right pool of candidates, retaining human capital and performance management. Startups are developing solutions to address remote workforces, promote corporate culture, streamline and improve onboarding, benefits, collaboration, training and more," says Miller.
It's well publicized that people are reevaluating their lives since COVID and many have decided to make changes. People have changed careers, looked for different positions or decided to retire.

Sandra Grinker

Principal, AEA Investors
Technology in the human resources sector is indeed growing. According to Fortune Business Insights' report, "Human Resources Technology Market, 2021-2028," the global market size was $22 billion in 2020 and $24 billion in 2021. That is expected to grow to $36 billion in 2028.
In 2021, AEA used LinkedIn for select talent searches—something Grinker wouldn't have contemplated previously. "Up until recently, we only used headhunters. What we get from our headhunters is high quality, but lower volume, so by incorporating LinkedIn as a recruitment tool, we have increased and diversified our talent pool," says Grinker. Using LinkedIn increased the firm's flow of candidates and gave them access to people they may not have been aware of, which was great for diversity, equity and inclusion initiatives. Additionally, Grinker felt using technology during the hiring process is more helpful for certain positions. For example, technology-focused positions, like data scientists, are more likely to apply for jobs through technology platforms. "While I might not use a tool such as LinkedIn to source candidates for all of our positions, we have been pleasantly surprised by some of the leads obtained through tech-enabled recruiting platforms. It is definitely more time-consuming weeding through hundreds of candidate profiles online, however, the pool of talent is so tight right now that we all have to be a little creative, and for some positions online tools can work well," says Grinker.
As a result of the talent shortage, it seems firms are looking to hire more quickly than they have in the past. In 2020, only 6% of firms would hire C-suite positions immediately after closing a deal; that number has jumped to 16% in 2021. However, the timeline for when the actual hiring process begins does not seem to be changing. In 2021, 30% of respondents started searches for new hires prior to the deal closing. That was the same in 2020. Forty-five percent may start the search prior to the deal closing but make the final hiring decisions after the close. Only 25% do not dedicate time to hiring prior to close.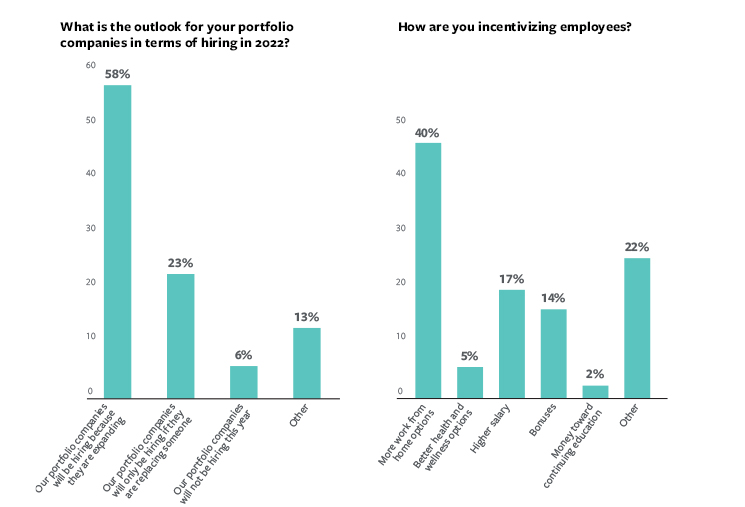 Going forward, hiring isn't expected to be easier as many firms are looking to expand in 2022. Almost 60% of survey respondents said their portfolio companies will be hiring in 2022 because they are expanding; that's up from 39% in 2020.
"We've never been busier with hiring. We are growing and so are our portfolio companies. We're hiring everyone from associate level professionals to principals," says Knapp.
In addition to expanding, companies are also increasing headcount in HR. "Companies are adding new positions like wellness directors and DE&I professionals to the rosters every day. The roles and titles vary depending on size and other factors, but overall, it's a great thing," says Miller.
In the private equity world, HR professionals are hoping that after bonuses are paid in January, they may see some relief in the search for talent. "More than ever, search firms are watching when the bonuses hit to see if people are happy or will be moving on," says Knapp.
Grinker says that industry-wide, firms are seeing an increase in pay to keep pace with the market. "There has been an uplift in base salaries for many positions already. It will be interesting to watch how across the industry, things look after the bonus cycle and when firms return to the office full time. A lot of firms are still hybrid and plan on a full return in January. At that point, there may be more movement," says Grinker.
Danielle Fugazy is a contributing editor for Middle Market Growth.