Craft Beer Offers Tricky Formula for Investors
A panel of Michigan-based brewers and industry experts discussed the M&A environment for craft beer at the Great Lakes ACG Capital Connection.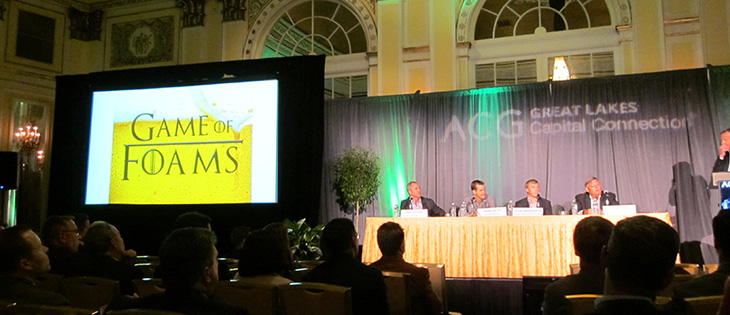 Determining the number of barrels a craft brewer must produce annually before it's mature enough to attract outside capital for expansion is tricky, according to industry experts.
"I think the magic number is 50,000 and up," said Mike Stevens, CEO and co-founder of Founders Brewing Co., a fast-growing Grand Rapids, Michigan, craft brewer. His business, among the leading craft brewers nationwide, is on track to produce 420,000 barrels this year, including favorites such as All Day IPA and the limited edition Harvest Ale.
Brewers of that size "have got the systems," he said, "but they need help."
With a volume north of 50,000 barrels, a brewery will have enough business chops to be scalable, having weathered expansion hurdles such as regional distribution and marketing. Failing to tackle those issues in a still-complicated and regionally segmented market leads to the inevitable demise of scores of craft brewers each year, despite a burgeoning industry that has attracted outside investors.
Craft beer now represents more than one-fifth of the overall U.S. beer market, having grown 10 percent in 2016 to $23.5 billion, according to the National Brewers Association, a trade group.
Hear Mike Stevens, CEO of Founders Brewing, discuss craft beer on the Middle Market Growth Conversations podcast.
Stevens, whose brewery is celebrating its 20th anniversary this year, knows a thing or two about building a cult following among beer enthusiasts. He spoke as part of a panel Wednesday at Great Lakes ACG Capital Connection, a multichapter ACG event held in the brewer's home city.
Hopping Deals
Longevity is no small feat for craft brewers; along with challenges to scalability, the overall beer market "is losing market share to wine and spirits," said Shawn Gary, who runs Alliance Beverage Distributing, a Michigan distributor. He spoke alongside Stevens during the panel session "M&A Trends in the Craft Brewing Industry."
Among the most difficult hurdles for outside investors is maintaining a strong culture that keeps enthusiasts, such as the longstanding followers of Founders, anticipating the brewers' next concoction.
"As a buyer, you've got to bring more than just money," Stevens said, noting Founders was able to accelerate growth through the sale of a minority interest to a strategic investor, Spanish brewer Mahou San Miguel. The deal was announced in December 2014.
Stevens added: "A lot of consumers don't know or care who owns who"; rather, they want to be part of an exclusive club and appreciate brewers' efforts to win their loyalty with well-honed products and experiences.
Inherent sensitivity to what is often characterized as "geek culture" in the industry is one reason that rollup strategies by strategic buyers are a good merger path, said Gary.
"The craft-on-craft acquisition makes a lot of sense," he said.
And who knows? With the right approach, noted Stevens, who says a craft brewer couldn't produce a beer that becomes as successful as those offered by industry behemoths Anheuser-Bush, MillerCoors or Pabst?
Said Stevens: "Why can't a craft brewer 30 years from now be the largest brewer in the country?"

Deborah L. Cohen is editor-in-chief of Middle Market Growth.