Riding the Solarcoaster
While solar power becomes increasingly common, not all companies in the industry are having their day in the sun.
This story originally appeared in the July/August 2020 print edition of Middle Market Growth magazine. Read the full issue in the archive.
---
Over the past 30 years, the solar energy industry has experienced so much unpredictability, it even has a name: the solarcoaster. It's never a boring ride, but this year has been particularly bumpy for some businesses.
Last year, the outlook for 2020 solar growth was sunny. In 2019, the U.S. installed 13.3 gigawatts of solar photovoltaic capacity, up 23% from the prior year. Solar installations accounted for 40% of all new electric generating capacity added to the grid in 2019—more than any other energy source and the highest share in the industry's history. Over the last 10 years, solar deployment has grown an average of 49% every year. And this year, the U.S. solar industry was on track to add nearly 50,000 more workers to the existing 250,000 jobs.
The coronavirus pandemic has upended those projections. The Solar Energy Industry Association (SEIA) estimates that the U.S. solar industry could lose up to half of its workforce this year. Eighty percent of respondents to a recent SEIA survey say that business is somewhat or severely reduced. The survey was administered between March 22 and May 18 and included 300 respondents, who collectively represent businesses that employ more than 46,000 people.
But the 2020 solarcoaster hasn't completely jumped the tracks. There are some bright spots for business. And a tale of two companies—both in the Midwest—shows how different customer segments within solar have the power to boost or bust revenue.
Dimming Outlook
Shelter-in-place restrictions and decreased business and consumer confidence immediately slowed commerce during the pandemic, and the renewable energy industry was no exception. The number of solar permits issued the week beginning March 30 was 32% lower than the first week of February.
For work already in progress, solar project managers suffered an array of pandemic-related headaches. "I spoke to some folks in Illinois who are talking about putting their construction crews in tents, because they're not sure they can stay in hotels," says Tim Powers, research and policy associate at Inovateus Solar. He's also heard from some solar companies that exercised force majeure clauses (related to events beyond human control) because challenges such as supply chain delays are pushing projects way behind schedule.
At a Glance: U.S. Solar Energy
Added Solar PV Capacity in 2019: 13.3 gigawatts
Solar's Share of New Electric Capacity Added in 2019: 40%
Annual Solar Deployment Growth Over Previous Decade: 49%
About 80% of solar panels come from abroad, mostly from Asia. A study from research firm Wood Mackenzie predicts that if every step of the supply chain and project development came to a complete halt for several weeks, the ongoing COVID-19 crisis could slow U.S. utility-scale solar projects into 2021.
Powers' company, Inovateus, focuses mainly on utility, municipal and commercial-industrial projects. It used to handle more residential work but has scaled that back in order to focus on larger projects, such as a 259,000-square-foot solar rooftop array it installed for an IKEA store in St. Louis.
"Electricity is essential. Even if everyone's working from home, they still use a lot of power, and utilities still have all these renewable goals to hit."

Tyler Kanczuzewski
Vice President of Marketing and Sustainability, Inovateus Solar
That shift away from residential work was fortuitous. Powers notes that residential business has plummeted industrywide. "They can't do door-to-door sales," he says. "And it's harder to practice social distancing on a residential rooftop, compared to a project the size of a 100- acre field."
Meanwhile, the federal solar tax credit is set to begin phasing out this year. That credit helped make solar energy more cost-competitive against other energy sources; it contributed to the industry's growth among both residential and commercial customers by lowering their federal tax bills. If the credit isn't extended, that could hurt residential sales even more.
In 2020, homeowners, businesses or utilities that install solar power systems can claim 26% of their project costs as a credit on their federal tax return, down from 30% in 2019. The credit is scheduled to drop further, to 22% in 2021, and then to 10% thereafter for commercial projects— and to 0% for residential.
The pandemic's impact on other customer segments has been mixed. School closings, for example, have created a double-edged sword for the solar industry, Powers notes. "When you have kids there every day, you have to practice pretty strict guidelines with construction. When no one's there, you can move ahead quicker," he says.
The downside: Any new school projects are likely to be delayed or put on hold until classes are back in session. Districts are focused on remote learning and plans to reopen safely. Installing solar panels isn't at the top of their to-do list.
Rays of Hope
Although Wood Mackenzie has downgraded its 2020 forecast for global solar energy installation by 18%, Inovateus hasn't experienced a decline of that magnitude. As of mid-June, its revenue hasn't been impacted negatively.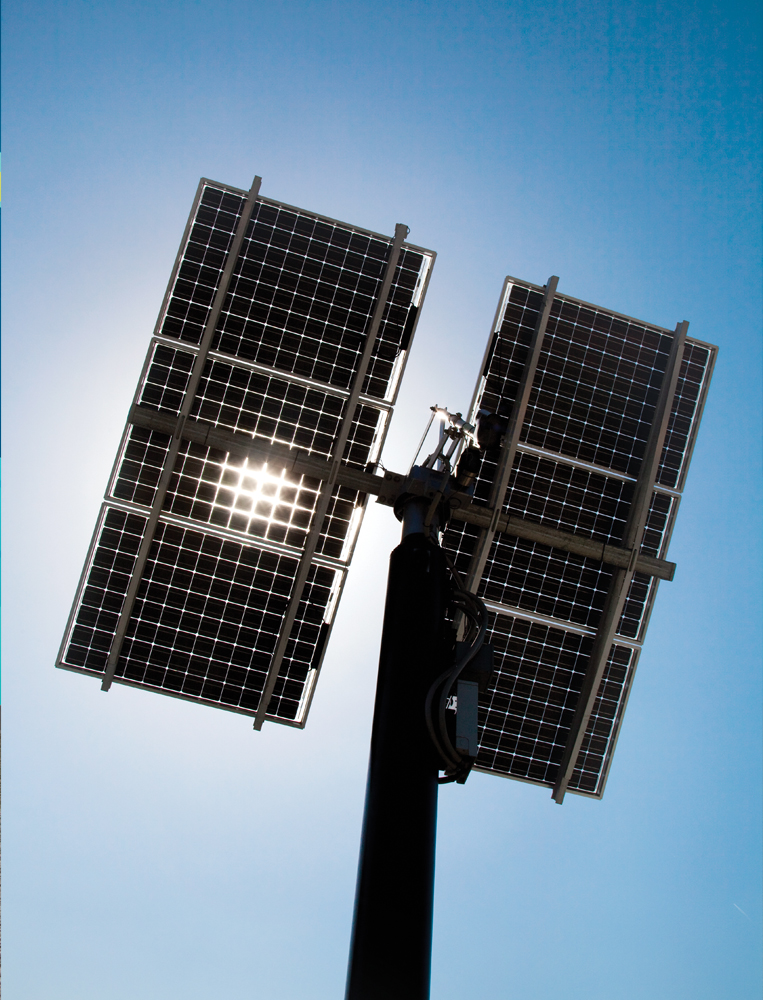 Based in South Bend, Indiana, the company has about 35 employees, and it isn't planning any furloughs or layoffs at press time, according to Tyler Kanczuzewski, Inovateus' vice president of marketing and sustainability. So far, the company has experienced only minor setbacks, such as a shipment of supplies coming from Italy that was delayed by a few weeks.
Yet Inovateus isn't entirely insulated from the pandemic's effects. Commercial-industrial clients are holding off on solar projects due to budget constraints, and remote work has hampered productivity—strategic brainstorming over Zoom can't match the energy of being with colleagues. Still, the company landed some deals during the pandemic that have bolstered confidence for the year ahead.
They include an 80-acre, 16-megawatt solar installation in Logansport, Indiana, for Logansport Municipal Utility. In late June, Inovateus announced it has begun construction on the plant, which is being financed by Alchemy Renewable Energy and will power the equivalent of about 3,700 homes.
At the end of July, Inovateus is slated to begin construction on a solar energy project for the University of Illinois. The development and long-term management of the project will be overseen by a joint venture formed by asset manager Capital Dynamics and solar finance and development firm Sol Systems.
Both projects represent sizable construction projects for Inovateus.
"For us, that's a really good chunk of business," Kanczuzewski says, adding that securing the projects would be notable in a "normal year." To land them in the midst of industry and economic turmoil is remarkable.
"It's a big commitment to lease your land to a solar developer for 25 or more years."

Tim Powers
Research and Policy Associate, Inovateus Solar
Inovateus' business with municipalities and utilities hasn't been impacted much by the pandemic. "Electricity is essential. Even if everyone's working from home, they still use a lot of power, and utilities still have all these renewable goals to hit," Kanczuzewski says.
According to SEIA, utilities held the largest share of photovoltaic capacity installed in the U.S. in 2019, representing 63% of all capacity installed during the year. (Also known as PV, photovoltaic systems convert sunlight to electricity using semiconductor materials.)
In the wake of the pandemic, Kanczuzewski says the company heard rumors about utilities putting solar plans on hold for 2020, but that has not been the case so far. "It doesn't mean it won't happen at some point," he says. "But we've responded to several [requests for proposal] in the last six weeks for utilities."
Social distancing rules might make large utility projects more challenging, however. These projects need lots of land, where hundreds of photovoltaic power-generating units are installed, and can require coordinating with dozens of landowners over hundreds of acres. Most reside in rural communities, with family property handed down through generations.
Landowners might still meet in person with company representatives—at a safe distance— but if not, Inovateus will need to win their trust via Zoom. "It's a big commitment to lease your land to a solar developer for 25 or more years," Powers says. "You want to ensure that you're working with a reliable, trustworthy company and that their partners are reliable and trustworthy."
The Pandemic's Burn
While this year's solarcoaster ride has created small bumps for Inovateus, it's been a gut-churning plunge for Rethink Electric, an electrical contractor based in Wood Dale, Illinois. The company does some miscellaneous electrical work, but 90% to 95% of its business is solar installation. About half of the company's work comes from commercial installations, while the other half is residential. Only about 10% of business development is done in-house— the rest comes from large developers who subcontract to Rethink Electric.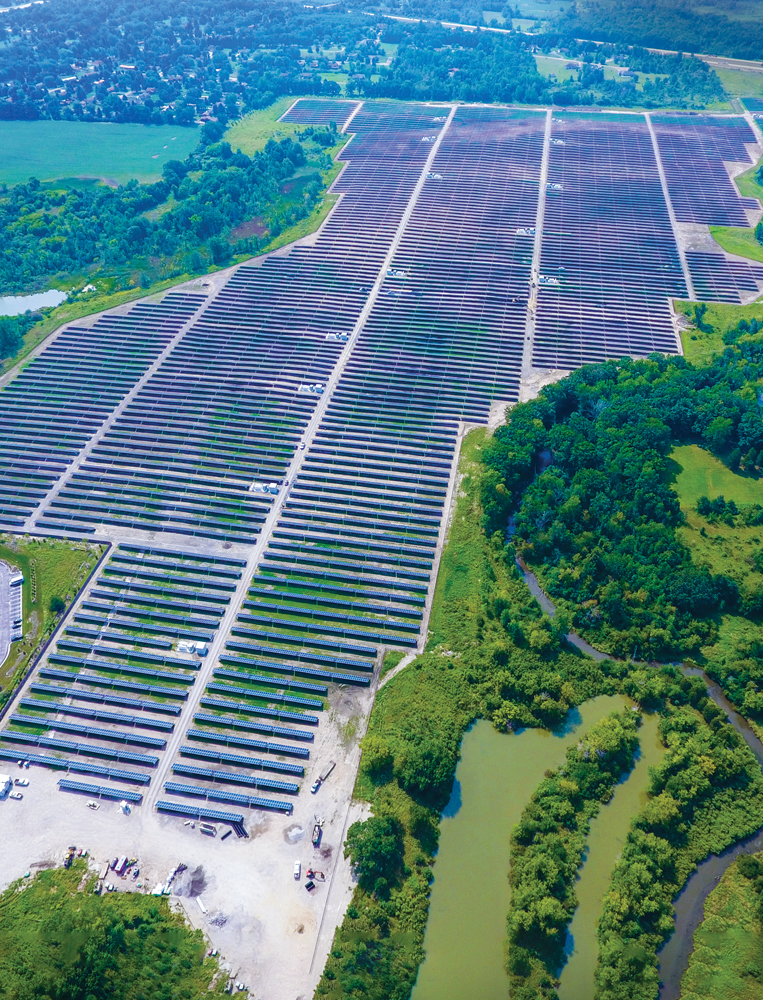 In January, the company had to furlough about 10% of workers. Mike Nicolosi, Rethink's president and owner, had already anticipated a slowdown in business, due to state-level solar energy tax incentives that were expiring. Then the pandemic hit, requiring a larger furlough.
For years, large residential solar developers have relied on door-to-door sales reps as their biggest source of business leads. After social distancing was implemented in many states, those leads disappeared overnight.
The decline in leads will spark a drop in volume of at least 50%, Nicolosi predicts. That in turn eliminates sales and installer positions.
At the start of the year, the company had 74 employees. By April, it had about 30.
Without additional solar incentives from the state, Nicolosi says Rethink won't be able to bring workers back, and it will likely need to cut more. "We'll still stay in business, but we'll be a much smaller shop," he says. "If the funding doesn't continue, we'll probably be down to 10 to 15 people."
"I think that the revenue coming in, if we get 50% of what we were planning this year, I would call it a successful year."

Mike Nicolosi
President and Owner, Rethink Electric
Doing business virtually has also hurt productivity. For the Illinois municipal projects his company is handling, Nicolosi says fewer than 5% of villages allow project approvals via email. Since in-person trips to city halls weren't possible for much of the spring, the company has to print and mail copies of project plans. "The administrative cost of doing things on paper … I mean, I can equate it to like six to eight administrative hours per project, just because they don't want to go to email."
Inspections have posed a challenge as well. Nicolosi says he knows of two towns that have allowed his employees to communicate with the inspector through FaceTime as they walked through the solar installation. Other local officials have said they won't proceed with final inspections until the stay-at-home order is lifted.
Although Illinois began slowly reopening its economy in late May, the damage to Rethink's cash flow was already underway. In construction, compensation comes after the final inspection, according to Nicolosi. "That means we're building projects without getting the final inspection, without getting paid, which is more money we have to float during this time," he says.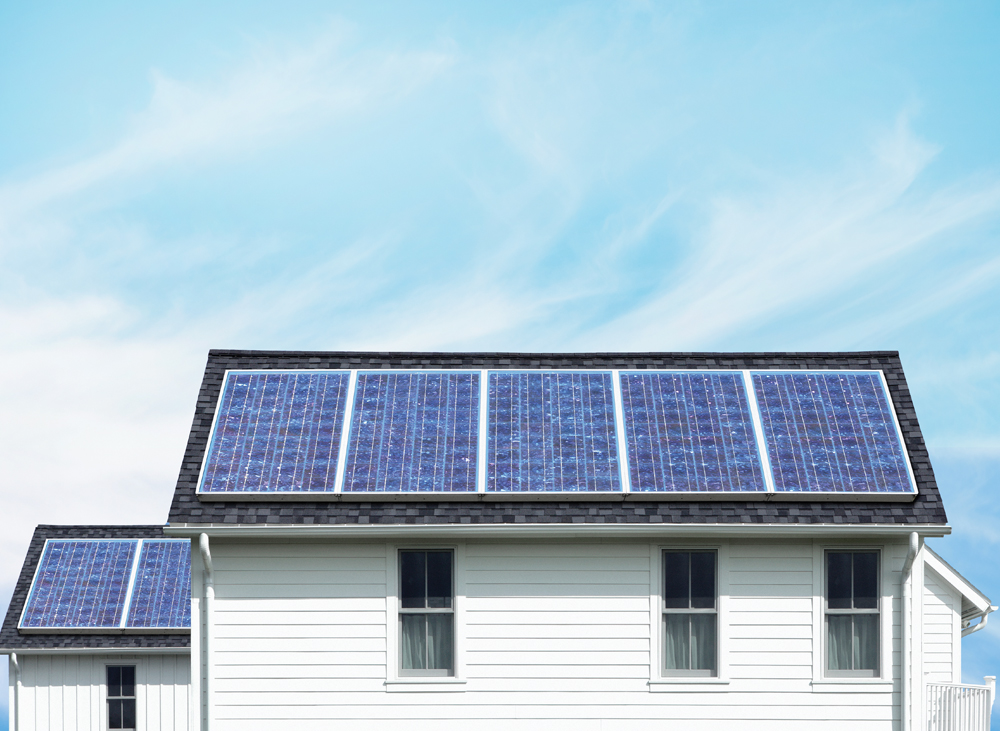 When Nicolosi did financial planning during the fourth quarter of 2019, he thought his projections for 2020 were conservative. The pandemic swiftly made those forecasts obsolete. "I think that the revenue coming in, if we get 50% of what we were planning this year, I would call it a successful year," Nicolosi says.
The Dawn of Clean Energy
The coronavirus has wreaked havoc for some solar providers, but underlying trends still suggest a bright future for alternative energy.
Twenty-four states have joined the U.S. Climate Alliance and aim to reduce greenhouse gas emissions by at least 26% to 28% below 2005 levels by 2025. Many of those states have instituted programs that involve solar energy installations, generating new projects for companies like Inovateus.
The industry has proven resilient, even in the face of headwinds. The Trump administration imposed tariffs on imported solar cells and panels in February 2018, prompting fears that the duties, known as Section 201 tariffs, would hurt the industry's growth. Yet in 2019, during the second year of tariffs, the U.S. solar market grew by 23%, according to a report by SEIA and Wood Mackenzie.
The pandemic has presented a new hurdle, but companies in the solar industry are using technology and new marketing strategies to adapt.
Publicly traded Sunrun, one of the country's largest solar companies serving the residential market, has employed drones, video conferencing and DocuSign electronic signatures to create a nearly contact-free process from sale to installation.
In the spring, the company introduced a promotions program. New Sunrun customers can now have rooftop solar panels and Sunrun's Brightbox home battery services for as little as $0 down and at a $1 monthly rate for the first six months.
California residents anticipate additional planned grid outages from utility PG&E to combat wildfires in summer and fall. That makes backup power appealing. In April, 60% of new Bay Area direct customers for Sunrun added battery storage to their solar packages.
NextEra Energy—a large publicly traded producer of solar and wind energy—is bullish on batteries. "We increasingly see storage as an important standalone business," said Jim Robo, chairman and CEO of NextEra, during the company's first-quarter 2020 earnings call. He added that NextEra's battery storage investments in 2021 are expected to exceed $1 billion. NextEra is also the parent company of Florida Power & Light, the state's largest electric utility, which has set a goal of installing 30 million solar panels by 2030.
Another sign of solar's staying power is the recent investment activity by large private equity firms and asset managers. In January, Blackrock invested $850 million in Altus Power America Inc., which provides solar energy to U.S. commercial, industrial and municipal clients. And in May, the Interior Department approved the Gemini Solar Project, a $1 billion installation—the largest in the country—which could power about 260,000 homes. Backed by private equity firm Quinbrook Infrastructure Partners and a unit of Berkshire Hathaway Inc. (NV Energy Inc.), the installation will sit on 7,000 acres of federal land and could employ up to 900 construction workers.
The display of investor interest likely comes as cold comfort for businesses like Rethink Electric, which the COVID-19 pandemic has thrust onto a rocky patch of the solarcoaster's track. Meanwhile, even businesses shielded from the worst impact of the coronavirus must contend with reduced tax credits and persistent tariffs.
Still, demand for alternative power continues to rise, while new installations contribute to solar energy's growing share of electric power capacity. Not every business will withstand the headwinds of COVID-19, but the solar energy industry overall looks poised for an upward trajectory— although not an entirely smooth ride.
S.A. Swanson is a business writer based in the Chicago area.
Riding the Solarcoaster | MMG July/August Cover Story