Merchants of Efficiency
After Suneera Madhani's employer ignored her idea for a new approach to payment processing, she left to start Fattmerchant, which is nearing its fourth year of 200% revenue growth.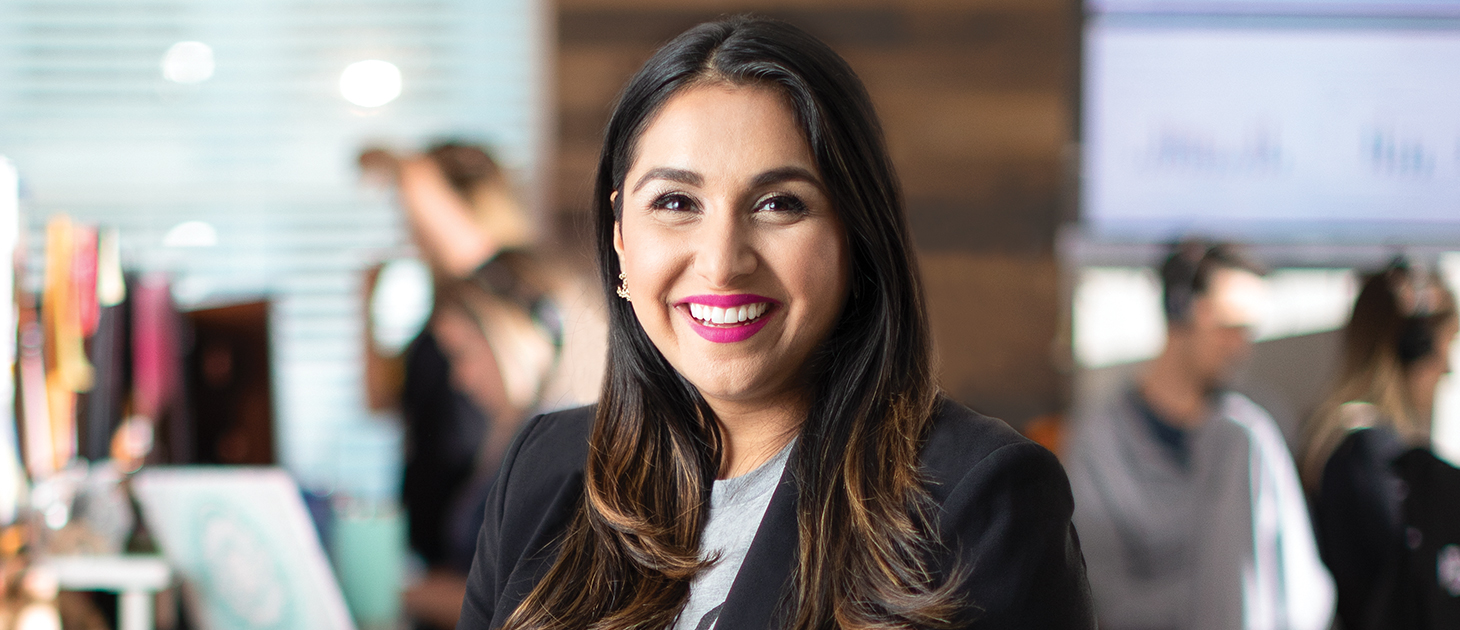 During the first few months after Fattmerchant launched, callers may have noticed something unusual: The company's CEO, sales representative and customer support rep had very similar voices. That's because they were all Suneera Madhani, Fattmerchant's founder.
When Fattmerchant consisted of just Madhani and two other employees, they each had three job titles and different names to go with them. "I was Sunny, I was Sadie, I was Suneera," she says. If Madhani was taking a call as the sales rep and someone asked to speak to the CEO, she'd put the caller on hold, wait a few seconds, and then pick up the phone again. "It's comical now," she says.
That backstage sleight-of-hand—creating nine employees out of three—was the only illusion Madhani wanted her customers to experience. She founded Fattmerchant to bring more transparency to the merchant services industry. Also known as payment processors, these companies allow businesses to accept customer payments through credit, debit or other electronic transactions.
While working for another payment processing company, Madhani heard from business owners who were confused about processing costs and frustrated by long-term contracts. That prompted her to think about a different approach—a subscription-based service with a flat monthly fee and no penalties for canceling. This unconventional model would underpin the company she would later found.
FATTMERCHANT
Business: Flat-rate, subscription- based payment processing services, plus data analytics
Customers: Small and midsize companies, including providers of professional and field services, medical offices and retailers
Headquarters: Orlando
Number of employees: 100
Annual revenue growth: 200%, for four consecutive years
The "fatt" in Fattmerchant stands for "fast affordable transaction technology." Beyond offering a new pricing model for payment processing, the Orlando-based company helps small and midsize businesses improve their operations by providing detailed, real-time payment data on one platform. It also integrates its technology with other software companies' applications. Fattmerchant's overarching goal is to help entrepreneurs save time by running financial operations more efficiently—and also analyze payment data to help those customers identify business opportunities.
This was not part of Madhani's original vision for her career path. "My intention was never to start my own company," she says. "I actually come from a family of entrepreneurs, and I've always not wanted to be an entrepreneur. I'm very risk-averse. Or so I thought."
STARTING UP
Madhani still has the notes she began keeping in 2012 while working for her former employer. "I would write down every customer complaint. All of their horror stories," she says. Lack of pricing transparency was a common refrain. Madhani says that was true not just for her employer, but for payment processors in general. They would advertise a rate for credit card transactions—say, 1.39%— but not make it clear that the percentage is added on to the interchange rate (the fee charged by credit card companies when their cards are used, which varies depending on the card). Customers were typically required to sign up for three-to-fiveyear contracts, and payment processors would often add other fees. Madhani remembers customers asking, "Why are these statements so hard to read?"
She wanted to change the perception that payment processors are "a necessary evil" by offering customers a flat fee (on top of the credit-card interchange rate) and a monthly subscription, so they aren't trapped in longterm contracts. She envisioned technology that would bring all of the customer's transactions—whether online, in-store or mobile—on to one platform, and provide data analytics to help improve business performance.
"I DIDN'T GO TO CEO SCHOOL, BUT I ALWAYS KNOW HOW TO RAISE MY HAND AND ASK FOR HELP, AND I KNOW HOW TO GET THE RIGHT RESOURCES TOGETHER."
SUNEERA MADHANI
Founder and CEO, Fattmerchant
Madhani presented the idea to her employer. When she didn't receive support, she realized she would have to do it on her own. She registered Fattmerchant as a business in April 2014.
Madhani had been planning to pursue an MBA, and she took what she'd saved for that degree—about $20,000—and put it into the business. She moved in with her mom and gave herself a deadline: If she didn't have 100 customers subscribed after six months, she'd scrap the idea and head to business school.
Madhani's novel approach to payment processing proved to be a double-edged sword. Fattmerchant's new model got business owners' attention, but it also drew skepticism. As Madhani recalls, common sentiments included: "It's never going to work." "It's too good to be true." "Who are you and why the hell should I trust you with my money?"
Her risk-free subscription approach—no sign-up costs, no contracts, no cancellation fees—helped her slowly push beyond those misgivings. "Getting the first hundred [customers] was tough," she says. "I can't tell you how many times I probably thought of quitting, that this wasn't going to work, even during the first year."
Initial funding for the business came from Madhani's success at pitch competitions, where entrepreneurs try to wow potential investors. She participated in about a dozen between 2013 and 2014, winning a total of $200,000 in prize money from event organizers.
In the early days of Fattmerchant, Madhani's brother Sal Rehmetullah offered support and business advice. He was working for Deloitte at the time and also had entrepreneurship experience. When he was 19, Rehmetullah co-founded a burger franchise, which ultimately folded, but he was confident his sister's business would succeed—on a small scale, at least. "Did I think that she can make $150,000 or $200,000 a year doing this? Absolutely," he says. "Would she be able to do it long term, consistently, and turn it into a 100-person business? Absolutely not. That didn't really cross my mind, or frankly, even her mind."
That changed in late 2014, when Fast Company ran a story about Madhani and Fattmerchant. At the time, she was working with three other employees in a 150-square-foot shared office space. After the story was published, the phones rang constantly for three weeks, and the company's website crashed. "Every startup on our floor was helping us answer phone calls," Madhani says. "We had no CRM system, so we had Post-it notes all over the wall."
A few months later, Rehmetullah left his his job with a software firm in San Francisco and moved to Florida to work full-time for Fattmerchant, where he now serves as president and co-founder.
In 2015, Madhani joined a tech accelerator in Orlando to help develop the technology needed to bring all customer transactions into one platform, and ultimately to integrate that platform with other applications, like QuickBooks.
"I didn't go to CEO school, but I always know how to raise my hand and ask for help, and I know how to get the right resources together," Madhani says. "That has probably been my biggest reason for my personal success."
DATA-DRIVEN DECISIONS
In 2014, Fattmerchant processed $5 million in payments for its customers. That number jumped to $110 million in 2015, and $750 million in 2016. As of July, the company has processed more than $5 billion in total volume for its customers, who fall primarily into four groups: professional services, field services (such as plumbers), medical offices, and online and brick-and-mortar retailers. The ideal customer is a business that's been open for at least a year and processes at least $10,000 in credit card transactions each month.
Because Fattmerchant charges a flat monthly rate, businesses with high-volume credit card transactions often save money. The company has more than 5,000 customers. On average, those businesses save about 30% annually on credit card processing costs, according to Fattmerchant.
Some businesses pay more for Fattmerchant's service, compared with the previous vendor they used. The reason those customers switch, Rehmetullah says, is because they appreciate how Fattmerchant's technology helps simplify their payment data.
For example, a small business that has online sales, in-store sales and mobile credit card readers often ends up using a different merchant services provider for each type of transaction. That means the business owner won't be able to see all transaction data in one place. Yet each day, the owner must consolidate it all and add it to QuickBooks or another accounting system.
With Fattmerchant, payment data is aggregated into one online platform, and the information is added to QuickBooks (or another system) in real time. That eliminates a step and helps business owners access the information they need to make decisions about their operation. Users can log on to the Fattmerchant app to view sales trends, the number of repeat customers, and the relative performance of different locations, according to Madhani. "It provides realtime data for no additional cost to the merchant, so they can actually make better, smarter, faster decisions about their business," she says.
Fattmerchant continues to educate businesses that assume they're not big enough to benefit E Fattmerchant's staff has grown to about 100 employees from data. "People think, no, that's not for me—that's for those global 2,000 companies," Rehmetullah says. Fattmerchant works hard to demonstrate that real-time data is not only easily accessible, but also an effective tool for small and midsize companies, he says.
PIVOTAL PARTNERSHIP
"This is a payment technology business that makes the lives of small businesses easier," says Jim Douglass, partner at Fulcrum Equity Partners, Fattmerchant's largest investor. His firm has invested about $15 million in Fattmerchant—$5 million in Series B funding and $10.5 million in Series C.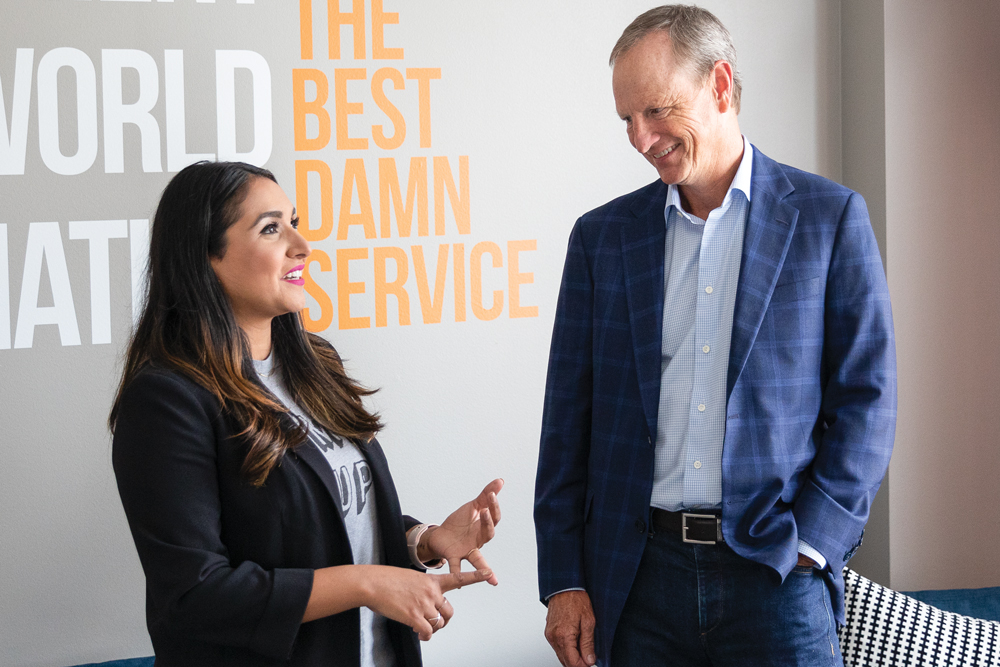 "THIS IS A PAYMENT TECHNOLOGY BUSINESS THAT MAKES THE LIVES OF SMALL BUSINESSES EASIER."
JIM DOUGLASS
Partner, Fulcrum Equity Partners
According to Douglass, if Fattmerchant provided basic payment processing and nothing more, his firm would have passed. Instead, it saw an opportunity to help the company grow into new markets and leverage its data capabilities.
One way Fulcrum has helped Fattmerchant expand its revenue sources is through partnerships with independent software vendors, known as ISVs. Some ISVs offer products for particular industries—one example is practice- management software used by dentists— but their software packages don't always have a payment feature. ISVs that partner with Fattmerchant include the company's payment and data capabilities with the software packages they sell to clients.
The more than 15 partnerships that Fattmerchant has with software vendors represent about 30% of the company's revenue; direct sales to individual businesses make up the rest. By 2021, Madhani expects half of Fattmerchant's revenue will come from partnerships.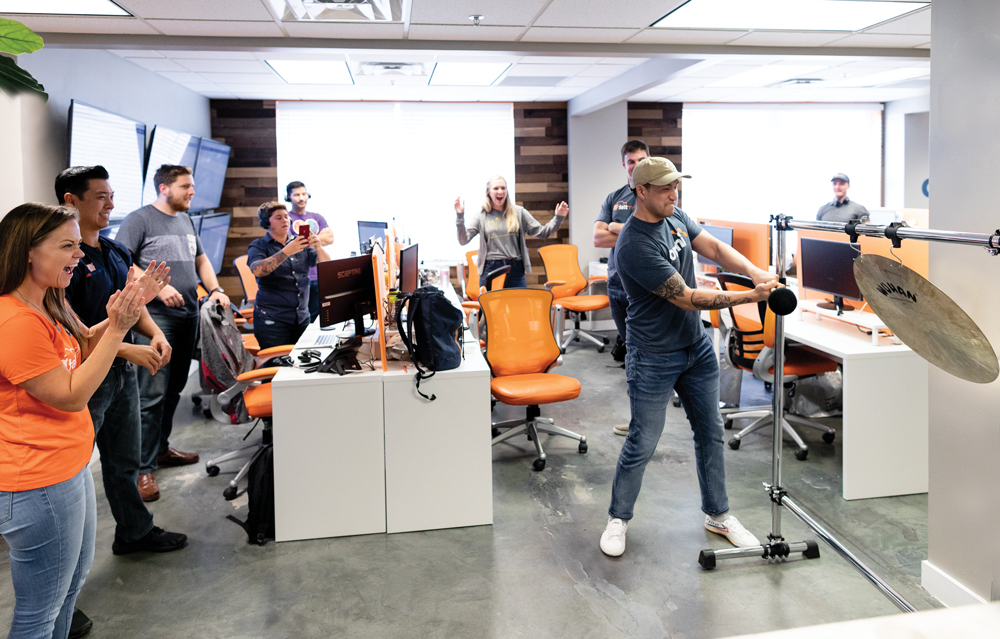 "REVIEWS IN GENERAL ARE A BIG WAY TO DRIVE BUSINESS, SPECIFICALLY FOR SMBs. WE WANT TO BE ABLE TO HELP THEM WITH THAT."
SAL REHMETULLAH
Co-Founder and President, Fattmerchant
Because Fulcrum invests in health care services, health care IT and B2B enterprise software companies, the firm is able to connect Fattmerchant with additional partnership opportunities, Douglass says. Two software vendors in Fulcrum's portfolio use Fattmerchant's payment platform.
Fulcrum's partners are all former business owners or operators, which shapes their investor perspective, Rehmetullah says. At board meetings, Fattmerchant doesn't even present a profit and loss statement. Instead, Fulcrum focuses on operational challenges and Fattmerchant's long-term growth, he says.
A big part of that long-term growth is continually adding software features that streamline the work of small business owners. One new feature, introduced earlier this year, is designed to make social media management more convenient for businesses. Fattmerchant has integrated its software with popular online review sites, including Yelp, Facebook and Google. When users log in to their Fattmerchant account, they can see reviews and respond to them directly through Fattmerchant's platform. "Reviews in general are a big way to drive business, specifically for SMBs," Rehmetullah says. "We want to be able to help them with that." Next year, Fattmerchant hopes to implement AI technology that can respond to reviews automatically.
PROCESSING SUCCESS
Although new features show Fattmerchant's awareness of customers' changing needs, the company's founding principle—pricing transparency with a monthly subscription—remains a big draw.
"Simplicity sells," says David True, partner at PayGility Advisors, a New York-based payments industry consulting firm. That's particularly valuable in an industry known for its complicated pricing and sales pitches that boast of a better deal.
One of the main challenges for payment processors that serve small and midsize businesses is customer churn. True has observed more payment processors becoming payment facilitators in response, a switch Fattmerchant made in 2018. As a payment facilitator, Fattmerchant takes on the risk of managing payments for its software partners' end users, which speeds the approval process for getting an end user on to Fattmerchant's system. The process used to take a day or two; now it takes about 20 minutes.
When payment capabilities are added to software that business owners rely on, it makes those owners less likely to look elsewhere for payment services. "I think you'll see that more and more in the future," True says. "If your payments are bundled into inventory software, a sales guy cannot come to you and say, 'Show me your statements and I'll save you a little bit of money.'"
That prediction bodes well for Fattmerchant. By the end of 2019, the company will have achieved four consecutive years of revenue growth exceeding 200%. Its staff now includes about 100 employees. (Unlike in the early days of Fattmerchant, none of them use fake names.)
The company won't reveal annual revenue, but Rehmetullah says it exceeds eight figures, and both he and Madhani believe Fattmerchant has the potential to become a billion-dollar business.
When Madhani needs extra motivation to work toward that goal, she reflects on the skepticism she heard during the early days of Fattmerchant: "She'll never land any investors." "Her idea will never scale." "She'll never be able to execute."
Says Madhani: "I always used the naysayers for fuel."
This story originally appeared in the September/October print edition of Middle Market Growth magazine. Read the full issue in the archive.