Handle with Care
With technology and customer experience in mind, Progistics launched its FragilePak service in 2015. Today, it's generating $75 million in revenue and increasing its share of the home delivery space.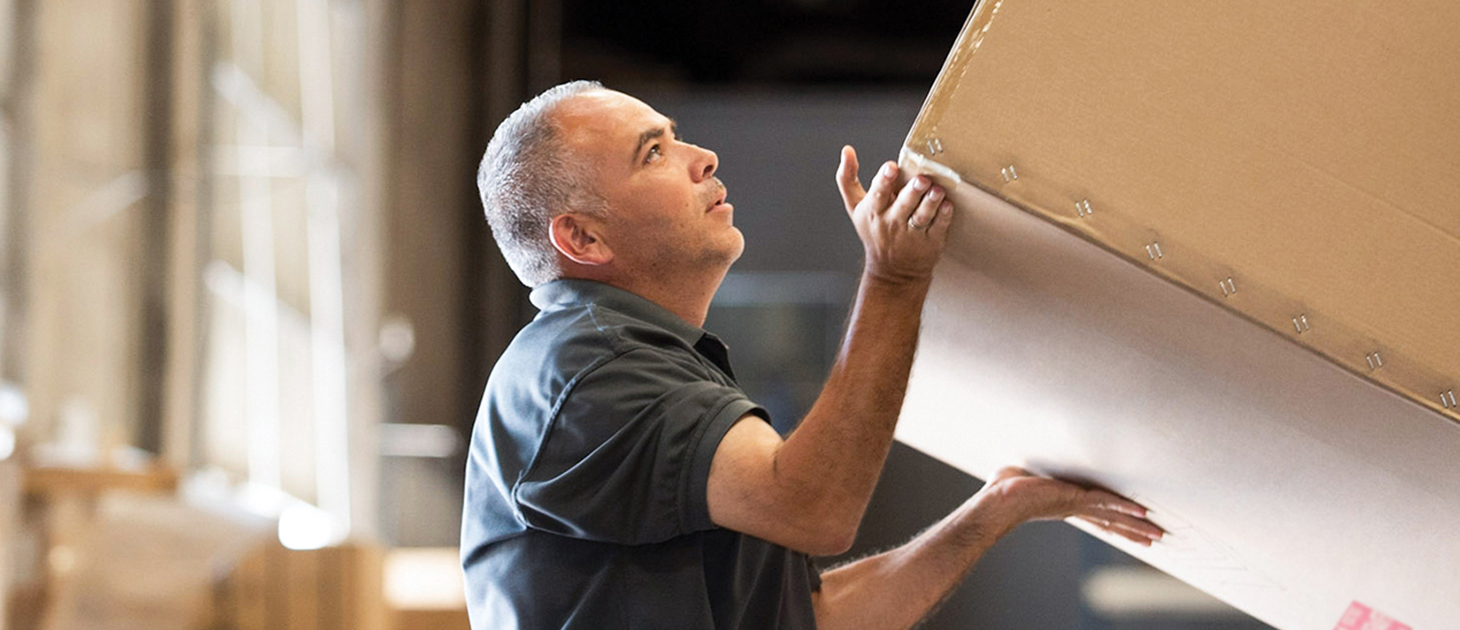 Joel Ritch, founder and CEO of Progistics Distribution, has spent more than 30 years thinking about the best way to deliver packages. He's also thought a lot about poorly loaded trucks and rogue forklifts—specifically, how they frustrate companies that sell large products like furniture, appliances and exercise equipment, and the people who buy them.
Order a few large items online, and chances are you'll receive a damaged one, usually because the box had a close encounter with heavy equipment or toppled over in the back of a truck. Ritch says that when shippers use forklifts or load items like sofas alongside traditional freight (like skids of food), chances are some of the consumer products will end up damaged.
To address that problem, Progistics, a logistics and transportation company based in Oakland, California, introduced a new service four years ago, called FragilePak. It delivers large, heavy items directly into consumers' homes, sometimes installing or assembling those products. FragilePak promises the manufacturers it works with that their products will be delivered intact. Last year, FragilePak's damage rate was 0.2%, according to Ritch.
FragilePak relies on technology to minimize problems while shipping products efficiently, an approach that is paying off. Since it launched in 2015, FragilePak has grown its annual revenue to $75 million.
Although FragilePak operates in a highly competitive space, it's not easy for rivals to duplicate its success, according to Ritch. For him, the service represents more than fast, damage-free delivery. FragilePak prides itself on making a good impression when bringing packages inside a house. "When you go into somebody's home, it requires another level of competency. You have to respect their home," Ritch says. "Others treat it more as just a delivery, as opposed to an experience."
FRAGILE INDUSTRIES
FRAGILEPAK
Year launched: 2015
Customers: Retailers shipping bulky and heavy items
Annual Revenue: $75 million
Investor: HCAP Partners
Investment Impact: Operations center expansion in Nevada, from a 3,000-square-foot facility to a 10,000-square-foot space, plus 35 new jobs and $1 million in additional payroll in the state
During Progistics' early days in the late '80s, when it operated under a different name, it provided a service that was a precursor to FragilePak. The company delivered fax machines to businesses and home offices, setting up the machines for customers and providing a few minutes of Faxing 101. The company also worked as a sameday delivery service, primarily for documents, including tickets to concerts and sporting events.
By the mid-1990s, Ritch could see that the trend toward email and document digitization—particularly in Silicon Valley, where his company was based—would make much of his delivery business obsolete. He expanded the company's offerings by adding bigger trucks equipped to transfer more than documents. The company handled deliveries for local businesses, many of which were internet-based companies. But when the dot-com bubble burst at the turn of the century, many of Ritch's customers did, too.
Around 2002, technology created another opportunity for the company in the form of plasma televisions. Customers were drawn to their sharp resolution and thinner size, and they purchased many of these TVs online, a new concept at the time. Instead of delivery requests coming from local stores, they came from thirdparty logistics companies contracted by manufacturers to distribute their products. Ritch's business began delivering TVs to consumers' homes, but it was difficult work, he recalls. The televisions had to be bolted to skids because they could not tilt.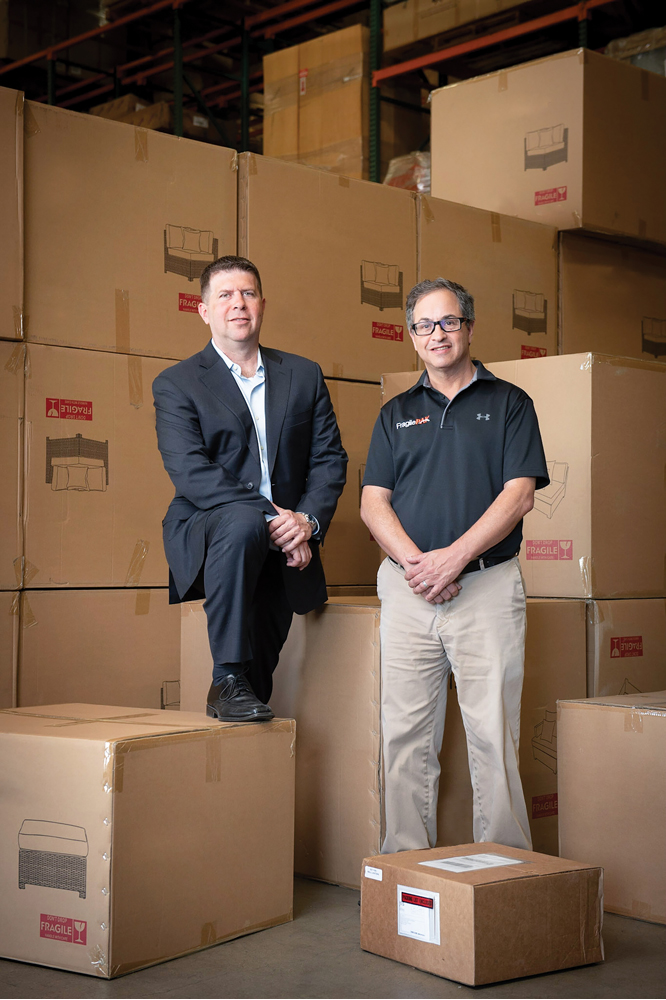 The experience helped the company—which changed its name to Progistics in 2010—learn how to deliver heavy, bulky products and laid the groundwork for FragilePak. As Progistics began delivering other large items to homes in California, Ritch and his team observed an industry problem that could be turned into a competitive advantage.
Because shippers often used forklifts and loaded items like furniture with other freight, such as skids of food or industrial products, Ritch estimates about 15% of the products Progistics received were damaged. "They were moving a spa like they moved a skid of paper," he says. "The large trucking companies had no idea how to move a couch and had no idea how to move a spa." He remembers opening the back of a truck and seeing expensive items marred by forklift holes.
The proliferation of online purchases increased the likelihood of buyer's remorse and raised the volume of return shipments. Products were at risk of damage on the way to the consumer and, increasingly, on their way back to the seller.
Progistics decided to develop a nationwide service that would promise damage-free delivery for big items. FragilePak would focus on bulky and heavy shipments—stuff most FedEx or UPS trucks don't carry. Protecting those products would require hand-loading and unloading, as opposed to forklifts, and careful control over each package at every step of the journey, from the manufacturer to the consumer's home. (Assembly is included with about 60% of FragilePak deliveries.) In industry parlance, FragilePak would own the first mile through the last mile.
A SOFTWARE SOLUTION
Two years after launching the service, Progistics received about $8 million in mezzanine capital from San Diego-based HCAP Partners. The firm was drawn to FragilePak's tech-driven approach. Its investment allowed Progistics to finalize development of software that would make the FragilePak service possible and to hire the staff needed to roll out its offerings nationwide.
The technology was designed to connect a network of nationwide carriers, create a scheduling system that made deliveries convenient for consumers, and provide other functions like billing, inventory control and managing returns.
It also included tracking capabilities; without them, there's no easy way for a customer to pinpoint a bulky shipment's location. Unlike a UPS or FedEx delivery, a single large package is often handled by multiple third-party delivery providers with different systems, making it difficult to track, says Frank Mora, a partner with HCAP. But that's not the case with FragilePak, which doesn't contract with other shipping companies. Its drivers, who include independent contractors as well as FragilePak employees, are all connected on FragilePak's software system. As a result, customers can log in to one system and see the exact location of their product.
Before HCAP invested, it hired a tech consultant with logistics experience to assess the software under development for FragilePak. "The trucking industry is not one of those at the vanguard of innovation," Mora says. The company received feedback that its software was "going to be a big deal," he adds.
In addition to information technology, efficient shipping requires proper infrastructure. FragilePak owns seven facilities across the country, where freight is unloaded and transferred to another truck within hours (and never stored for more than a day). FragilePak also has 92 "finalmile" locations, where freight is loaded onto vehicles that make home deliveries. "The more final-mile locations you have, the closer you are to the [consumer], which means you can have faster delivery times and lower costs," Ritch says.
HCAP Partners' capital also helped the company expand its National Operations Center in Nevada from a 3,000-square-foot facility to a 10,000-square-foot space. While HCAP seeks a strong return from its investments, it also strives to have a positive impact on companies and their local communities, according to Mora. HCAP's investment supported 35 new jobs, including senior-level positions, totaling approximately $1 million in additional payroll in Nevada, he says.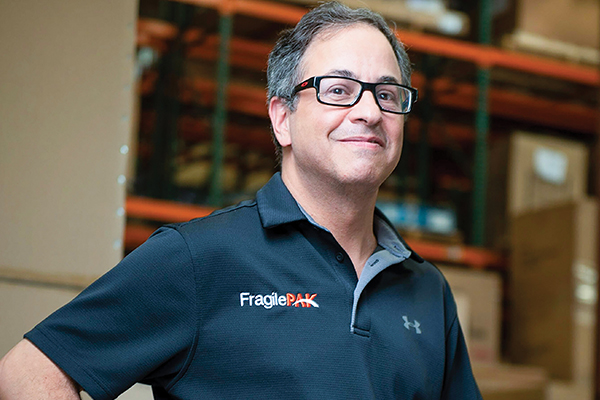 "OTHERS TREAT IT MORE AS JUST A DELIVERY, AS OPPOSED TO AN EXPERIENCE."
JOEL RITCH
Founder and CEO, Progistics
A FIX-IT CULTURE
FragilePak's technology impacts more than tracking packages. It also plays an important role in the care promised to customers, who entrust FragilePak with products such as treadmills, refrigerators, sofas and rugs.
"More than a thousand people every day are engaged with our software in some way, shape or form, from the home delivery experts to the customer service people, to our customers, to our warehouse dock supporters," says Daniel Perussina, FragilePak's chief information officer.
For example, FragilePak's software provides dock workers with best practices for loading trailers correctly, so heavy packages can withstand a long journey without toppling over.
Photo documentation helps track each package. Workers use mobile apps to photograph a box when FragilePak receives it, loads or unloads it, and when it's brought into the consumer's home. "Having proof of the condition of freight is valuable if it comes damaged from the manufacturer," Perussina says. It also provides proof that an item has been delivered. If there's an obstacle that prevents delivery (a road closure, for example), the driver is instructed to take a photo to document it.
To create a positive experience for the end user, FragilePak's customer service team gathers relevant information to help the delivery go smoothly and enters it into FragilePak's system.
Sometimes the company picks up a product from the manufacturer's warehouse; other times the manufacturer delivers it to one of FragilePak's facilities. Either way, as soon as FragilePak receives a package, it immediately contacts the consumer to ask a series of questions: Do you have a gate code? Can a 24-foot truck come down your street? Where would you like the truck to park? What phone number and email should we use to send you updates?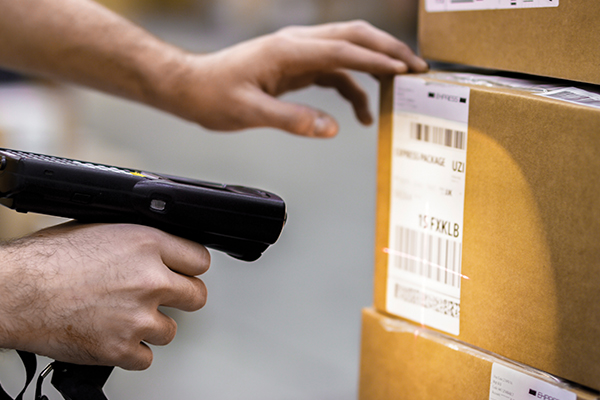 "FOR BOTH PARTIES TO BE INVOLVED IN THE DEVELOPMENT OF THE SOFTWARE, THEY ALL HAVE TO UNDERSTAND EACH OTHER."
DANIEL PERUSSINA
Chief Information Officer, FragilePAK
Responding quickly to customer needs is part of Progistics' culture. "When we see a problem, internally our mandate is: We need to fix that immediately," Ritch says. That requires having an agile technology team equipped to address problems as soon as possible.
Most days, FragilePak has an hour-long call where members of the senior management team from the operations side—logistics planners, regional managers or those in the call center— can discuss concerns. In addition, the tech team holds weekly calls with most of FragilePak's major customers, so they can hear about their priorities directly.
There are about 15 staff members in the technology department, most of whom are software developers based in the Bay Area. When Perussina interviews a potential employee or consultant, he doesn't just care about tech skills. "I look for the ability to speak in layman's terms," he says. Perussina challenges candidates to pretend he doesn't know what they're talking about and to explain their answers as though speaking with a nontechnical user.
That matters, he says, because you can't solve a problem quickly unless you can communicate clearly with customers. "For both parties to be involved in the development of the software, they all have to understand each other."
'AN EVER-EVOLVING BUSINESS'
Perussina says the company is considering new ways technology could improve the FragilePak service. That includes implementing RFID scanning in its warehouses to keep track of products within the facility and as they come and go. Augmented reality could have useful applications, too. 3D representations of boxes would provide a better way to assess the volume of freight moving through the system and allow for better instructions for loading trucks efficiently.
Machine learning could also play a role. For example, if FragilePak parks in front of a highrise building for a delivery and the building owner threatens to tow the truck, "that would be a data point that we could reuse," Perussina says. The next time a driver goes to this location, their mobile app could instruct them to park in the garage around the corner, rather than on the street.
Aggressive landlords are just one of many obstacles facing home delivery, which can be a challenging endeavor, even for experienced logistics companies. One of the largest U.S. truckload carriers, Schneider National Inc., announced a service called First to Final Mile in June 2016 after acquiring Watkins & Shepard Trucking Inc. and Lodeso Inc., which provided last-mile home delivery and an online tracking tool. Schneider shut down First to Final Mile in August 2019, noting that the unit's operating results were "significantly below expectations."
Ten years ago, low-cost providers dominated home delivery for bulky items, with little focus on the consumer experience (and the mud tracked through their homes by workers). That has changed, particularly during the past five years, says Lee Clair, managing partner at Transportation and Logistics Advisors, a consulting firm in Highland Park, Illinois. Like FragilePak, more companies are offering so-called "white-glove" delivery, which involves a two-person team that unpacks products, removes packing debris from the home, installs or assembles items if needed, and wears shoe covers to protect floors.
"It has matured from being a knuckle- dragger business to a technology business," Clair says. Much of that tech focuses on consumers' needs. For example, XPO Logistics Inc., a large provider of last-mile deliveries for heavy and bulky items, introduced voice-enabled delivery tracking in 2018 for Amazon Echo and Google Home speakers.
Some shippers are acquiring smaller companies to add the necessary technology and home delivery capabilities. "There are a lot of transactions going on in this space," Clair says, "and a lot of opportunity for private equity and investors." One example is lastmile delivery company MXD Group. Ryder, a publicly traded transportation company, acquired the business from Platinum Equity in 2018, expanding its capabilities for white-glove delivery of large items.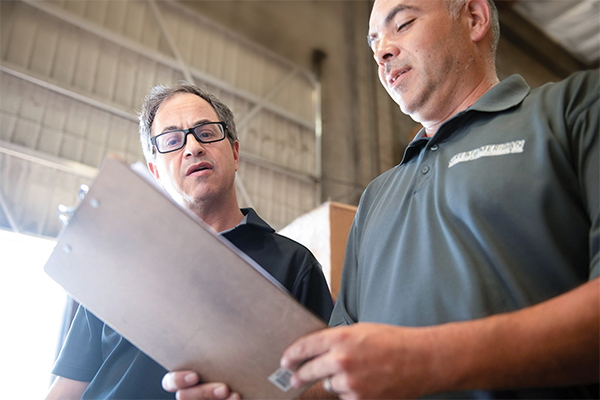 "WHEN WE SEE A PROBLEM, INTERNALLY OUR MANDATE IS: WE NEED TO FIX THAT IMMEDIATELY."
JOEL RITCH
Founder and CEO, Progistics
Although Amazon isn't yet a competitor in the home delivery of bulky products, Clair expects the e-commerce giant will try to expand beyond its success with smaller parcels. During a September 2019 earnings call, FedEx CEO Frederick Smith acknowledged that Amazon was one of four main competitors.
Outside of FragilePak, Progistics' other services include middle-mile delivery (such as supply chain transportation that delivers freight to retailers' distribution centers), and last-mile home delivery for non-bulky items. The company has more than 800 employees— about 700 drivers and 100 employees in its network operation center. Ritch says he and his team plan to double FragilePak's revenue in 2020, as e-commerce continues to grow.
Despite that opportunity, the company's leaders are under no illusions that their business is easy. "We do not sit idle for one moment in terms of thinking that we've figured out everything," Ritch says. "Every customer has different requests and different types of needs, so you have to constantly be adapting to everybody's requirements. It's an ever-evolving business."
This story originally appeared in the November/December print edition of Middle Market Growth magazine. Read the full issue in the archive.