"I'll get back to you." Dion Drew heard that line a lot in 2008, when he interviewed for more than 20 positions. Some employers gave a him a more candid response: They didn't hire workers with criminal records. That meant a dead end for Drew. At the time, he was 31 and had just served four years for selling drugs to an undercover police officer. He says he had been in and out of jail since age 17.
This time, Drew was determined to make money legally. Then came nine months of job-search rejection. "I was angry, upset, and to be honest, I was ready to go back to selling drugs," he says. That changed when Drew got a call from Greyston Bakery, asking if he'd like a job.
Greyston skips background checks, drug checks and reference checks. The company doesn't even conduct job interviews. Under its recruiting model, called Open Hiring, all applicants need to do is enter Greyston Bakery and add their name to the job list. Unlike the companies who never got back to Drew, Greyston calls everyone on that list.
Ten years and several promotions later, Drew still works at Greyston, now as lead supervisor. He is one of about 190 current employees who applied through the bakery's Open Hiring program. Mike Brady, the company's president and CEO, estimates about 60 percent of them have criminal records. Greyston employs others who've struggled to find work and many who never completed high school—among them, refugees, immigrants and veterans.
GREYSTON BAKERY
Business: Brownie supplier to Ben & Jerry's, Whole Foods and Delta Air Lines
Founders: Zen Buddhist teacher Bernard "Bernie" Glassman and Sandra Jishu Holmes
Location: Yonkers, New York
Annual Revenue: $20 million
Hiring Criteria: Greyston will train and hire anyone who wants to work—no questions asked
Those workers help the company bake 6.5 million pounds of brownies annually for customers such as Ben & Jerry's, Whole Foods and Delta Air Lines. By generating more than $20 million in revenue last year, Greyston is demonstrating that its hiring approach isn't just good for society, it's good for business. Other companies competing for workers in a tight labor market have taken note.
"Employers are looking to grow, but they've got antiquated human capital models that are filtering all these people out of their workforce," Brady says. Increasingly, he's hearing from companies ready to cast a wider net. "They're saying, 'You guys seem to have a really progressive model. Can you help me find new team members?'"
PEOPLE-FIRST PHILOSOPHY
Greyston was co-founded in 1982 by a Zen Buddhist teacher, Bernard "Bernie" Glassman, and his wife, Sandra Jishu Holmes. The company's Open Hiring embodies a central tenet of Buddhism: Strive to be non-judgmental. For Greyston, that means not judging applicants' past behavior.
After founding the company to employ his Buddhism students, Glassman realized the bakery could serve a larger purpose by hiring workers in south Yonkers, New York, where the business is currently based. Many residents in the area live below the poverty line and face employment roadblocks like criminal records or lack of education. The bakery's Open Hiring policy means it will train and hire anyone who wants to work. "They will have a job if they can meet some basic requirements, like showing up to work on time," Brady says.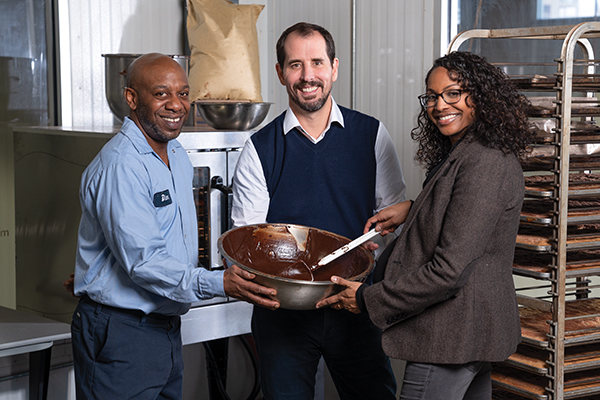 "EMPLOYERS ARE LOOKING TO GROW, BUT THEY'VE GOT ANTIQUATED HUMAN CAPITAL MODELS THAT ARE FILTERING ALL THESE PEOPLE OUT OF THEIR WORKFORCE."
MIKE BRADY
President and CEO, Greyston Bakery
A position at Greyston, a certified B Corporation, begins with a 10-month paid apprenticeship. Applicants are usually trained in groups of 10 through a program with three basic components: "worker readiness skills," which include effective communication with colleagues and managers; industry-specific skills, such as food safety; and skills specific to Greyston, like mastering the ability to mix flour, sugar and cocoa for an 800-pound bowl of brownie batter. About 40 percent of apprentices complete the training and join as full-time Greyston employees in the Local 53 union, part of the Bakery, Confectionery, Tobacco Workers and Grain Millers' International Union.
With a total of 250 employees, Greyston believes businesses that want a great product should focus on helping the people who make it. Its philosophy permeates weekly planning meetings, which address more than production schedules and sales projections. "There's always a heavy people focus," says Sunitha Malieckal, Greyston's account manager for Ben and Jerry's and the ice cream-maker's owner, Unilever. "We ask, 'Is there anything going on with anybody in particular?'" Before firing an employee who starts showing up late—or not at all—supervisors will first consider if an underlying problem can be fixed. To make Open Hiring work, their roles extend beyond the traditional hierarchy of manufacturing floors. "We are there as coaches and support staff," Malieckal says.
To help employees flourish, Greyston cultivates partnerships with local community groups that provide social services, so the bakery can readily guide workers toward resources for child care, housing and other needs. The company pays for a staff member from a large community service organization to be on-site at the bakery to have confidential discussions with employees and help them meet basic needs.
Malieckal recalls one couple working at the bakery who started having attendance problems. It turned out they had been living on the street after a recent eviction. She says the community service representative was able to quickly find them emergency shelter and, ultimately, longterm housing.
'ENLIGHTENED SELF-INTEREST'
"We found over time that while this sounds like a very humanistic model—and it is—it's also a good business model," Brady says. "Our recruiting costs are zero." According to a Society for Human Resource Management survey for fiscal year 2016, the average recruiting cost per hire was $3,232 for U.S. manufacturing companies with fewer than 500 full-time employees. That figure excludes training costs for new hires, but it does include expenses associated with background checks, job fairs, online job boards and talent-acquisition software.
Companies use background checks as a way to find good employees by screening out the "bad" ones, but Brady questions whether that's necessary. That outlook is shared by Victor Dickson, president and CEO of Safer Foundation, a Chicago-based nonprofit that provides training and job-placement assistance for those who've served prison time. Between 2013–17, participants working to earn industry credentials using Safer's programs had a re-arrest rate of about 10 percent, well below the national rate of roughly 40 percent.
Dickson sees the U.S. labor shortage affecting employers' hiring attitudes in recent years, in industries such as manufacturing, transportation and health care. Some organizations, such as private equity-backed MOD Pizza and Johns Hopkins Health System, publicly discuss adding employees who've served jail time. In fact, Johns Hopkins Health System conducted a five-year study of nearly 500 of its ex-offender employees and found that, compared with non-offenders, they were more likely to stay in their jobs for more than three years.
Not all businesses are forthcoming about employing former inmates. "Some of the companies were secretly hiring people with records and they've been doing it for quite a while," Dickson says. "One owner of a local manufacturing company told me, 'It's enlightened self-interest … I really didn't want my competitors to know where I was getting my talent.' Because they are fighting for talent."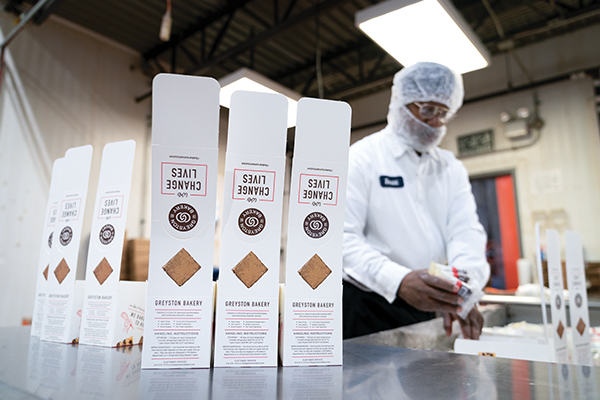 "THERE IS A HEAVY FOCUS ON MAKING SURE THAT THE WHOLE STAFF REALLY UNDERSTANDS THAT WE ARE THERE AS COACHES AND SUPPORT STAFF, IN ADDITION TO BEING YOUR TRADITIONAL HIERARCHY MANAGING A MANUFACTURING FLOOR."
SUNITHA MALIECKAL
Account Manager, Greyston Bakery
Like any business, Greyston needs to deliver a quality product at a competitive price, but its humane approach to hiring helps the company stand out. "I lead with it any time I go into any customer meeting," Brady says. "The differentiation of being a social justice story in their supply chain and us being able to make a positive impact in the community and being proud of that—it's a tremendous differentiator for Greyston and our customers that we work with."
Yet some people think Greyston's approach sounds like a half-baked hiring plan. Brady says he's heard from skeptics who wrongly assume the bakery contends with criminal behavior that comes at a high cost. "Our insurance rates are no different than any other bakery. Our worker comp rates are no different than any other bakery," he says. "We're not dealing with a whole bunch of craziness as a result of our model. If you walked into our facility, it would look like any other."
Another frequent comment he hears: "I don't really want to work next to a thief." Brady responds to that by asking, "How do you know you're not working next to one now?"
SWEET PARTNERSHIP
For more than 25 years, Greyston has baked brownies for Ben & Jerry's products. It's the company's largest brownie supplier, delivering about 3.5 million pounds of brownies annually used in ice cream flavors like Half Baked and Chocolate Fudge Brownie.
Three years ago, the companies added something new to their business relationship: an annual employee swap. For about a week, five Ben & Jerry's employees work on the production floor at Greyston and participate in Greyston employee volunteer programs that support the surrounding community. Meanwhile, Greyston sends several of its employees to Ben & Jerry's for the same purpose. "It's something you would not see in many companies: a willingness to bring your customer onto your production floor to work with you," Malieckal says.
"Ben & Jerry's has always been inspired by Greyston's Open Hiring process," says Rob Bellezza, Ben & Jerry's factory director. Over the past three years, the ice cream-maker developed a program it calls "values-led hiring." Although it doesn't duplicate the Open Hiring method, it's meant to reflect Greyston's inclusive approach. Ben & Jerry's now works with community organizations to help identify candidates who would often be overlooked in traditional hiring processes. They include youths who have aged out of the foster system, recovering addicts and women trying to re-enter the workforce. Although the company doesn't currently work with groups designed to support ex-offenders, Ben & Jerry's did change its job application forms by removing check boxes that ask about criminal records.
"Part of the wonderful collaboration that we had with Mike [Brady] and the team at Greyston was that their model doesn't have to be our model, and that Open Hiring may not work for everybody," says Bellezza, who notes Ben & Jerry's hiring program is still in its infancy. "But we also want to look at people for who they can be and not who they were."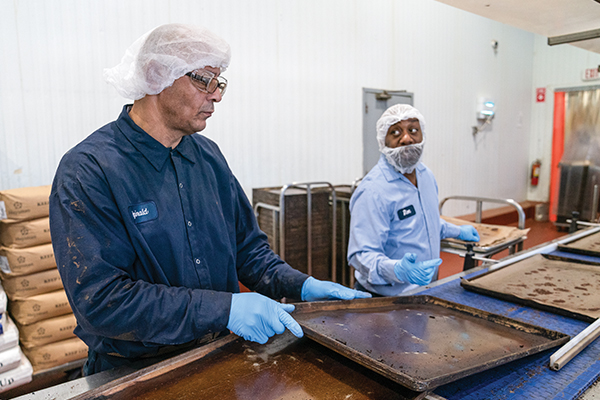 "ALL OF THE GOOD THINGS IN LIFE THAT I WANTED AND I THOUGHT I'D BE GETTING FROM SELLING DRUGS, I GOT FROM WORKING."
DION DREW
Lead Supervisor, Greyston Bakery
LIFE-CHANGING WORK
At its Center for Opening Hiring—part of not-for-profit Greyston Foundation Inc., the bakery's parent company—Greyston provides best practices and consulting services to help other organizations apply its hiring model. Brady expects Greyston's employment philosophy to spread as consumers pressure companies to operate in more socially conscious ways. He also encourages business leaders to view Open Hiring as a way to attract millennial workers who prefer progressive employers. "Purpose-driven employees are looking for a reason to believe your company is different," he says.
For workers at Greyston, "different" means life-changing. Since he started at the bakery 10 years ago, Drew bought a three-bedroom duplex and, for the first time, he purchased a car with money he earned legally. He believes that without this job, he'd be in jail or dead. That's what life dealt more than half of his friends, he says. "Or they are still in the street selling drugs. Those are still the consequences."
He's been able to help 10 friends get jobs at Greyston. Some have criminal records, others don't. "We all have problems," he says. "Whatever problem you have, we are willing to work with you, and that's what I love so much."
Drew knows firsthand how crucial second-chances can be—and how mixing enormous bags of flour, cocoa and sugar creates more than brownie batter. "All of the good things in life that I wanted and I thought I'd be getting from selling drugs, I got from working."
This story originally appeared in the March/April print edition of Middle Market Growth magazine. Read the full issue in the archive.