Bridging the 21st Century
Vertical Bridge is laying the groundwork for wireless connectivity across the U.S. backing from private equity and Canadian pension plan CDPQ.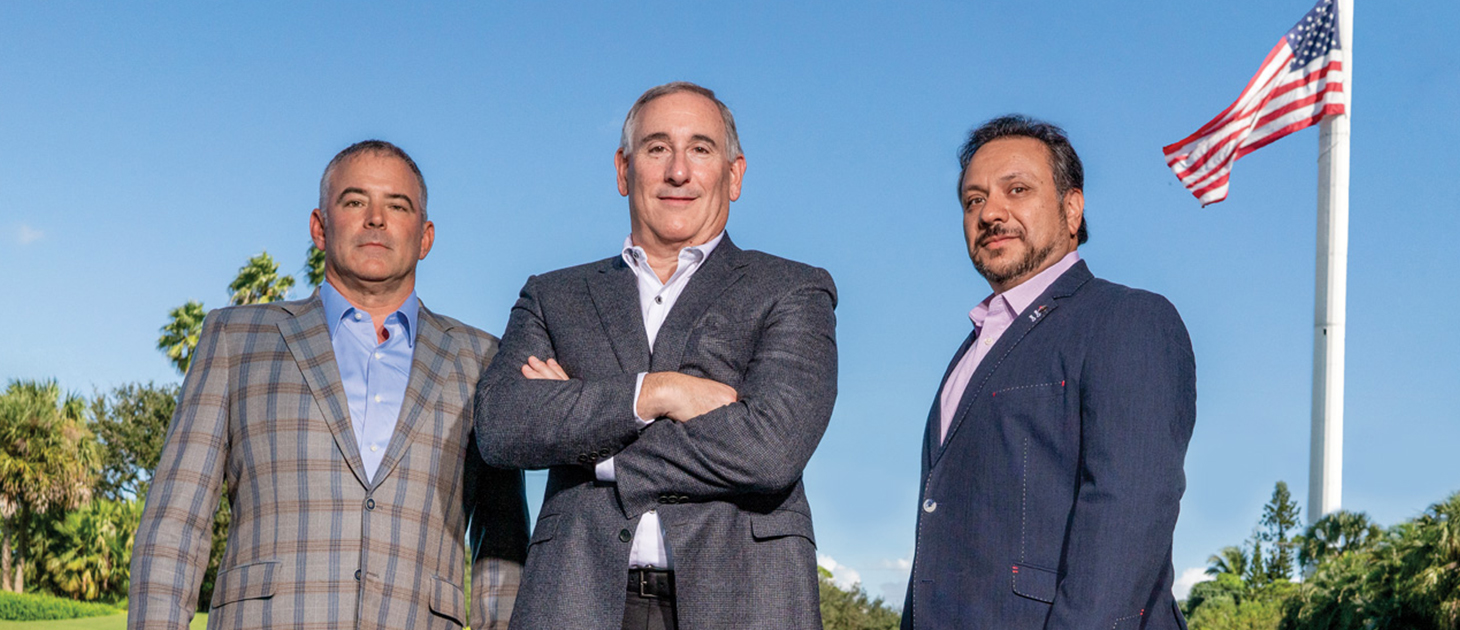 "The way I describe our company is, we're a real estate business," Alex Gellman says. "We just happen to be specialized in antenna sites."
Gellman is co-founder and CEO of Vertical Bridge, which owns and master-leases communications infrastructure, providing locations for wireless networks to operate in all 50 U.S. states. Its holdings include towers, utility transmission structures, rooftops and billboards.
In a way, the company is also in the business of church steeples, flagpoles and artificial pine trees. Those are some examples of Vertical Bridge's "stealth structures," designed to conceal antennas and help the towers blend into their surroundings.
Just as stealth structures don't resemble conventional communications infrastructure, Vertical Bridge looks different than many of the dominant players in its industry. The company, based in Boca Raton, Florida, is privately held with fewer than 200 employees, but it regularly competes with large public companies that employ thousands.
Gellman and his co-founders, Bernard Borghei and Mike Belski, see that as an advantage. Vertical Bridge's large public competitors "tend to be a little less entrepreneurial, by definition, because they're so successful," Gellman says. "We want to counter that by being very entrepreneurial."
That sentiment is shared by Borghei, Vertical Bridge's executive vice president of operations. "For us, entrepreneurship comes in the shape of being fast, friendly and flexible—thinking outside the box to create opportunities that others in the same sector haven't focused on or handled effectively," he says. "We also believe that good entrepreneurs are disciplined investors."
Vertical Bridge
Business: Owning and masterleasing communications infrastructure, including towers, utility transmission structures, rooftops and billboards
Year Founded: 2014
Co-founders: Alex Gellman, Bernard Borghei and Mike Belski
Employees: About 180
Largest Investor: Digital Bridge Holdings LLC
To launch Vertical Bridge, the co-founders invested millions of their own money. The three share a passion for entrepreneurship, says Borghei—one that extends beyond just launching a business around a good idea.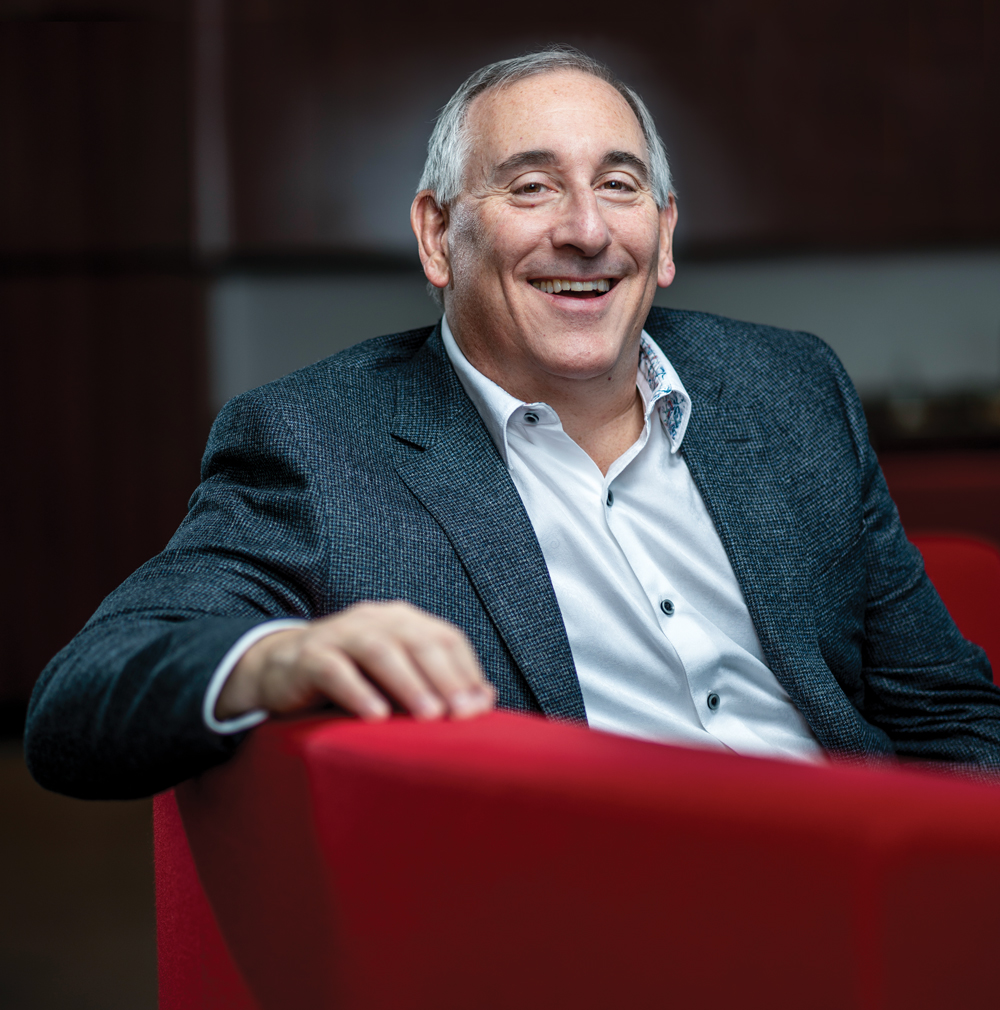 "The way I describe our company is, we're a real estate business. We just happen to be specialized in antenna sites."

Alex Gellman
Co-founder and CEO, Vertical Bridge
The Second Act
About four months before Gellman, Borghei and Belski founded Vertical Bridge in January 2014, they completed the sale of a similar business, Global Tower Partners, which owned and leased towers and other structures for wireless communication.
The three joined Global Tower Partners soon after it was founded in 2003 by Marc Ganzi, who would later co-found Vertical Bridge's largest investor, Digital Bridge Holdings LLC. Ten years after Global Tower Partners launched, American Tower Corp. bought the business for an estimated $4.8 billion.
The sale came after Global Tower Partners' majority investor decided it was time to exit. "We had to comply," Borghei says. "But it didn't mean that we were ready to leave the sector behind."
Following the sale, Gellman, Borghei and Belski had millions to invest as seed capital, along with a proven track record of owning and leasing communications infrastructure.
Their new venture would follow a model similar to their previous company. Wireless carriers pay to place antennas and related equipment on Vertical Bridge's towers, rooftops and the occasional fake flagpole. "I think this business was probably about as low risk of a startup as you can have," Gellman says.
Still, low risk carries no guarantees, Borghei acknowledges. "No matter how good you are, there's always that element of the unknown: 'OK, will we be successful again?'"
The team didn't wait long to find out—about a week after closing the Global Tower Partners sale, they signed the lease for Vertical Bridge's first office.
The three founders—along with Digital Bridge co-founders Ganzi and Ben Jenkins— contributed approximately $40 million to launch the new venture. "I think up to the first 33 employees, we were funding the company and we didn't even blink," Borghei says. But after recognizing that they had a short time frame to buy some high-quality assets, the company decided to look for outside capital.
By November 2014, after six months of courting investors, the founders had raised about $750 million of equity, providing much-needed resources to devote to expansion. Since 2014, the company has closed more than 250 deals, ranging from two towers to several hundred.
Vertical Bridge also builds its own towers, and those efforts have accelerated. During the past six years, the company built about 700, outpacing Global Tower Partners, which built about 600 structures over a decade. According to Gellman, 2018 was the first year that Vertical Bridge built more towers than it bought, thanks to high asset prices and low interest rates. "We can build them for a lot less than it costs to buy them," he says.
Perks of Being Private
The founders' entrepreneurial spirit and their willingness to put up their own money helped attract investors, Borghei says. "They told us, 'We knew your track records, we knew the experience, but we also wanted to see if the hunger was still there.'" The founders' personal financial stake in the business proved they were serious.
Today, the company's largest investor is Digital Bridge, which declined to disclose the investment size. Ganzi, who started Global Tower Partners, is the firm's co-founder and CEO. Vertical Bridge's other investors are The Jordan Company, Goldman Sachs Infrastructure Partners, Stonepeak Infrastructure Partners, the California State Teachers' Retirement System, The Edgewater Funds, Dock Square Capital LLC and Canadian pension fund CDPQ.
Ganzi, who also serves as executive chairman of Vertical Bridge, says there are two major advantages of being private. One is thinking longterm without the pressure of quarterly results. The other is intel about its competitors, which include American Tower Corp., Crown Castle and SBA Communications. "We know a lot more about our larger public competitors than they know about us," he says.
Vertical Bridge also sees advantages in permanent capital compared with the shorter time horizon of traditional private equity. Long-term commitments make up about 40% of its investments. Within five years or so, the goal is to shift completely to direct investments from sovereign wealth or pension funds. That's a better fit, according to Gellman, because Vertical Bridge's customers—like Verizon, AT&T, T-Mobile and Sprint—are long-term businesses. "We want to match that by being a long-term partner for them," he says.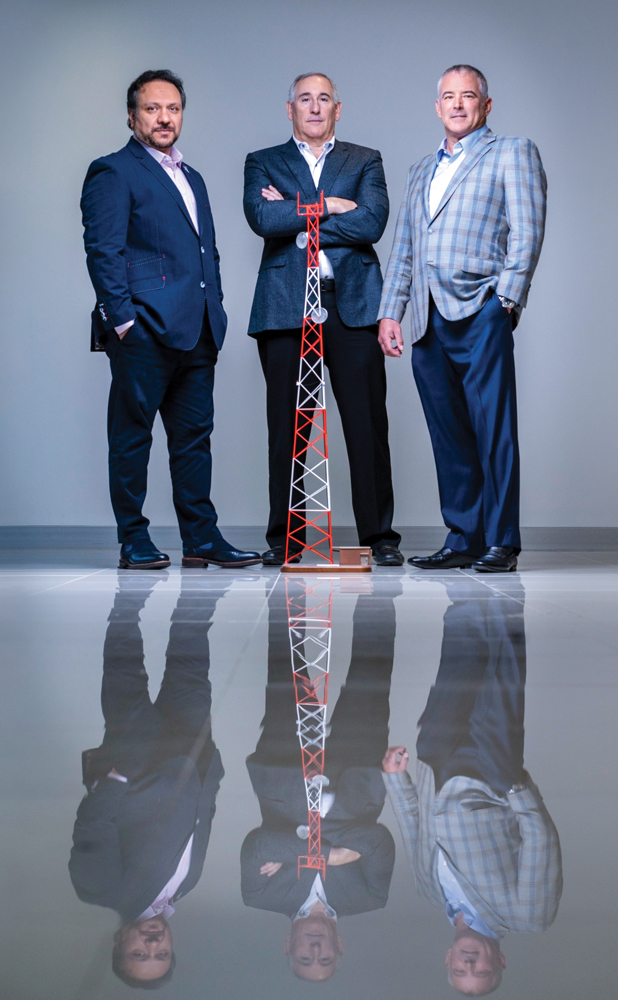 Partner First, Deal Second
Among the company's long-term investors is CDPQ, a Canadian institutional investor that manages funds primarily for pension and insurance plans. In April 2019, it acquired a 30% stake in Vertical Bridge.
CDPQ has invested directly in infrastructure for more than 20 years. Today, its infrastructure portfolio represents about 7% of its CA$326.7 billion of overall assets, and it plans to increase that to approximately 12%, says Olivier Renault, CDPQ's vice president of infrastructure for North America.
"It's a natural class for long-term pension fund investors like us," Renault says, adding that clients are driving an "enormous appetite" to increase the infrastructure portfolio, due to the long-term, stable nature of such investments.
The Vertical Bridge investment was driven by CDPQ's strong interest in the telecommunication sector. Renault points to increasing data consumption and the need for more digital infrastructure. The sector also helps diversify CDPQ's infrastructure portfolio, which was built around energy and transportation assets, including airports, highways, and wind and solar farms.
Another important consideration for CDPQ was Vertical Bridge's management team and their track record. "Our model here is definitely 'partner first, deal second,'" Renault says. He cites alignment of culture and philosophy as essential criteria for investing. "What we've learned is that it is absolutely essential to find the right partner first and then do the deals, even if it means a smaller deal up front that ramps up into something bigger."
Over the past six years, Vertical Bridge has certainly transformed into something bigger. It now has about 180 employees, and its customers include the Big Four national wireless operators, along with regional players like U.S. Cellular. The company also serves government agencies, like the FBI and Homeland Security, that have their own communication network and use third-party infrastructure to deploy it.
From 2018 to 2019, Vertical Bridge grew revenue at a rate in the upper teens, which its leaders attribute to the company's ability to be fast and flexible when serving customers.
Gellman recalls how T-Mobile purchased a large chunk of 600-megahertz spectrum a few years ago at a Federal Communications Commission auction. That lower spectrum has longer wavelengths, which can pass through buildings and other structures more easily than higher frequency bands. The signal is also able to travel long distances, making it ideal for rural areas.
T-Mobile told Vertical Bridge it wanted to be "first on the air"—meaning, the first company to transmit that specific signal for wireless network use. Being the first mover would be a competitive advantage for the carrier, allowing T-Mobile to increase coverage and capacity in targeted cities.
Vertical Bridge suggested a region with plenty of available places for antennas. "They ended up signing leases to go on about 50 sites. They were on the air on those sites within 45 days, which is unheard of," according to Gellman, who says this type of telecommunication deal typically takes more than six months.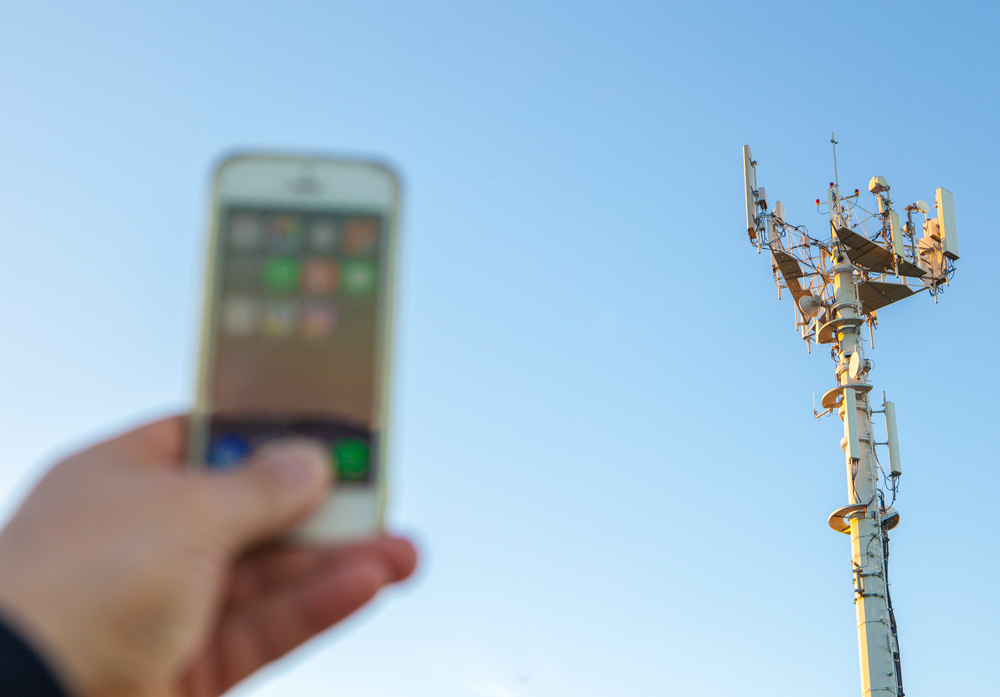 "Nobody ever thought 10-15 years ago that the carriers were going to invest money to get into the rural part of the country."

 Bernard Borghei
Co-founder and Executive Vice President of Operations, Vertical Bridge
T-Mobile's need for sites isn't going to diminish, particularly since the FCC approved the company's proposed merger with Sprint. (At press time, the tie-up faces a lawsuit from states that oppose it.) As part of the FCC's approval, both companies committed to building a network within three years of the deal's closing using the latest mobile-phone technology, known as 5G, that would be accessible to 97% of the U.S. population. Within six years, the network must expand to include 99% of the population and include 90% of rural areas.
Connecting The Country
To enable wireless carriers to offer their services in less-populated areas, Vertical Bridge has been building, buying and upgrading assets in rural America. Those upgrades were necessary because many older towers lacked the capacity and strength to allow for multiple wireless carriers to install their communications equipment on various heights of the same structure.
It's always difficult to make the business case for deploying wireless broadband outside of populous regions, according to Jonathan Adelstein, president and CEO of the Wireless Infrastructure Association. There are fewer customers, yet rural areas need connectivity at least as much as the rest of the country, because they are farther from health care services and cultural and educational opportunities.
While small cells or rooftop antennas are becoming more common in cities and suburbs, tall towers play a particularly important role in rural areas because they allow for signals to be transmitted over longer distances. "You need to really get a wide signal out broadly in order to be cost-effective, and towers are perfectly positioned to provide costeffective coverage in rural areas," Adelstein says.
Companies like Vertical Bridge are focused on deploying infrastructure that allows carriers to expand in rural areas, a development that until recently seemed unlikely, Borghei says. "Nobody ever thought 10-15 years ago that the carriers were going to invest money to get into the rural part of the country."
Sometimes wireless carriers will build their own towers, but in other cases they'll use those built by third parties, allowing them to stretch their budgets further. According to Adelstein, "They have more capital to invest in expanding to rural areas if they can rely on companies like Vertical Bridge to build this rural infrastructure."
Vertical Bridge is one of the companies providing towers for a network that may help save lives across the country by connecting first responders. One of its customers, AT&T, was chosen by the First Responder Network Authority, known as FirstNet, to build and manage the first broadband network dedicated to America's police, firefighters and emergency medical services providers. FirstNet will cover all 50 states, five U.S. territories and the District of Columbia, including rural communities and tribal lands.
"You need to really get a wide signal out broadly in order to be cost-effective, and towers are perfectly positioned to provide cost-effective coverage in rural areas."

Jonathan Adelstein
President and CEO, Wireless Infrastructure Association
Scratching The Surface
As it goes head to head with large, publicly traded companies, Vertical Bridge has positioned itself as a nimble competitor with a growing portfolio. At the end of 2019, it owned and master-leased more than 268,000 sites nationwide. But in recent years, more private players have emerged, presenting a new threat.
Ganzi estimates that there are more than 30 private tower companies in the U.S., whose holdings range from a dozen structures to a thousand. "All are very skilled at what they do, and in a private capital structure, they can be quite flexible and disruptive," he says. "So, we've also got to be mindful that there's now a lot more private competition out there."
It helps to operate as a specialized real estate company, one that carefully vets its sites and offers flexible solutions for customers. Vertical Bridge also stands to benefit from a development that will continue to spur investment across the wireless infrastructure industry: 5G.
The fifth-generation wireless network will provide faster speeds and higher bandwidth, allowing for new applications. As Gellman points out, technology that we take for granted today—like Uber or the navigation app Waze—wasn't possible before 4G launched a decade ago.
5G is expected to enable new technology that will affect daily life, such as connected devices that make up the internet of things, known as IoT. As that innovation accelerates, Vertical Bridge's customers will need more structures to deploy their networks.
"Once you get that going, that's when you start seeing true IoT applications being deployed and developed," Borghei says. "We get very excited about it, and we haven't even begun to scratch the surface."
This story originally appeared in the January/February 2020 print edition of Middle Market Growth magazine. Read the full issue in the archive.
---
S.A. Swanson is a business writer based in the Chicago area.
Vertical Bridge's stealth structures include (from left) a "monopine" tower in Alaska; a "guyed" tower in Colorado; a "monopalm" tower in Texas; and a flagpole tower in Florida.