Argenbright Holdings' Cultural Capital
With its savvy M&A strategy, inclusive approach to hiring and longstanding client relationships, Argenbright Holdings is on track to hit $1 billion in revenue this year.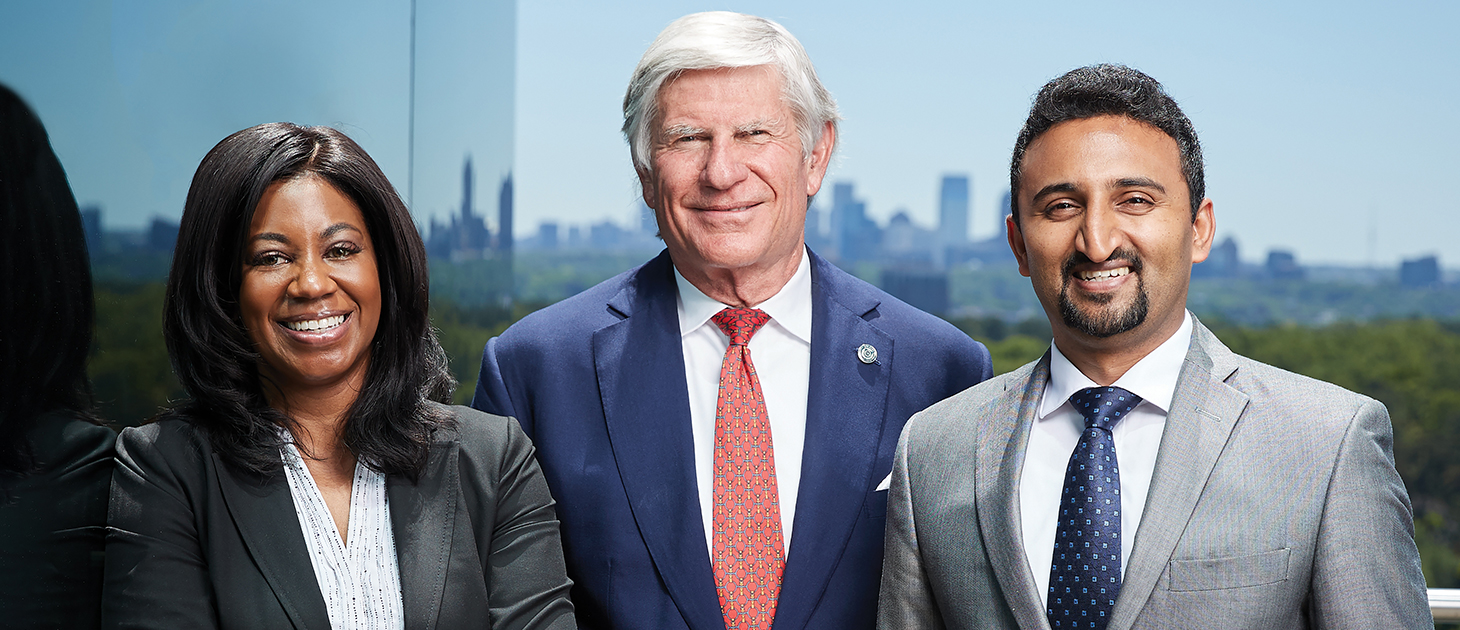 While Frank Argenbright was attending an entrepreneurial program at Harvard Business School in the early '90s, one of his professors told him he had "RLC." Argenbright remembers asking what that meant. The answer: rat-like cunning. "He told me privately that I had a real gift for marketing, and some of my ideas in class were brilliant."
That's a far cry from how Argenbright, 71, was perceived when he was younger. He has attention deficit disorder with hyperactivity and dyslexia, and based on those traits, "people considered you to be stupid," he recalls. During his senior year of high school, Argenbright says his mother taught his history class. "And she actually failed me."
His track record as an entrepreneur tells a different story. Argenbright started his first company with $500. Twenty years and 23 acquisitions later, it was a $1 billion business. Then he launched a second company, which he grew to $300 million in revenue after 10 years.
Now he's in his third act, as chairman and founder of Argenbright Holdings. By providing services in three verticals—security, custodial and aviation—the company is on track to hit $1 billion in revenue this year.
Argenbright Holdings has grown rapidly through acquisitions. Since its formation in November 2017, the company's workforce has increased from approximately 6,500 employees to 30,000.
ARGENBRIGHT HOLDINGS
Business: Security, custodial and aviation services, provided by three platform businesses under the Argenbright Holdings umbrella
CEO: Frank Argenbright
Headquarters: Atlanta
Number of employees: 30,000
Expected annual revenue in 2019: $1 billion
When building his team, Argenbright says he looks for "quicker, faster, smarter" workers. He wants the company's leaders and employees to avoid the pitfalls of groupthink, which is why Argenbright values employees who bring different perspectives with their ethnicity, gender or cultural background.
That emphasis on diversity represents one of Argenbright's long-held beliefs about how to run a company, says Karan Ishwar, Argenbright Holdings' chief financial officer. "[Frank] noticed that if you bring in too many people who are too similar, everyone's going to think the same, and they're going to make the same decisions."
Argenbright's observations are backed up by data. A report released last year by management consulting firm McKinsey & Co. found companies with the most ethnically diverse executive teams were 33% more likely to achieve higher profits than their peers.
EXTRASENSORY PERCEPTION
"Rat-like cunning" is a valuable quality for any entrepreneur, but it's not Argenbright's only dealmaking superpower. Unlike most corporate leaders, he says he doesn't read financial statements. "I don't process numbers well, but I do understand the concept of numbers," he says. Instead, he uses the "extrasensory perception" he says his ADD and hyperactivity give him.
If Argenbright is in a room with people hashing out a deal, he says he can carry on a conversation while listening to a separate discussion several feet away. "I know if they're trying to take advantage of me, or if I've got more room to push for a better deal," he says.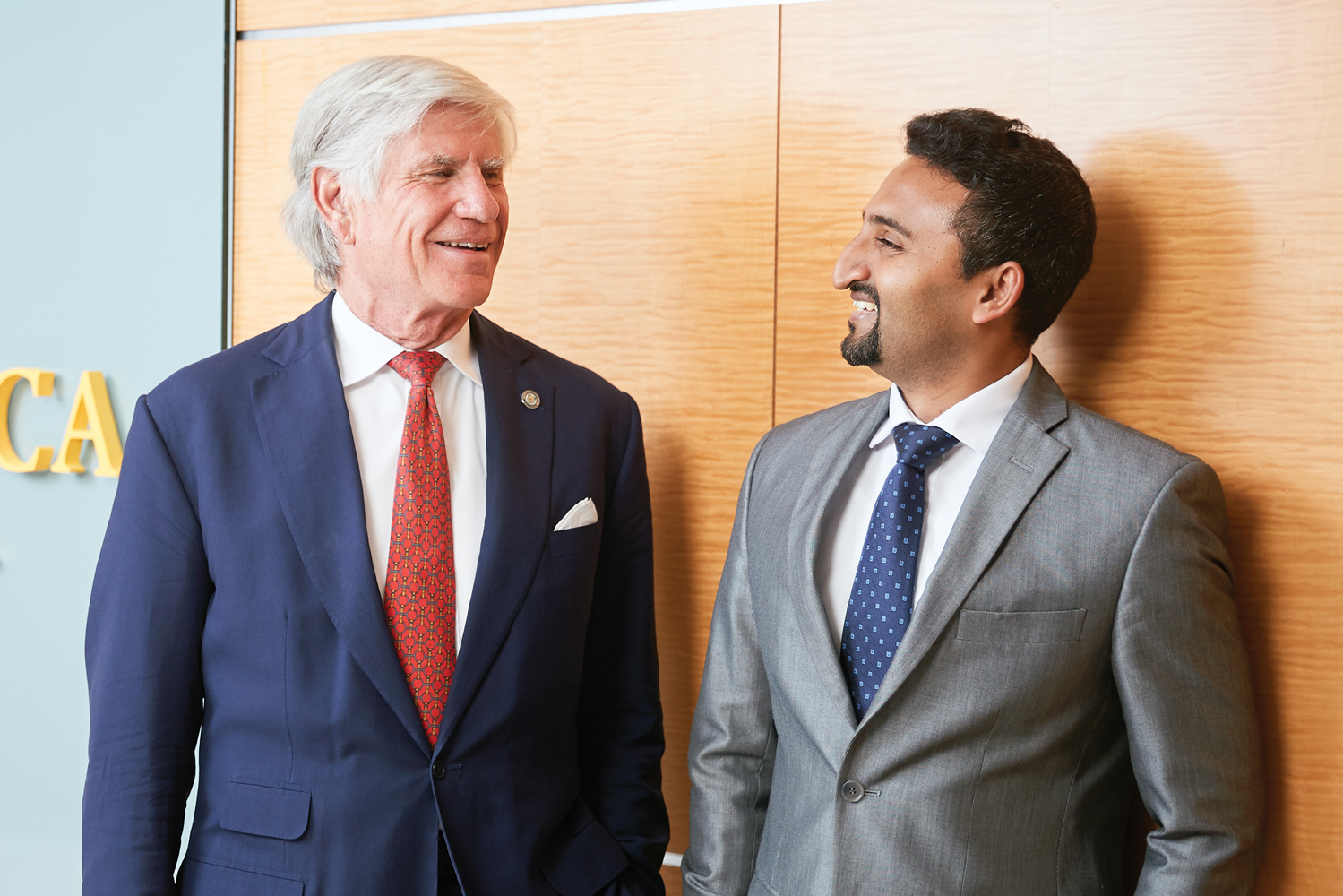 "ALL MY LIFE I'VE BEEN TOLD I CAN'T DO THINGS, SO I JUST PARTNER UP WITH PEOPLE WHO SAY, 'LET US TELL YOU HOW TO GO DO IT.'"
FRANK ARGENBRIGHT
Chairman and Founder, Argenbright Holdings
Whether it's attributable to RLC or extrasensory perception, Argenbright's strategy seems to be working. He has completed more than 40 acquisitions during the past four decades as he's grown his businesses.
The first company he founded, Argenbright Holdings Limited Services, was listed on NASDAQ. It began as a security company and expanded into janitorial and aviation services, and it later added shipping and fulfillment offerings. He co-founded his second company, AirServ, in 2002 with Tom Marano, now the CEO of Argenbright Holdings. The company, which provides aviation services such as baggage handling and janitorial work, was purchased 10 years later by facility management giant ABM Industries.
After the AirServ sale, Argenbright turned his focus to SecurAmerica, the security company he started in 2006 that would become one of Argenbright Holdings' three platform businesses. From 2012 to 2013, SecurAmerica's revenue grew from $60 million to $70 million— significant growth, but nowhere near the more than tenfold increase Argenbright envisioned for the next five years.
To reach that aggressive goal, Argenbright needed the right team. "All my life I've been told I can't do things," he says, "so I just partner up with people who say, 'Let us tell you how to go do it.'" He didn't know it then, but Argenbright would soon find the right partner for the job, more than 8,000 miles away.
NEW COMPANY, OLD HISTORY
While vacationing in India in March 2013, Argenbright wanted to meet with local security companies to explore acquisition opportunities. He was referred to a private equity firm that could make introductions.
According to Argenbright, one of the firm's associates, Karan Ishwar, pulled him aside and told him, "You could buy these [security] companies all day long for 5x EBITDA, but they're going to tell you that it's valued at 10x EBITDA. I'm just telling you they're going to try to cheat you."
That candor got Argenbright's attention, so he invited Ishwar to dinner. They talked for hours and discussed the possibility of working together. After Argenbright returned to the U.S., he and Ishwar worked out an arrangement to have Ishwar study the business and ultimately run its M&A efforts.
It was a risk for Ishwar, then 27, not only because it required leaving India for the United States. It also meant trading a career in private equity for security services, an industry not known for its innovation. "People were like, 'Are you crazy?'" Ishwar recalls.
In January 2014, he made his choice and moved to Atlanta. He recognizes the gamble Argenbright was taking by hiring him. "He took a chance on somebody who's so young, coming from a completely different background, different culture, who's never worked in the U.S."
When Ishwar joined the company, SecurAmerica focused solely on commercial security. Over the next five years, it made six acquisitions and added government security to its offerings.
Argenbright Holdings formed in November 2017 during the acquisition of ERMC, which provides custodial, security and aviation services. In December 2018, the holding company acquired its third platform business, Delta Group Services, a provider of aviation services. Known as DGS, the company was previously a subsidiary of Delta Air Lines, which retains a minority stake. When it was acquired, DGS added 20,000 workers to Argenbright Holdings, bringing the total number of employees to 30,000. DGS now represents a little over half of Argenbright Holdings' total revenue.
Argenbright's preferred acquisition targets are companies with hourly workers, recurring revenue ("$50 million to $100 million is sort of our sweet spot," he says), and customers who sign three-to-five-year contracts. Among the clients in the aviation vertical is Atlanta's international airport, where about 3,000 Argenbright Holdings employees work, handling duties such as pushing wheelchairs and fueling airplanes.
Argenbright also looks for companies with long-term customer relationships. One of Argenbright Holdings' acquisitions has had the same customer for more than 60 years, he says.
For 13 years, SecurAmerica has been the preferred security vendor for commercial real estate company Avison Young, says Precious Carter, Avison Young's vice president of property management. It provides security services across Avison Young's portfolio, including office buildings, mixed-use developments, retail centers and industrial buildings. Carter says SecurAmerica has the "ability to quickly adapt to our ever-changing world," as her firm takes on management of new properties.
Some customers are doing business with Frank Argenbright for the third time in the past 40-plus years, including Federal Express and Georgia Power. That's part of how he was able to take a $70 million company and build a $1 billion holding company around it in about five years' time. With his current business, he's drawing on the success he's had with his other ventures, he says. "It's a new company with an old history."
UNCOVERING ROCKS
Those longstanding client relationships make acquisition targets feel more comfortable with Argenbright Holdings. According to Ishwar, "When they see how customers want to come back to us, it's a strong message that they understand: 'Okay, these guys treat people right, they know what they're doing, and my business is in safe hands.'"
Relationship building is essential fuel for Argenbright Holdings' acquisition engine. "Any M&A department can get a list of businesses for sale at the private equity house," Argenbright says. "With us, it's like uncovering rocks." That means finding entrepreneurs who haven't yet put their company up for sale. From November 2017 to December 2018, Argenbright Holdings completed five deals, and four were initiated between buyer and seller without intermediaries.
After identifying an acquisition target and approaching the owners, Ishwar's team invests time with those entrepreneurs and provides a sense of Argenbright Holdings' culture, its vision for the organization and how the seller's company fits into that plan.
He says that approach distinguishes Argenbright Holdings from many other buyers. In Ishwar's experience, it takes time to build relationships that make sellers feel comfortable. "It's knowing that we're not a financial investor who's just going to come in and strip their business of a bunch of people, reduce costs—thereby reduce their quality of service—and then flip it in three years."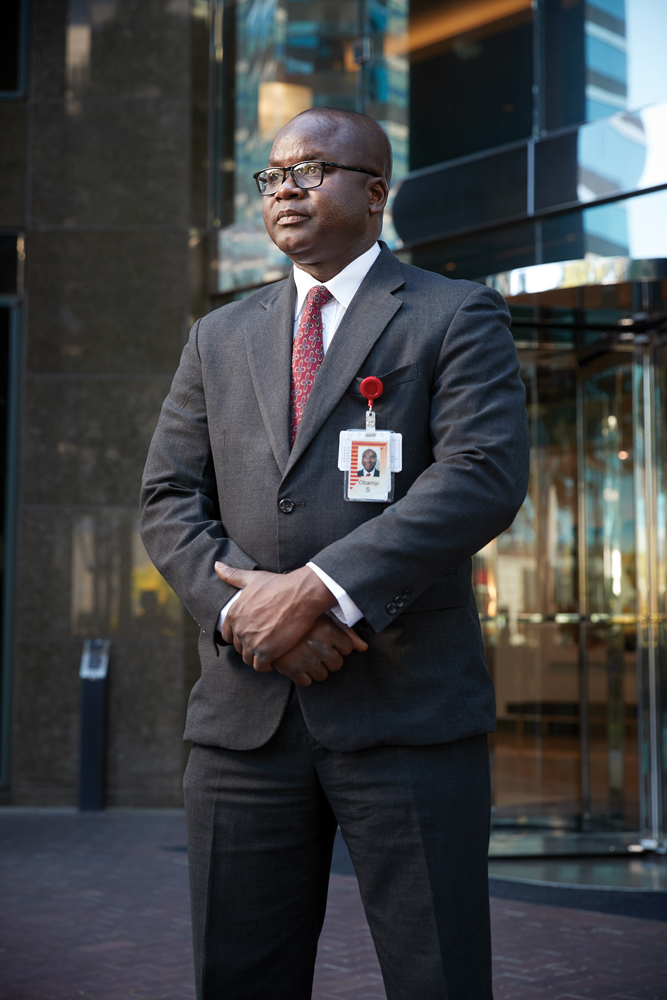 "[FRANK] NOTICED THAT IF YOU BRING IN TOO MANY PEOPLE WHO ARE TOO SIMILAR, EVERYONE'S GOING TO THINK THE SAME, AND THEY'RE GOING TO MAKE THE SAME DECISIONS."
KARAN ISHWAR
Chief Financial Officer, Argenbright Holdings
BACK IN THE GAME
Acquisition attempts haven't always gone according to plan. Several years ago, a large competitor in the security market bought up more than 40 companies, according to Ishwar. He says the acquirer was backed by private equity and overpaid for the companies, which drove up market expectations.
As a result, Argenbright Holdings couldn't make a single acquisition in 2015 and 2016. "It was a painful period because we came close on a few deals, but every single time we got outbid," Ishwar says. "We decided to be disciplined and wait, rather than overpay and get hurt in the process."
Two years is a long time to play a waiting game, he says, "but we knew that we were doing the right thing." During that period, the company focused on organic growth. Eventually, purchase multiples returned to more reasonable levels, Ishwar says. "Now we're back in the game and we're doing deals that are fairly priced for both the buyer and the seller."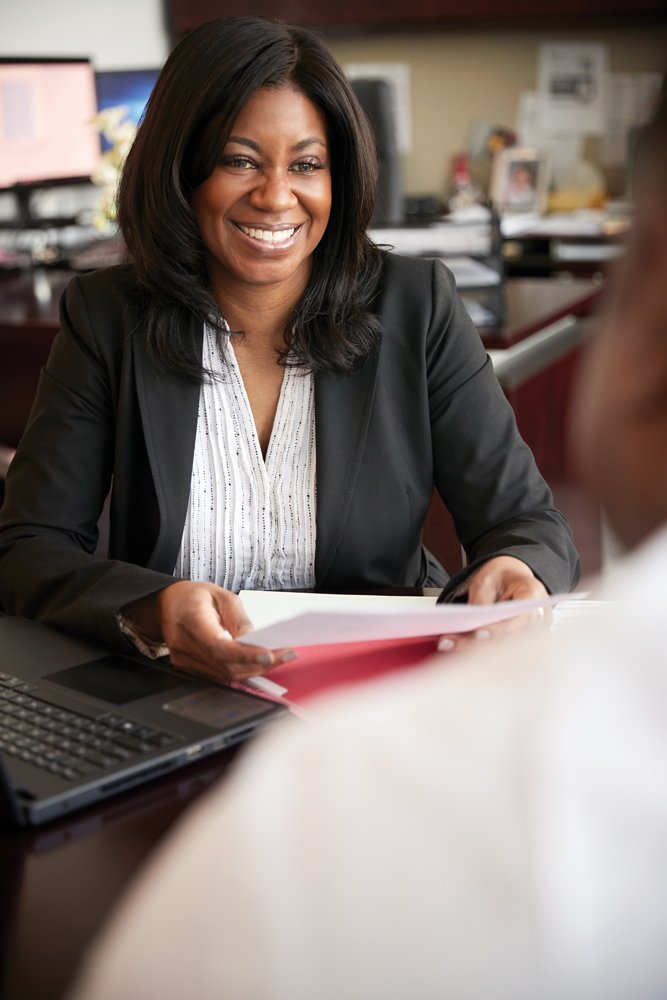 "YOU CAN POST JOBS ON DIFFERENT WEBSITES, AND WE DO THAT AS WELL, BUT I THINK BUILDING A RELATIONSHIP WITHIN THE COMMUNITY IS IMPORTANT BECAUSE THEY'RE MORE LIKELY TO COME TO YOU FIRST WHEN THEY HAVE GOOD CANDIDATES."
SUZANNE FOUNTAIN
Vice President of Human Resources, SecurAmerica
He expects to close four or five deals in 2019, including a European acquisition. It's part of Argenbright's plan to build a global company, and employee diversity plays an important role in that strategy, Ishwar says. "When you bring in the best people, you also want to bring in people from diverse backgrounds to have on your management [team]."
To encourage diverse opinions, Argenbright has sought executives from outside the security industry, like Ishwar and CEO Tom Marano, who previously served as vice president of sales and marketing for Coca-Cola and Apple.
Industry outsiders aren't the only sign of diversity. Of the seven people on the executive leadership team, three are people of color. Of Ishwar's seven direct reports, four are people of color and three are women.
Diversity is a priority for front-line workers too, says Suzanne Fountain, vice president of human resources for SecurAmerica and a member of the holding company's executive team. At Argenbright Holdings' annual human resources conference, where HR managers from its companies meet for three days, diversity is one of the main agenda items.
Argenbright Holdings serves clients from a wide array of demographics, and it's important to have workers who reflect that, Fountain says. "It fosters an environment where you have different backgrounds, different cultures, different ages, different everything."
To find those employees, the company emphasizes ground recruiting. HR representatives visit local community offices for organizations like AARP, Veteran's Affairs or religious groups, and they describe the skills they're seeking. "You can post jobs on different websites, and we do that as well," Fountain says, "but I think building a relationship within the community is important because they're more likely to come to you first when they have good candidates."
SMARTEST IN THE ROOM
Some business leaders want to feel like the smartest person in the room, but Argenbright seems more interested in hiring the brightest. "I have an obsession with getting the best people and turning them loose," he says.
That obsession helped him build his $1 billion holding company—but when that revenue figure was discussed in 2014 as a five-year goal, Argenbright says his previous CFO told him it wouldn't be possible to reach without giving up equity. "I don't do well with 'apostrophe 't's," Argenbright says. "You know: can't, shouldn't, wouldn't, couldn't."
Ishwar showed him it was possible. "He came to me and said, 'It won't be easy, but we can do it,'" Argenbright recalls. "I did not have to give up equity, and Karan ran the whole process."
Argenbright has other challenging goals in mind, like reaching at least $5 billion in revenue by 2027. Ishwar will guide that process too, as he avoids uttering the dreaded "apostrophe 't's" to his boss.
"He is not only extremely smart," Argenbright says, "but he has what very few people I know have: rat-like cunning."
This story originally appeared in the July/August print edition of Middle Market Growth magazine. Read the full issue in the archive.