Corporate development officers tend to be a diverse and elusive set of dealmakers. Frequently shouldering the M&A function alone within their companies, they value any chance to meet face-to-face with their peers.
Tapping into that need, more than a dozen ACG chapters are now leveraging ACG's core strength as a networking organization to offer CDOs the types of opportunities they seek. The effort is designed to broaden the association's appeal to the CDO community and boost corporate representation in membership ranks. Results of the pilot effort will be shared with all ACG chapters.
"ACG has done a great job with private equity membership, but we've only partially tapped a vast market in corporate acquirers, and there isn't a competing association for them," says Brent Baxter, a St. Louis-based ACG Global board member who heads the initiative. He notes that more than two-thirds of acquisitions are completed by corporate acquirers.
Baxter, a managing director at investment banking firm Clayton Capital Partners, approached ACG Global President & CEO Gary LaBranche in November of 2015 with a plan to focus more attention on corporate acquirers. The understanding was that if successful, the model could be rolled out to other chapters interested in attracting corporate members.
Part of the problem in reaching the corporate audience is that CDOs are not clearly identified by their M&A function. Their titles include CEO, CFO, vice president of business development and VP of operations, among others.
"Development issues aren't driven by the same title at every company," says Leslie Whittet, vice president of chapter operations for ACG Global.
 "The $64,000 question, therefore, is how to reach the corporate acquirer at each company," says Baxter, whose local chapter in St. Louis has historically included healthy corporate representation. "One-third of our members are corporate people, most of them being the point person in the company in charge of growth by acquisition."
---
"We know how to get corporate development leaders as keynote speakers at our events, but we want them to want to be in the audience as well."
Kelly Szejko, President, ACG Pittsburgh
---
Baxter says that because corporations are only "occasional acquirers," CDOs appreciate making connections with ACG members at private equity firms, banks and other service providers that are more active in the dealmaking space.
"That creates an even more valuable aspect for ACG because we've got everything they need," he adds.
The St. Louis chapter relies on two programming approaches for CDOs: small group discussions with members coming together to hear a presentation about a topic and later splitting off into groups for a more intimate dive, and roundtable discussions with all attendees involved at once.
Building off the St. Louis chapter's success, ACG in July formed a task force of a dozen chapters and held a workshop to build a strategy. The group, now 13 chapters strong, will present its formal report to the ACG Global board in April 2017, Baxter says. It is already underway with a "grassroots effort to actively cooperate on building the value proposition for corporate acquirers and bring them into ACG," he says.
Chapter Adoption
Each chapter has put its own stamp on the process.
ACG Philadelphia tried panel events and small group workshops before determining that a roundtable discussion facilitated by a moderator worked best, says Stephanie McAlaine, the chapter's executive director.
"Every CEO and CFO has a story, wants to tell their story and has a great desire to hear what others are saying," she says.
In its promotional efforts, Philadelphia was explicit that its corporate networking events were open only to corporate officers, thereby easing any concern from participants that there could be sales pitches from service providers. The chapter also stressed the range of industries represented.
"Normally, the executives who are solely responsible for acquisitive growth can meet their counterparts at industry conferences, but they rarely get peer interactions with corporate executives outside of their industries," McAlaine says.
The Kansas City chapter also uses peer-exclusive events to engage with corporate dealmakers, typically offering a breakfast meeting every other month. After a short presentation on a given topic, the room is opened up for a lively discussion.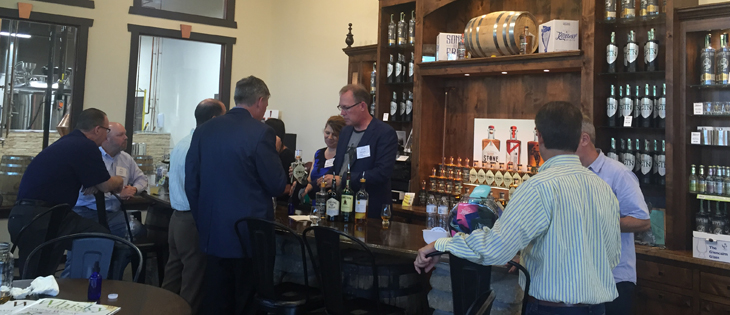 The chapter stipulates that after attending two corporate-exclusive events, participants can't attend more without first becoming an ACG member.
"The goal is to truly form peer groups," says Jim Fee, ACG Kansas City past president. "We want them to meet their corporate counterparts at ACG, and eventually facilitate meeting each other outside of the ACG. We're making introductions so they have someone to call in the future."
ACG Pittsburgh's pilot began in late September. To ensure success, the chapter is proactively reaching out to CDOs and asking for input on how best to serve them. Already representatives from six corporations have agreed to participate.
"We know how to get corporate development leaders as keynote speakers at our events, but we want them to want to be in the audience as well," says Kelly Szejko, ACG Pittsburgh's president.
The Pittsburgh chapter is providing more intimate opportunities, such as roundtable discussions and corporate-exclusive events that really open up the room for networking among corporate executives, Szejko says.
Mike Hartman, president of ACG Denver, says his chapter has drawn the highest level of CDO participation with a format it dubbed "ACG Talks": short (five-to-eight minute) roundtable discussions at executive breakfasts followed by more networking. Video of each talk is then made available to all ACG Denver members online.
The chapter also hosted a CEO dinner series – events designed exclusively for CEOs to meet one another. The issues they discuss illustrate the importance of peer-to-peer interaction.
"It's a chance for CEOs to talk freely about what's keeping us up at night, what factors are impacting our development efforts," says Angie MacPhee, an ACG Global board member and CEO of the Denver-based accounting firm RGL Forensics. She says topics include "strategy specifics on how we are achieving growth, capitalizing on it, attracting talent, building a strong culture and continuing to foster growth."
Other chapters in the pilot are Atlanta, Detroit, Wisconsin, National Capital, Nebraska, Indianapolis, Dallas, Utah and Portland.
Says MacPhee: "It's so nice to have a forum to sit with a group who have similar roles, but from different industries. It is very valuable to discuss the common threads in our businesses."