Illinois will join the ranks of states with legalized recreational marijuana on Jan. 1 as the market for cannabis businesses in the U.S. continues to expand.
All but four states now permit marijuana use to some degree, and the fast-paced expansion has prompted evolution in the industry, a topic discussed earlier this month during an ACG Chicago panel moderated by Gavin O'Reilly, managing director in Cowen's Consumer Investment Banking Group and leader of the firm's cannabis investment banking practice.
As the industry has grown and public markets have become more active, it has become increasingly important for companies to differentiate themselves. "We think of hemp or cannabis as commodities, and it's becoming even more of a commodity as time goes on," said panelist Michael Gruber, managing partner at Salveo Capital, an investment fund focused on the legalized cannabis sector.
In order to stand out, operators in the cannabis space will need to become more efficient and offer high-quality branded products. Technologies that help improve yield, such as sensors, software, genetics and strains, will be in high demand, he added.
Gruber expects cannabis to have the greatest impact in health and wellness applications, as a plant-based alternative to opioids and other pharmaceuticals. "We strongly believe that the wellness-plus-pharmaceuticals channel will ultimately be the place where the most dollars are spent," he said.
Cannabis is not without its controversies, including recent deaths linked to marijuana-based vaping products. Yet panelists agreed that fears about adulterated cannabis products will likely push vape users away from the black market and toward legal cannabis retailers. "If folks want to watch out for their health, they're going to be more interested in the regulated market," said Eric Berlin, a partner at law firm Dentons US LLP.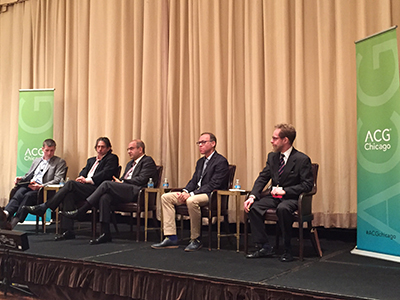 With access to more customers than ever, cannabis businesses have grown in size and scale, and many are looking to expand beyond their home regions. However, crossing state lines is challenging when dealing with a product that remains illegal at the federal level and is subject to vastly disparate state and local regulations.
From packaging rules to extraction protocols and licensing limitations, entering a new state often means starting from scratch. "You have to rebuild infrastructure in every state you go into," said panelist Kris Krane, president of 4Front Ventures, a marijuana company with capabilities across the value chain, from cultivation to retail operations in nine states.
At Green Thumb Industries, a cannabis consumer packaged goods company and retailer, the strategy has been to enter states that offer a limited number of licenses, said panelist Andy Grossman, the company's head of capital markets. By establishing a foothold before marijuana is approved for recreational use, the company can capitalize on a first-mover advantage once cannabis becomes more widely permissible. "We can get significant market share as states transition from medical to adult use," he said.
For states that recently legalized recreational use, capacity can take time to catch up with demand. Illinois Governor J.B. Pritzker signed legislation in June to legalize recreational marijuana, giving operators in the state only six months to secure licenses and permits needed to begin planting and setting up retail operations. Krane predicts the state will see shortages after recreational dispensaries open their doors at the start of the new year.
"The January 1 headline will be [that there are] long lines," he said. "On January 2, it'll be that Illinois is out of weed."

Kathryn Mulligan is the editor-in-chief of Middle Market Growth.