Food Product Manufacturers Shift to Post-Pandemic World
Insurer QBE and broker Lockton partner to help address the labor shortage and other concerns as the U.S. economy recovers.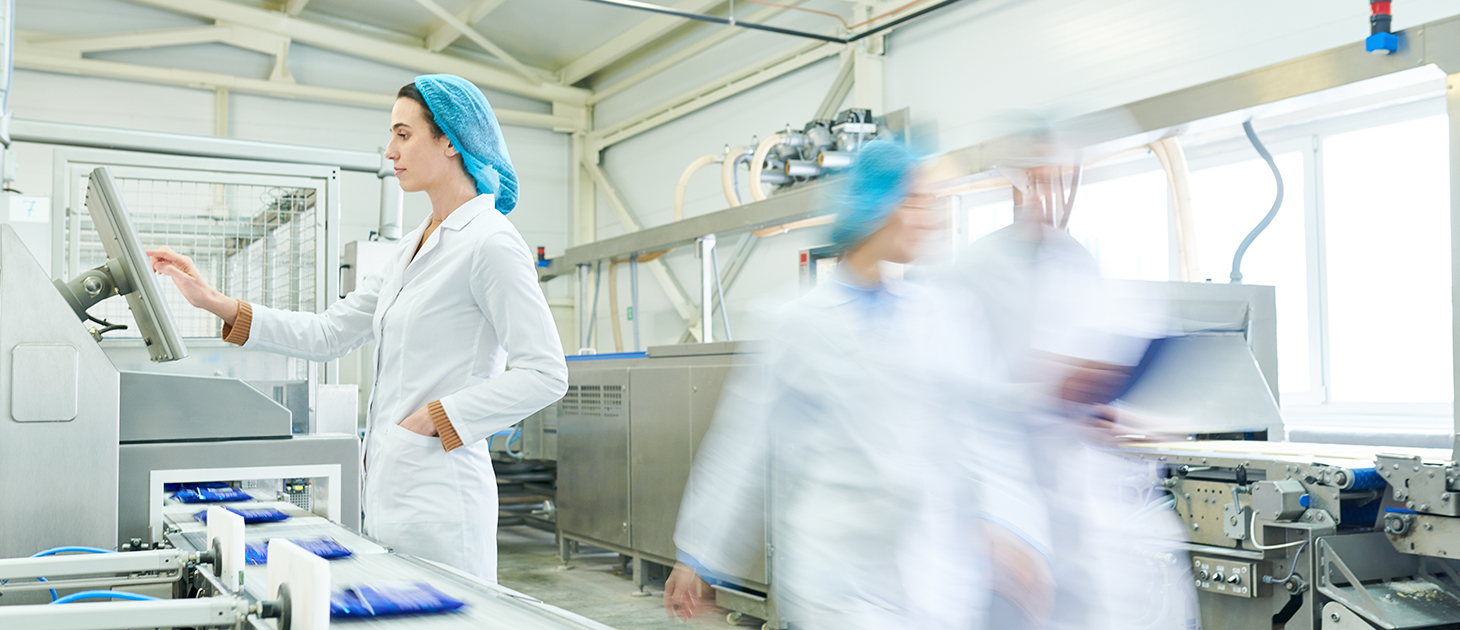 While many consumer food product manufacturers fared well during the COVID-19 crisis compared with companies in the hospitality, retail and airline industries, they did see their risks change and grow. With more people eating at home more often, for instance, many saw demand rise but struggled to find enough workers. That struggle continues as the economy recovers.
"The labor shortage has become one of the primary concerns for our consumer food product customers," explains Tom Fitzgerald, president of Specialty & Commercial Insurance at QBE North America. "To help them solve for this and other risks, we partner with a select group of insurance brokers, leveraging each other's strengths to bring value to clients as trusted advisors."
The long-term partnership between QBE North America and Lockton Companies is one example.
"As a broker, our job is to find the best risk management and insurance partner for our clients," explains Matthew Klein, senior vice president and team leader, Food and Beverage Practice, Lockton Companies. "We take a holistic view of a customer's risks and then see how our complementary products and services can help them navigate those risks."
Midsize manufacturers may not have the scale to have a dedicated risk management function.

Bobby Steinsdoerfer
Senior Vice President, Retail P&C Underwriting, QBE
Regarding the labor shortage, Lockton's services include analyzing the competitiveness of a customer's employee benefits package against those of rival employers in the area, notes Klein. Lockton also surveys employees about what is most important to them to help companies optimize how they spend on employee benefits and the workplace environment to improve employee retention.
Worker Safety
Those services work in tandem with services provided by QBE as part of the insurance program.
"Worker safety is always a top concern at manufacturers, where injuries tend to be more frequent and severe compared to many other industries," says Bobby Steinsdoerfer, senior vice president, Retail P&C Underwriting, QBE. "It's a big part of keeping staff morale high and the workforce at full capacity. It also affects a major portion of the overall insurance premium spent by manufacturers. Therefore, anything we can do to improve safety pays significant dividends."
In one case, QBE performed a loss control survey for a coffee manufacturer that uncovered increased risk due to various manual lifting tasks, such as loading 8-foot-tall plastic silos with heavy equipment in a confined space, as well as manually moving 150-pound bags of coffee beans. These were a leading cause of sprain and strain injuries.
Based on that finding, QBE conducted onsite Job Hazard Analysis supervisory training that included a safe lifting program, online courses and ergonomic risk assessments on a variety of tasks. Within about two years, the program cut the coffee manufacturer's Workers' Compensation loss ratio roughly in half.
"Midsize manufacturers may not have the scale to have a dedicated risk management function," says Steinsdoerfer. "The services we provide in concert with our broker partners such as Lockton can help these manufacturers improve worker safety and thereby reduce labor supply issues."
Work Culture and Brand Reputation
In addition to employee benefits and worker safety, QBE and Lockton note that companies face increased pressure on maintaining a fair and respectful work culture to attract and retain employees and protect their brand reputation.
"While culture and brand reputation have always been important issues, movements such as #MeToo and Black Lives Matter have elevated sensitivity to discrimination and harassment issues, so employers have to get this right," notes Fitzgerald. "The problem for midsize manufacturers is the lack of robust legal and HR departments to implement strong policies and procedures and stay on top of constantly evolving regulations."
While Employment Practices Liability insurance can provide coverage for costs related to legal defense, settlements or jury awards to employee claimants, and even public relations costs, the best defense is to avoid issues in the first place.
To help, employers who purchase Employment Practices Liability insurance from QBE also get access to a complimentary service that offers unlimited documented and confidential advice from employment law attorneys, online training courses on topics such as sexual harassment prevention, a state-specific employee handbook and policy builder, and federal and state regulatory updates.
Planning to Increase Automation
In another effort to combat the labor shortage and improve efficiency, food manufacturers have ramped up efforts to automate the production process, but the acceleration of this trend brings new risks. Cyber vulnerability is one, especially with the increased use of the Internet of Things (IoT)— devices and sensors that monitor and control equipment or processes.
"Food manufacturers weren't heavy buyers of cyber insurance early on because, unlike health care or financial services companies, they didn't keep a lot of sensitive customer information that was a common target in early cyber breaches," Klein notes. "For the same reason, they were slower to adopt strict IT controls. But the proliferation of ransomware attacks has changed all that—as the recent shutdown of meat processor JBS showed. We work closely with customers to evaluate their risks, suggest resources for strengthening their controls and response plans, and secure proper insurance coverage."
Beyond cyber risk, Steinsdoerfer notes the importance of broker-carrier teamwork to stay on top of equipment that is brought in for increased automation throughout the insurance policy term. This equipment can be very expensive and insurance values need to be adjusted accordingly. Furthermore, physical labor tasks may change with new automation and require a new assessment of ergonomic risks.
Labor supply, brand reputation and cyber vulnerability are just three of the many challenges facing food manufacturers today. QBE and Lockton also see growing concern about inflation, supply chain and regulatory actions. By working closely together to understand these risks from the customer viewpoint, they can tailor an insurance program and related services to help customers move forward with confidence toward a post-pandemic world.
QBE North America is part of QBE Insurance Group Limited, one of the largest insurers and reinsurers in the world. Lockton is the world's largest privately owned independent insurance brokerage firm.
Tom Fitzgerald is the president of Specialty & Commercial Insurance at QBE.

Bobby Steinsdoerfer is a senior vice president of Retail P&C Underwriting at QBE.

Matt Klein is a senior vice president and team leader of the Food and Beverage Practice at Lockton Companies.