The intersection of health care and technology has created new ways to improve health outcomes for patients and reduce inefficiencies for providers, even as startups face major challenges getting their solutions to market.
As CEO of health care technology incubator Matter, Steven Collens has seen the impact tech can have on the industry, which he discussed during his keynote address at ACG Chicago's 10th Annual Healthcare M&A Conference on May 21.
"Health care is a mess," he told the audience. The current system is designed to be reactive: Patients typically interact with health care professionals only when they don't feel good or when something has happened.
Yet with technology, there's an opportunity to create personalized medicine and track health indicators to anticipate a problem before it becomes an emergency.
Collens pointed to the potential for data science to drive clinical innovation by improving diagnostics and treatment and supporting individualized care for patients. Analyzing large data sets can help identify problems that a doctor might miss, he said. "The power of technology is to recognize things humans can't."
Technology and automation can also improve hospitals' business operations. Collens described how a startup called SwipeSense helps reduce infections by using sensors that monitor when caregivers clean their hands. The company also offers a solution for hospitals to track assets, which can save time spent searching for equipment and reduce theft.
Collens has a dim view of the patient experience today, but he expects technology can help by enabling people to participate in their own care. "People don't want to engage in health care, for the most part. They just want to be healthy," he said.
Solutions are emerging to help individuals manage their own care. Lytic is among the digital health startups that let users check their symptoms and generate personalized treatment recommendations using artificial intelligence. It also offers an interface for health care providers to track and monitor patient health.
But despite the advancement in technology, there are numerous roadblocks for entrepreneurs to develop and deploy new health care solutions.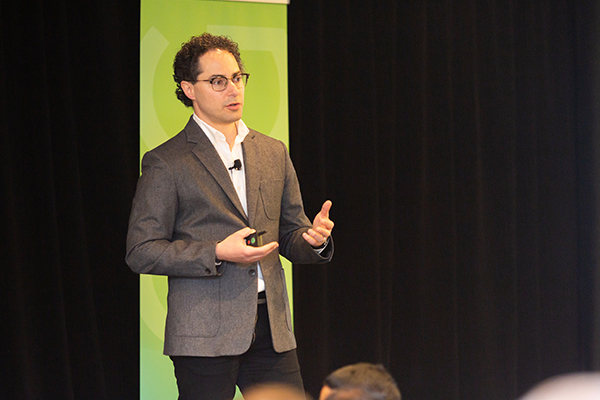 "In most industries, if you build a product that solves a problem, somebody will pay for it," Collens said. "In health care, it doesn't work that way." Even if a solution improves health outcomes or helps doctors, a health system or insurance company won't buy it if it doesn't increase revenue or lower expenses, he added.
Collens suggests a collaborative approach as the way forward. Because of the hurdles to enter the health care market, entrepreneurs must partner with established industry players. His organization, Matter, opened in 2015 with that goal in mind. Today it works with 200 health care technology ventures, and it partners with hospitals and health systems, universities and established health care companies.
In December 2018, Matter and Advocate Aurora Health, the 10th largest not-for-profit integrated health system in the country, named Lytic the winner of their Health Tech Venture Challenge. The startup received a cash prize, a six-month Matter membership and curated sessions with Advocate Aurora Health subject matter experts to further develop their solution. Today, Lytic's technology is being piloted within the health system's hospitals.
Following Collens' keynote, ACG Chicago's health care conference included Ted Talk-style presentations from other health care leaders and ACG DealSource meetings with private equity firms and investment banks. The following day, ACG Chicago hosted its 20th annual ACG Capital Connection event at the Marriott Downtown Magnificent Mile.

Kathryn Mulligan is the editor-in-chief of Middle Market Growth.