ACG Awards Meritorious Service and Lifetime Achievement Awards
The prestigious Lifetime Achievement Award and seven Meritorious Service Awards were presented at InterGrowth 2017.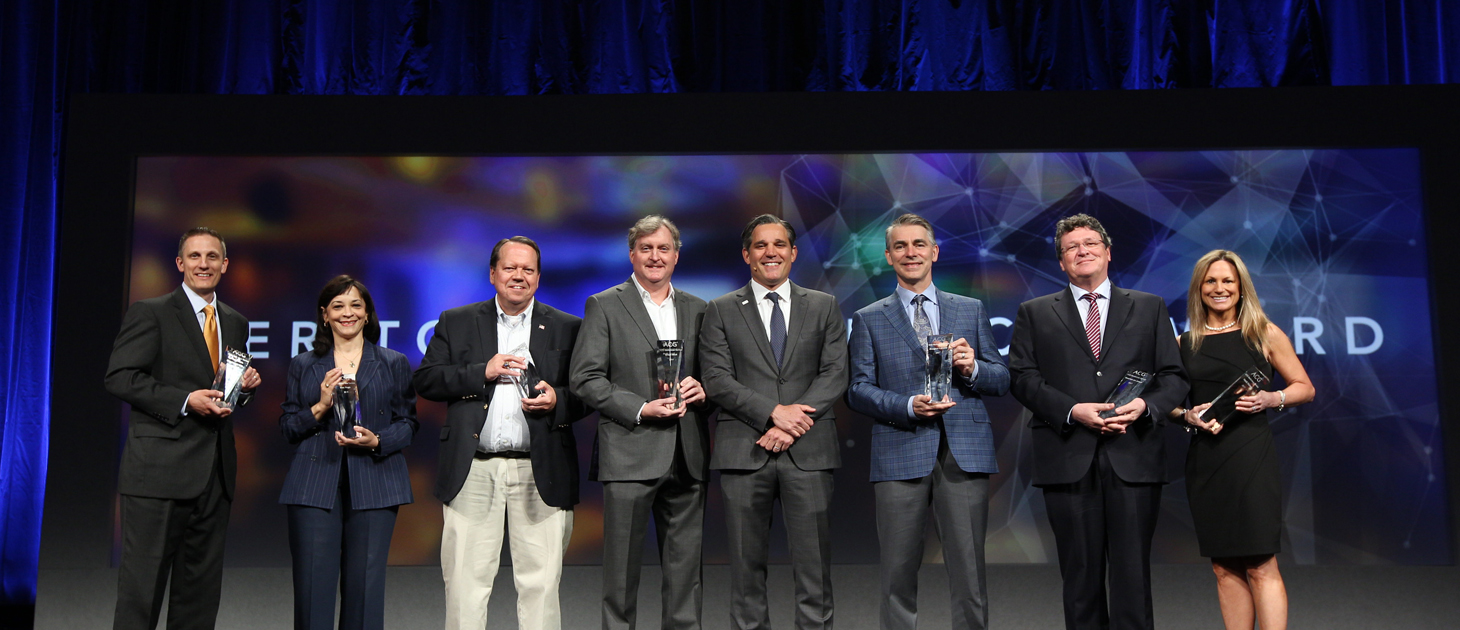 Pictured above (from left to right): Tod Wagner, Kim Pugh, Tom Neale, Brian Moll, Jason Brown, Douge LaLone, Maarten de Jongh and Heidi Deiner were awarded with the Meritorious Service Award at InterGrowth 2017.
---
Newport Board Group Chairman Doug Tatum was awarded ACG's prestigious Lifetime Achievement Award at InterGrowth 2017 in Las Vegas on April 25th.  The Association for Corporate Growth also handed out seven Meritorious Service Awards to ACG members at the event, which was held at the ARIA and attracted some 2,000 middle-market dealmakers who invest in the middle market.
The Lifetime Achievement Award is ACG's highest honor, last bestowed in 2012 to Jay Jordan, chairman and founder of the Jordan Company. The award recognizes individuals who have distinguished themselves not only in their service to ACG, but also in their professional lives through community service.  The Meritorious Service Award is given annually to ACG members who have provided distinguished volunteer service and leadership.
"These winners exemplify the very essence of ACG's mission of driving middle-market growth here and around the world," said Jason Brown, 2017 ACG Global chairman and partner, Victory Park Capital Advisors. "Spotlighting their commitment to the association and the middle-market industry as a whole with these awards is but a token of ACG's appreciation for all that they do year-round."
The following are summaries of the 2017 award winners:
Lifetime Award recipient: 
Doug Tatum, Chairman, Newport Board Group 
Doug is chairman of Newport Board Group, a national partnership of CEOs and senior executives who advise emerging middle-market companies and assist private equity firms to invest in and grow portfolio companies. He is a member of the teaching faculty at the Jim Moran School of Entrepreneurship at Florida State University and also Advisory Board chairman for the Business Dynamics Research Consortium at the University of Wisconsin – Extension. He was also the former chairman of the board of the Association for Corporate Growth. Doug is the author of No Man's Land: Where Growing Companies Fail, a leading text about growth companies that has been translated into many languages and has won four National Best Business Book Awards. His insights about the economy and business have been cited in hundreds of media outlets including Inc., The Financial Times and The New York Times online.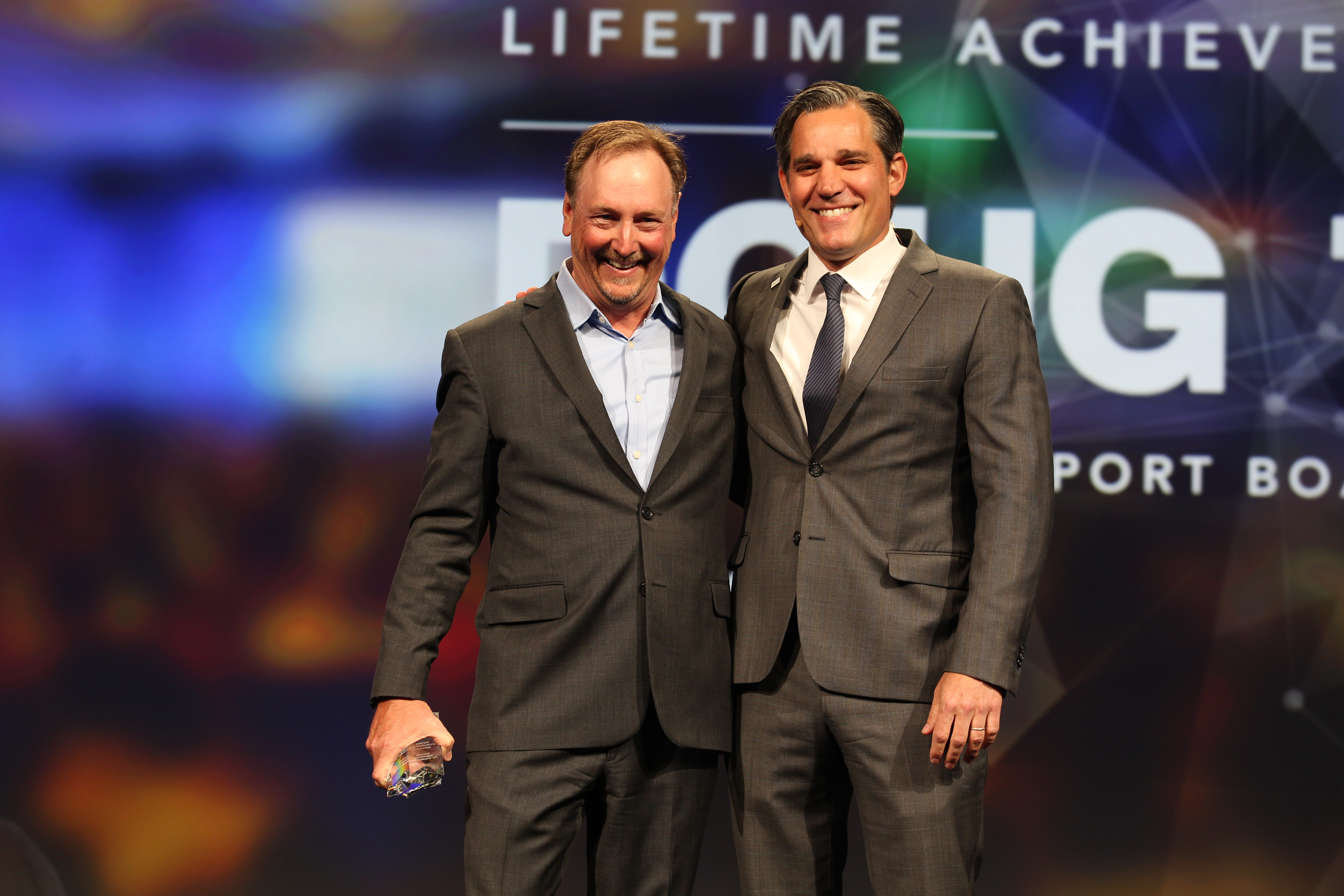 Meritorious Award recipients: 
Maarten de Jongh, Partner, NORGESTION 
Maarten was instrumental in bringing EuroGrowth 2016 to Barcelona, Spain, and ensuring its success. He began his career in mergers and acquisitions at Banc Sabadell in Barcelona, where he moved after studying at the University of Amsterdam. In 2001, Maarten joined the independent advisory firm NORGESTION as managing partner of the Barcelona office, mostly advising clients in cross-border M&A transactions.
Heidi Deiner, Director, Business Development and Client Relations, Murray Devine 
Heidi's initial involvement with ACG began in 2007 when she became a founding member of ACG New York's Women of Leadership. She went on to become VP of membership, VP of programming, and in 2014 became the first female president in ACG New York's 62-year history. Heidi currently serves as the chapter's first female chairperson. Under Heidi's leadership, ACG New York developed several new initiatives and programs, and launched a back-to-basics approach to creating value for deal-makers and the dealmaking community at large. Heidi is the founder of HLM Consulting and currently represents Murray Devine and the NY Private Equity CFO Association.
Doug LaLone, Partner, Fishman Stewart PLLC 
Doug has been an active member of ACG Detroit since 2011. During his time on the board there, he has played an active role in developing programs and committees to attract members, which helped ACG Detroit achieve record membership retention rates. Doug is currently a partner with Fishman Stewart, PLLC, where he counsels startup companies, private equity, venture capital and investment banking firms.
Brian K. Moll, Partner, Quarles & Brady LLP 
Brian has been a part of the ACG Arizona chapter since its founding over 10 years ago. He has held multiple chapter positions including board president, vice president, program committee chair and committee member for Deal of the Year Award. Additionally, Brian has served as an ACG Global board director and has been involved with the association's public policy initiatives. Brian is an attorney at Quarles & Brady, LLP, representing middle-market companies and private equity firms in corporate finance, mergers and acquisitions, and venture capital.
Tom Neale, Managing Partner, Patriot Capital 
Tom has been an ACG member for over 20 years. Under his leadership, ACG Maryland pursued new initiatives to increase membership and meeting attendance, improve its financial position and establish momentum for the future. Most impressive were his efforts to develop the ACG Maryland Deal Forum, which is now a premier event for the chapter. Tom has over 25 years of experience in corporate finance, commercial and investment banking. He is currently managing partner at Patriot Capital.
Kim Pugh, Principal, YurPath Solutions 
After joining the membership committee of ACG San Francisco, Kim created the Connections engagement program to provide a contact strategy for members from approval to renewal, generating over 150 connections since its inception. While leading Connections, Kim also volunteered as sponsorship chair. In that role, she created an outreach and management plan that allowed volunteers to successfully develop incumbent and target financial supporter relationships, enabling the chapter's 2016 goals to be attained. Kim has over 25 years of experience in banking, process development and business consulting, and is currently principal of YurPath Solutions.
Theodore Wagner, CPA, CVA, Managing Partner, Bober Markey Fedorovich 
During Tod's term as treasurer of ACG Cleveland, he redefined the annual budgeting and reporting process to the chapter board. He continues to provide strong leadership to the chapter's ACG Cup competition, including having the competition winners participate at ACG InterGrowth where he mentors them throughout the event. Tod specializes in corporate and individual tax planning and strategy for middle-market businesses at Bober Markey Fedorovich, an Ohio-based CPA and business advisory firm.