A Focus on Mentally Healthy Employees
Mental health matters: Employers make mental health a priority.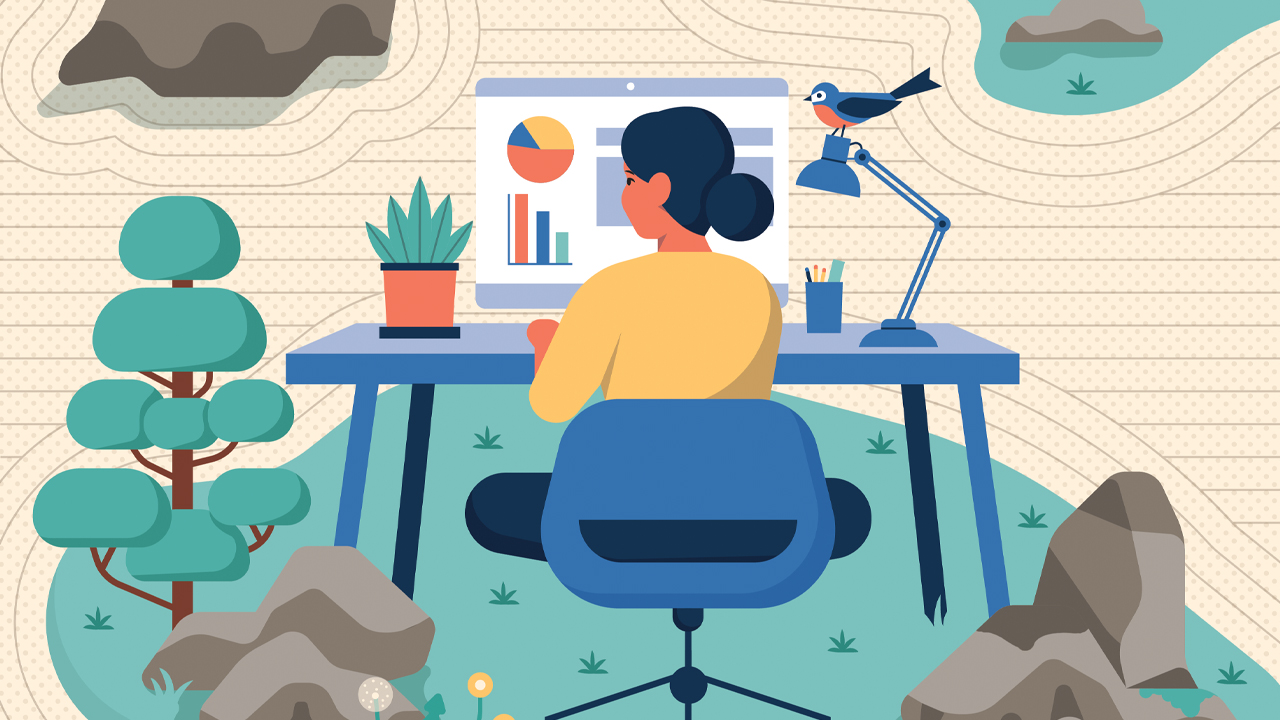 As the U.S. continues to battle the COVID-19 pandemic, everyone's health remains a top priority. Thoughts of preventing the spread of COVID-19 immediately surface when it comes to keeping people healthy, but the pandemic also brought a myriad of health issues to the surface, both physically and mentally.
The onus has been placed on employers to keep employees healthy in all kinds of different work settings. That task is not an easy one, but employers are rising to the challenge. According to a recent survey completed by ACG, 44% of respondents said they will be giving more mental health support to their employees, with 31% saying they will be continuously monitoring the health of their employees.
"Employers can't meet 100 employees' needs a la carte, but they can start to see some themes emerge if they do an employee wellness survey to figure out what employees need in order to be a better version of themselves," says Adam Miller, founder and manager partner with HYGGE Capital Partners, a dedicated human capital management consultancy that works with The Riverside Company and other private equity firms. "It's important to ask what employees need versus assuming and then putting out an offering that doesn't help employees. Employers can find some common threads and make some positive changes."
WFH and Mental Health
Most believe that a hybrid work setup will become the norm, and while working from home has its perks, it also has its detriments. Studies have shown that remote workers experienced greater levels of stress and worry than on-site workers amid COVID-19.
In the beginning it seemed great, but after six months employees were saying, I am fried … There is a lot more juggling in a virtual setting.

Adam Miller

Founder and Manager Partner, HYGGE Capital Partners
Since the start of the pandemic, some 42% of employees globally have reported a decline in mental health, according to McKinsey & Company. Additionally, the World Health Organization estimates that depression, anxiety disorders and other conditions cost the global economy $1 trillion per year in lost productivity.
Human resource professionals aren't surprised by any of this. Workers were asked to work, parent, teach and endure extended workdays in a single space. And it wasn't just parents working from home who experienced exhaustion. Unmarried, fully remote workers are particularly susceptible to feelings of loneliness and isolation. In fact, 50% of employers say feelings of loneliness and isolation that impact mental health are among the biggest health-related challenges for employees 1.
Whether employees were chasing kids around the house, or spending more time in isolation, there were plenty of unique pandemic-related challenges to go around.
"In the beginning it seemed great, but after six months employees were saying, I am fried. People are tired of being inside and faced with their home responsibilities, like childcare and household responsibilities all the time. There is a lot more juggling in a virtual setting. Husbands and wives having to manage being working parents, kids needing to be taught—it was a lot and there was no real downtime. People felt like they couldn't disconnect and people didn't ever stop working," Miller says.
While most firms are doing their best and some are being innovative, there's no question that more needs to be done. We are in the beginning phases of revolutionizing wellness for everyone. A new study has uncovered gaps between employer wellness offerings and employee health needs. U.S. consumers still struggle with basic health needs. They identify a need for more support, saying that benefits offerings that would have the biggest impact on their health at this time are more guidance on exercise (30%), diet (29%), mental health (22%) and sleep (22%).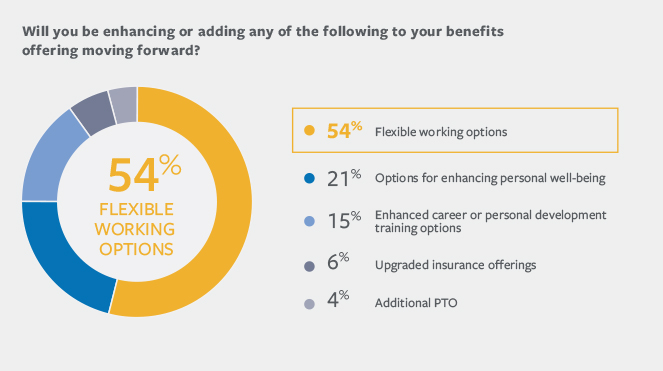 Additionally, working from home during the pandemic had a mixed impact on employee health: 55% of those aged 18-34 and working remotely found it easier to reach their health goals, compared with just 39% of those over 55 working from home. 1 Meanwhile, 52% of men found it easier to reach their health goals at home, compared with just 46% of women who worked from home. 1
The good news is that employers are committed to working on it. More than half of HR decision-makers (53%) plan to increase investment in health and wellness benefits overall in 2022. 2 Additionally, focusing on it pays off. For every dollar companies spent on wellness programs, employers' health care costs fell by approximately $3.27 and their absenteeism costs by about $2.73. 2
Employers Making Changes
To combat the feeling that employees can never stop working, some offices are actually closing down for a week to allow employees time to decompress and reset. "Employers need to be creative and help their workforce rejuvenate. Vacation used to be the answer, but with colleagues still working and scheduling things, technology has made it really easy for the employee on vacation to let work creep into their time off. A week with forced office closures has been seen to help people to disconnect from the office," Miller says.
Private equity firm CD&R is among the organizations that added more firm-wide days off to give employees time for respite. "We have historically had more holidays than our peers. We already had eight more days off than what is given on the New York Stock Exchange, but we extended that even more," says Nathan Schray, director of talent and organizational development with CD&R. "Vacation is great, but if everyone else is working, there is a constant strain and pull, which prevents employees from fully unplugging. This allows employees to stop worrying about the email backlog. It may not go on forever, but for now we know this is having a positive impact on our employees."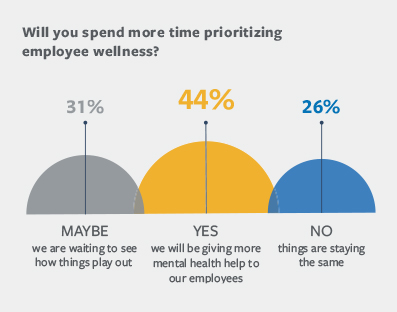 Sandra Grinker, a principal and vice president of human resources with AEA Investors, says whether or not there was a real difference to people's stress levels, mental health and well-being, employees expressed the personal challenges they were dealing with more often and explicitly during the months that AEA's workforce was remote. "People were afraid and concerned about their loved ones' health and safety, on top of juggling a bunch of new responsibilities at home," she says. "It was a lot for people to handle."
While working remotely, limited contact with employees was concerning to AEA given the historically highly collaborative and in-person culture that the firm thrives on. As a result, the firm engineered conversations that might have otherwise happened organically. These conversations helped identify workers who were feeling disconnected.
"In the absence of office dialogue, we created opportunities to forge relationships and check on people in a thoughtful way. We had partners mentoring associates on a specific basis and we encouraged that on every level," Grinker says. "Many at AEA were reaching out to their teams to keep track of how employees were doing, where they were living and what was going on with them in general."
Making a communication a priority was key to helping our employees because we might have not otherwise known what was going on.

Sandra Grinker

Principal and Vice President of Human Resources, AEA Investors
Recognizing that each employee was going through something different, the firm sought to accommodate their respective needs. "It was clear that people's experiences were varied and we offered different resources so that everyone would find something that resonated with them personally," Grinker says. "Making communication a priority was key to helping our employees because we might have otherwise not known what was going on with people and been able to provide support accordingly."
In addition to creating very focused opportunities to check in on employees, AEA partnered with Stoa Partners, a team of neuroscientists from the Haas School of Business at the University of Berkeley to deliver lunch-and-learn-style sessions, featuring discussions about achieving productivity from home. Presenters offered realistic and effective tips and tricks grounded in scientific research on how to make the most of the situation and avoid burn-out.
"Our people are a very data-driven group. Hearing about the data behind how the brain works was appealing. Many of our employees reached out after the fact with follow-up questions, which seemed to indicate a significant level of engagement," Grinker says.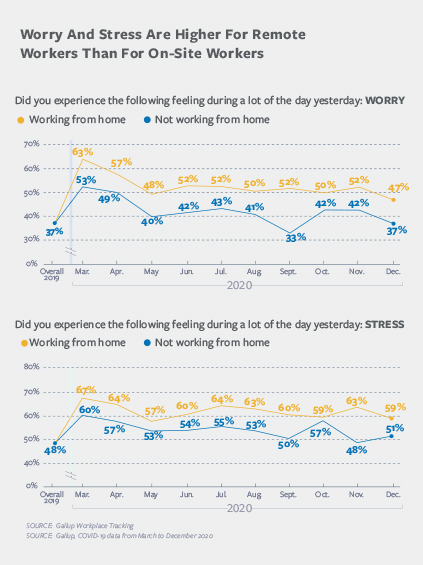 Recognizing that mental health is important and reaching people is a challenge, insurance companies are doing what they can to identify the issues so they can address them. Technology is playing a key role. For example, UnitedHealthcare has introduced the use of predictive analytics for employer-sponsored plans to help identify people in need of support related to the social determinants of health.
The UnitedHealthcare capability can help employers predict the likelihood that their employees may have a need for a social intervention, assessing more than 300 markets across the country and analyzing over 100 metrics.
The new capability uses de-identified claims data from more than 100 million UnitedHealthcare members. Through analytics and aggregate claims data, employers can design and implement health care strategies to identify the need for support.
Others believe that being in the office can help combat some mental health issues and allow employers to physically see employees. Schray says there are actually days where working from home will be encouraged and other times when being in the office makes better sense.
For example, on Mondays the firm has office-wide meetings and physically lacked the space to fit everyone in one room comfortably. Employees wound up pulling up chairs or standing. "This created an awkward space and was literally giving some people a seat at the table, while others lingered in the back. Technology democratized those meetings. It is helpful for our staff to work from home during that time and it puts everyone on equal ground. When deal teams have to meet, however, we believe that it's better to do that in person," Schray says.
In addition to exploring different working options, CD&R's Diversity and Inclusion Committee is looking at new benefits for working parents in both their U.S. and U.K. offices. "Policies and benefits for working parents, both male and female, would benefit a huge cross-section of our employee base. The challenges faced by working parents came into sharp focus during COVID and it's an area where we believe we can provide more support," says Schray.
---
1 The 2021 Workplace Wellness Action Index, commissioned by MOBE and conducted by YouGov and The Harris Poll, surveyed 201 HR decision-makers at companies with 5,000+ employees and self-insured/self-funded health care coverage, and 2,572 consumers across the country.
2 Jaqueline Brassey, Anna Guntner, Karina Isaak and Tobias Siblerzahn, "Using digital tech to support employees' mental health and resilience," McKinsey & Company, July 8, 2021.
---
Technologies that may help employers determine employees' mental health
Wearables and digital biomarker apps can be used to collect physiological data via a range of different methods. For instance, an employee can use their smartphone to self-report their mood or record their voice as a means to gauge their emotional state, or use their smart watch to track their heart rate, skin temperature and electrodermal activity to assess their well-being. Innovative forms of data collection like these can be integrated into broader offerings; for instance, if an employee reports persistent low mood, a digital solution may suggest they take a few days off or point them to personalized coaching or therapy.Such interventions can be made without the disclosure of an individual's personal details; the employer sees only anonymized aggregate data. Employers can use the data to identify and address pain points in the workplace, and to provide employees with objective measures of their well-being at an individual, team or organization-wide level. George Eleftheriou, CEO of Sentio Solutions, which develops biomarkers and digital therapeutics for mental health using data from wearables and mobile devices, notes, "We expect that by 2025, measures of mental health can be taken as easily as glucose levels today."
Prevention and treatment solutions are likely to form the core of employee resilience and mental health programs. They offer various degrees of human touch, from prevention chatbots to in-person psychotherapy, and use a range of techniques from meditation and hypnosis to cognitive-behavioral therapy. Some focus exclusively on mental health; others also cover sleep, nutrition and other aspects of physical health to create a more comprehensive picture of employee well-being. Employers can use them to provide employees with a range of personalized offerings, from resilience training to clinical help.
Analytics tools are often deployed in conjunction with remote data collection using the output from wearables and digital biomarkers. They can alert individual employees when they should consider taking time to recharge, for instance, or notify leaders when teams seem to be experiencing high levels of stress. On a broader scale, employers could work with solutions providers to measure well-being across their workforce and use prediction algorithms to link these findings to productivity. At an individual level, employers could use analytics solutions to help identify employees at risk and, with their agreement, refer them to internal or external support services.
---
Excerpt from "Using digital tech to support employees' mental health and resilience," McKinsey & Company, July 8, 2021.
---
Between May 28th and June 24th ACG surveyed more than 120 ACG members about work and technology.