MMG Innovation Award Finalist: Modern Hire
Modern Hire is tackling unconscious bias in HR professionals with innovative technology that promises to improve their ability to make fair decisions when evaluating candidates.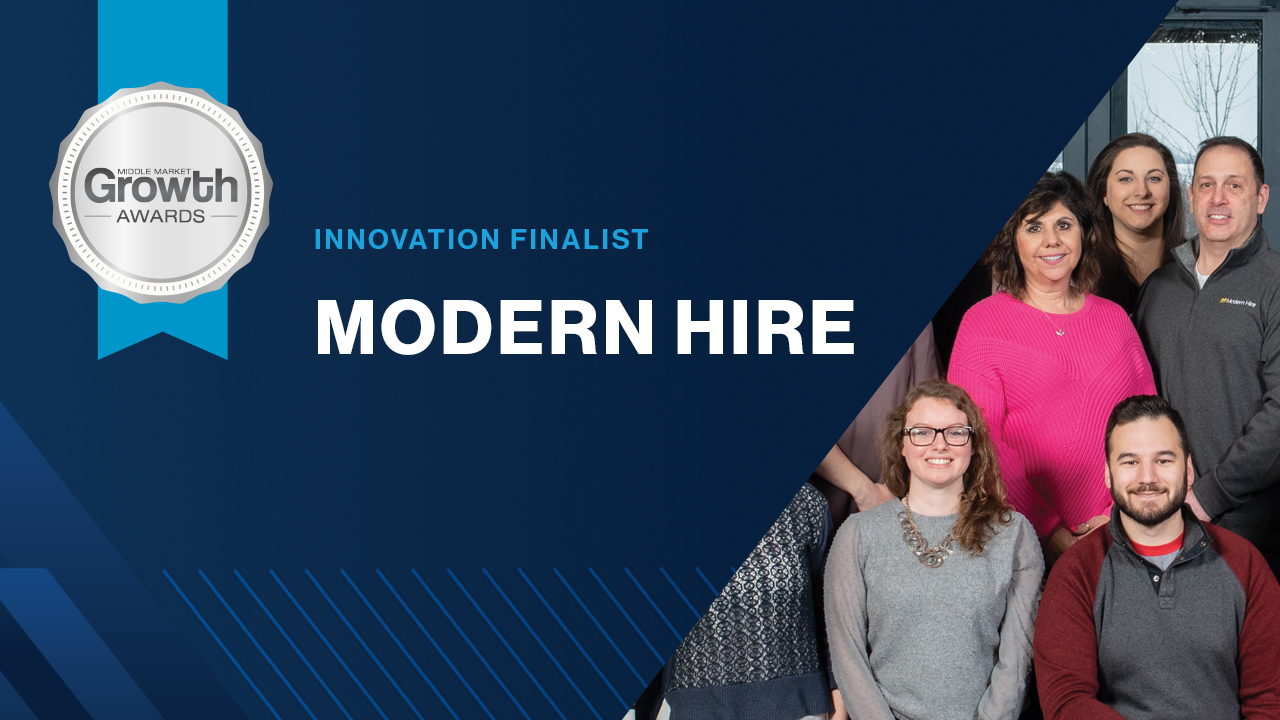 This story originally appeared in the Spring 2021 print edition of the Middle Market Growth Awards Special Report. Read the full report in the archive.
---
Hiring a new employee is an important decision that can affect a company well into the future, and it's a choice that hiring managers and HR professionals strive to make without imposing their own unconscious biases.
Yet as much as a hiring manager may try to be fair, it's hard to leave behind their past experiences, background, upbringing and other factors entirely.
Modern Hire, a hiring platform headquartered in Cleveland and Delafield, Wisconsin, is tackling that challenge head-on with innovative technology that promises to improve hiring managers' ability to make consistent and fair decisions when evaluating job candidates.
Last September, Modern Hire unveiled AIS, an on-demand interview feature that uses artificial intelligence to evaluate a candidate's interview responses. The tool provides recruiters and hiring managers with recommended scores to ensure unbiased hiring.
The costs of unconscious bias during hiring can be very high. A company accused of unfairly eliminating qualified job candidates based on race, age or other protected categories may face harmful consequences, including lawsuits and reputational damage. On top of that, it will miss out on the advantages of having a diverse workforce.
Modern Hire's new product offers a way to cut down on biased decision-making.
"AIS works because it presents a standardized method to score only the job-relevant content of an answer," says Modern Hire CEO Karin Borchert. "It does not evaluate facial expressions or audio properties, which avoids the potential for bias."
Modern Hire utilized an internal team of professionally trained experts who developed artificial intelligence models used by AIS.
Those models considered competencies that predict success on the job, and incorporated ratings of candidate responses to questions related to those competencies.
The team used tens of thousands of ratings to train the natural language and deep learning models used in AIS to replicate the human hiring process.
AIS has been shown to reliably replicate the judgment of professional trained experts, according to Borchert, who says other models demonstrate extremely strong correlations with expert raters, far exceeding the professional standard of 0.60 that has been recommended by authorities in the field.
AIS is the culmination of years of research and work for Modern Hire, which has 250 employees. The company's Science-Labs, Technology, Professional Services and Product teams form the core of the company's innovation engine, and played crucial roles in developing the tool.
Development of AIS was aided by The Riverside Company, a global investment firm headquartered in Cleveland, which invested in Modern Hire in 2017.
"We made the initial investments in Shaker and Montage—now Modern Hire—because we saw that the human capital management market was, and still is, ripe for the type of innovation that Modern Hire has to offer," says John Kish, senior operating partner at Riverside.
"The application of science and the importance of ethical AI are forever changing how organizations find and add the right talent to their teams," he adds.
AIS touched every department within the company before it launched, making the innovation a true Modern Hire team effort, adds Borchert, who believes AIS can transform the hiring process.
"AIS provides interviewers with a tool that enables more consistent, accurate, efficient and fair hiring decisions, making it a game-changing, science-driven technology for the hiring field," she says.