DNS Capital's Family Values
Along with a growing number of family offices, DNS Capital invests directly in operating businesses. But in many ways, its approach is one of a kind.
When Michael Pucker meets someone for the first time, there's a good chance he will upend preconceived notions about the ultra-rich, which probably don't include "down to earth"—a description commonly used by people who work closely with him.
For 29 years, Pucker has been part of the Pritzker family, as the husband of Gigi Pritzker. Heirs to the Hyatt Hotels and Marmon Group fortunes, the Pritzker family has been on the short list of America's wealthiest families for a very long time, so it's understandable that people have certain expectations—ones that Pucker and Pritzker in many ways defy.
Take Pucker's office attire. He typically wears a shirt, jeans and a pair of cowboy boots he's owned for 15 years. ("They're like slippers," he says.) Pritzker, too, has a reputation for being relatable. "Think in terms of Tupperware as opposed to fine China," Pucker says. "It's a joke, but it's true."
DNS CAPITAL
Family: DNS is the family investment office for Gigi Pritzker, Michael Pucker and their three adult daughters
Location: Chicago
Year Founded: 2014
Focus: Long-term direct investments in a range of industries, including health care, mining, IT, steel-mill services, and food and ag
It's also true that family offices reflect a family's culture. By all accounts that is the case at DNS Capital, the Chicago-based family investment office for Pritzker, Pucker and their three adult daughters. It may explain why all six of the investment values on the firm's website link to videos from country music group the Zac Brown Band, which Pucker, the chairman and CEO of DNS, has seen perform more than 15 times.
"The most entertaining comments are from people who think [the videos] were inadvertent," says Elizabeth Hess, the firm's vice president and head of business development.
Another fit with Pucker and Pritzker's values and experience is DNS Capital's focus on direct investing. As a practicing lawyer for the past 30 years, Pucker has handled more than 150 transactions for the Pritzker family and hundreds more for non-family clients. Meanwhile, Pritzker founded an entertainment and media company, Madison Wells Media, that she's run for more than 30 years, backing projects that include the movie "Drive," the Emmy-winning TV series "Genius" and the Tony-award winning musical theater production of "Million Dollar Quartet."
For the couple, direct investing represents more than a wealth-creation strategy (although it is that, too). It's an extension of their ethos, and what they seek in relationships, business or otherwise. Their approach can be summed up by the DNS acronym, which stands for "Does Not Suck." "It's an expression of how we feel about everything we do, and the way in which we want to do it," Pucker explains.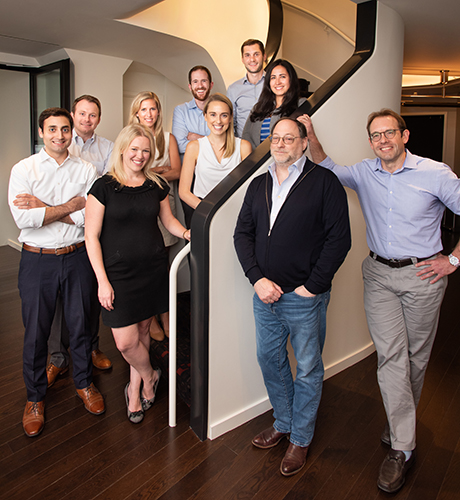 "You go all of a sudden from being a business team to being kind of a family. [That] is uncharacteristic in the investment community."
CHARLES TOLLINCHE
Managing Director, DNS Capital
BEYOND BASEBALL TICKETS
According to the Family Wealth Alliance, the United States has more than 3,000 family offices with over $1.2 trillion in assets collectively. An EY report suggests that of the 10,000 family offices worldwide, at least half were created during the past 15 years. The Pritzker family contributed to that growth. Prior to 2000, the vast majority of the family's wealth was controlled centrally. From 2000 to 2012, the enterprise was restructured, prompting the formation of about 10 Pritzker family offices, including DNS Capital in 2014.
From the start, Gigi Pritzker and Pucker preferred a direct-investment focus. "We didn't want to hire an investment adviser or an asset manager and give them the bucket of assets that we had, and ask them to keep us posted, and buy us tickets to baseball games," Pucker says.
The financial and cultural advantages of long-term investing appealed to the couple. Instead of cashing out in five years, the money can stay invested for decades and compound over time. But their rationale for direct investing extends beyond wealth management.
"For our family investment office it's good, mostly because I'd be bored doing anything else," says Pucker, who is currently a partner at Latham & Watkins in Chicago. Prior to forming DNS Capital, he worked with clients to build new businesses and acquire companies and helped them as a partner and adviser. "It's basically a continuation of what I've been doing professionally for a long time," he adds.
LONG-TERM PARTNERS 
DNS currently has about 30 active investments, with control (or shared control with The Pritzker Organization, the family investment office for Gigi's oldest brother, Tom, and his immediate family) in five mature operating businesses, three fund platforms that DNS has co-founded or sponsored, and a variety of other businesses. Its portfolio companies run the gamut in terms of industry and maturity. On the cash flow continuum, DNS has companies that are pre-revenue, others that generate some cash, and still others that generate "a tremendous amount," says Charles Tollinche, managing director at DNS. "That breadth, just from an equity investment perspective, is a function of the fact that we don't have a fund or limited partners," he says, adding that most family offices of comparable size specialize in particular industries.
Of the 450 potential deals DNS assessed last year, it ended up making 15 investments, which include both brand-new investments and incremental investments in existing holdings. Hospitality is the only industry DNS is unlikely to consider, in an effort to diversify given the amount of Hyatt stock the family owns. Industries represented in its portfolio range from health care to mining to IT to steel-mill services. DNS's food and agriculture investments would make a satisfying meal: They include vegan burger-maker Beyond Meat and salad kiosk company Farmer's Fridge. To wash it all down, the firm provided funding for Atlanta-based New Realm Brewing Co.
The brewery's leaders conducted a comprehensive market study and determined that the southeastern United States had room for additional high-quality craft beer brands. DNS met with New Realm's co-founders in late 2015 and by January 2018, the company opened its first brew pub, in Atlanta, with a 650-seat restaurant and 20,000-barrel brewing facility. In August, New Realm opened its second location, in Virginia Beach, with seating for 450 and an expandable 40,000-barrel brewing facility. Across its two locations, New Realm has about 225 employees. They include one of the most prominent brewmasters in the industry, Mitch Steele, who previously worked at Stone Brewing Co. in Escondido, California.
"They really wanted to find a long-term capital partner they could work with for the next 10 or 20 years," says Hess of New Realm's co-founders.
Bud Shear, CEO of Industrial Magnetics Inc., had a similar long-term vision for his company, which makes powerful magnets used in automotive assembly lines, recycling facilities and food processing. When he started working at IMI in 1999, its revenue was about $9 million. This year it will exceed $30 million. Shear became the sole proprietor in 2001, and since then the company has been under private equity ownership twice. Shear says that although both private equity experiences were positive, the sale process was unavoidably disruptive. "It just took away eight months to a year out of every four years, putting together a proposal so that the investment bankers could have the data they needed," he says.
When the company's last private equity owner put IMI up for sale, Shear was told he could choose the winning bid (above an agreed floor return). "They had five offers, and DNS wasn't the highest bidder," he says. "And the beautiful thing is, they could have walked away with a few more million." Instead, the PE firm stayed true to its word and gave Shear final say on IMI's buyer.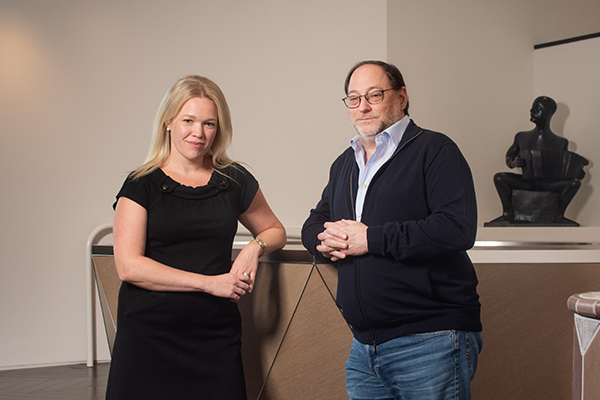 "If somebody wants a three-to-five-year exit and to replace their management team outright, they probably won't like us."
ELIZABETH HESS
Vice President and Head of Business Development,
DNS Capital
Shear appreciated Pucker and Pritzker's entrepreneurial backgrounds and felt DNS shared his values about workplace culture. "I refer to everyone who works here [at IMI] as my family. And it's extraordinarily important to me," he says. Whenever the company has a record month, Shear's wife prepares a meal for all 83 employees. "We draw a name out of a hat to see who gets to pick what in the world we're going to have for lunch," Shear says.
He also appreciates that DNS encourages investment by its portfolio companies, which allowed IMI to triple the size of its previous R&D space, to 2,400 square feet, and to continue to innovate. "You just show them why you need it and what you're going to need and why you're going to buy it. We've never had anybody from DNS say no," Shear says.
Not all portfolio companies are used to that approach. Some management teams are accustomed to owners who value acquisitions over creating new products or services in house, according to Pucker.
He recalls discussing innovation with members of another company's management team. They assumed that meant a bolt-on acquisition. "We said, 'No, no, no. No acquisition. You don't have to go buy anything. We want you to tell us what you'd like to spend money on to go do something different to improve the business, to help satisfy the needs of your customers,'" Pucker says. "We do encourage our companies to do bolt-on acquisitions at the appropriate times, but not as a substitute for innovation."
LIFE'S TOO SHORT
While innovation is emphasized by DNS, there's a larger priority for the firm: people and relationships. DNS is not the only organization to make such a claim, but Pucker is determined to put it into practice.
Unlike many investors, DNS rarely views "alignment" through the lens of financial metrics. Instead, that term refers to culture, values and relationships. Pucker recognizes that the firm's philosophy might mean the next blockbuster investment gets away. "I don't really care if we end up missing the next Google or Facebook. Life's too short, at least in my case, to buy into a relationship where you know there's going to be misalignment," he says.
After an investment, companies become part of the DNS extended family, which can include support both in and outside of the business context. "In a number of different situations, we've provided medical help, we've provided personal loans, we've helped with educational opportunities," Pucker says.
That family ethos, longstanding in both the Pritzker and Pucker families, also applies to the firm's 11 employees, who attend social events together throughout the year, along with their spouses, and often their children. "You go all of a sudden from being a business team to being kind of a family," Tollinche says. "[That] is uncharacteristic in the investment community."
DIVING DEEP
About three times a year, Hess attends various family office conferences—typically a gathering of about a dozen families. She says there's a running joke at these events: "No matter what the intended topic is, all everybody talks about is direct investing."
This doesn't surprise Christopher Deveny, chairman of JPMorgan Private Bank in the Midwest. Over the last five years, he's seen interest in direct investing pick up significantly. He recalls a conversation three years ago that reflects one of the drivers behind that trend. An executive from a large family office told him that after looking at all of their private equity investments as a limited partner during the past two decades, they realized they had indirectly owned the same company three times.
Although family offices want to avoid unnecessary fees and paying tax on ordinary income, Deveny says direct investment isn't always a good fit. It's time-consuming to own multiple companies, and he's seen families struggle with hiring the right staff. "The ones that really make a huge investment up front to build a team of people are the ones that probably stand the best chance of really succeeding because you've got to generate deal flow," he says.
Pucker agrees that hiring the right team is essential. In addition to cultural fit, he looks for a strong financial background when building his staff, noting that the firm enlists the help of subject matter experts when needed. To bolster industry knowledge, every year each of the firm's investment professionals chooses an area to research in-depth—fragrances and flavors is one recent example—and to expand the firm's network of experts.
This deep-dive approach has important benefits. "It forces us, in a positive way, to be proactive in the market," Hess says. "We won't sit in the office and just wait for the phone to ring."
BONDING THROUGH HUMOR 
Because long-term investing diverges from the traditional private equity model, DNS doesn't view PE firms as direct competition. Many investment opportunities aren't a good fit for family offices' preferred time horizon, which can extend well beyond the 10-year mark. "If somebody wants a three-to-five-year exit and to replace their management team outright, they probably won't like us," Hess says.
There's another dimension to DNS's approach, hinted at in the firm's goal to "create lasting value with a sense of purpose and a sense of humor." The latter quality reflects the lighthearted spirit of the family behind the family office, a trait that's also on display on Pucker's LinkedIn profile, where his photo is a modified version of Edvard Munch's "The Scream," featuring Homer Simpson.
Pucker views humor as a way to maintain perspective. He uses it as a rapport-builder and stress-buster, useful in any context and particularly handy for keeping business problems in perspective. When a CEO at one of DNS's companies became uncharacteristically anxious earlier this year, Pucker superimposed the executive's headshot on a picture of Yoda from "Star Wars," added a wise Yoda-ism, and emailed it to the CEO and his employees. "They needed a release," Pucker says. "They needed to laugh at themselves."
At DNS, that's among the screens for identifying the right investments. "If you don't share humor, then you're probably not going to get along very well as long-term partners."
This story originally appeared in the November/December 2018 print edition of Middle Market Growth magazine. Read the full issue in the archive.
---
S.A. Swanson is a business writer based in the Chicago.