At the Consumer Electronics Show in Las Vegas this year, Polaroid had plenty to celebrate— even beyond the brand's 80th anniversary in 2017.
For starters, media outlets praised the company's latest camera, Polaroid Pop, placing it in their "favorite CES gadgets" lists. The camera takes HD video and prints 3-by-4-inch photos—a nod to the dimensions of old-school Polaroid film. Polaroid also generated buzz with a $499 3-D printer and a Wi-Fi home security camera. "We were one of the busiest booths on the floor," says Scott Hardy, the company's CEO and president.
Flash back to a very different experience in 2009. Three weeks before the show, Polaroid had filed for bankruptcy for the second time in eight years. That year, the booth chatter wasn't about slick new products. Instead, Hardy and his colleagues had to convince retail partners that Polaroid wasn't doomed. Then, Hardy says, they were just trying to survive. "Now here we are, growing and thriving."
That's because, in a departure from Polaroid's long history, the company no longer manufactures any products that bear its name. Eight years ago, Polaroid became purely a licensing company. Within 12 months, it was profitable. In 2016, revenue reached $600 million for the Minnetonka, Minnesota-based business (with offices in New York, Hong Kong and London). But there were times when those sales seemed unlikely. "It sure seemed like a long way to go, just based on where we were in those early days," Hardy says. In that regard, the company's overhaul was like pressing the button on one of Polaroid's 20thcentury instant cameras: Take your best shot and hope it develops well.
POLAROID
Company: Private equity-backed worldwide seller of consumer electronics and other branded products.
Heritage: An 80-year-old American brand known for pioneering instant photography.
Popular Products: The Polaroid Pop and Polaroid Snap instant digital cameras.
Strategy: Position well-known attributes of a retro brand in products for the digital age.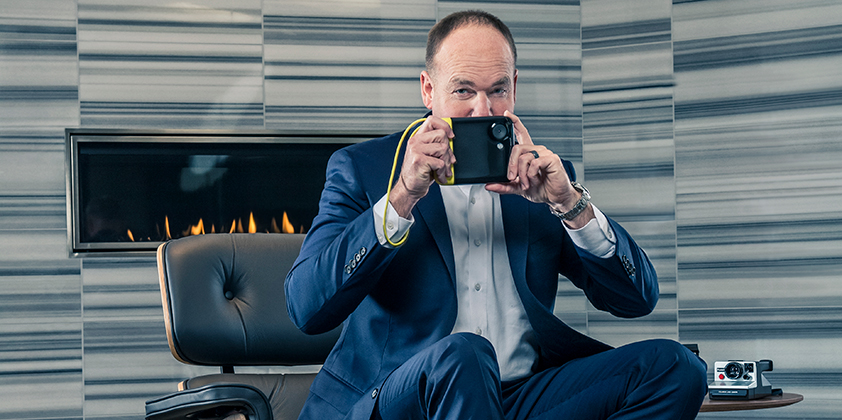 A COLORFUL COMPANY PORTRAIT
In 1926, months after enrolling at Harvard, Edwin Land made a critical move toward founding Polaroid: He dropped out. After devoting himself to research on light-polarizing materials, the 24-year-old received a patent for polarizing film in 1933 (his first of 533 patents). That year, he co-founded a laboratory with his Harvard physics instructor; in 1937 it became Polaroid Corp.
Polaroid's early success came from the polarizing filters that improved military gear for World War II troops, but the company's most iconic product sprang from an adorable "aha" moment. During a 1943 family vacation, Land's 3-year-old daughter asked why she couldn't immediately see the photos her dad had taken. That day, Land reportedly envisioned the Polaroid instant camera. The first one hit stores in 1948, and its popularity rose steadily. Soon after its introduction in 1977, the Polaroid One Step Land became the best-selling camera in the United States. In 1991, the year Edwin Land died, Polaroid sales reached a record $3 billion.
"It's clearly the most iconic company we ever bought."
Eric Kaup, Executive Vice President and General Counsel, Hilco Global
The rest of the decade would not be so prosperous. Consumers began to adopt a different type of instant-gratification photography—digital cameras—and Polaroid struggled to compete. The company filed for Chapter 11 bankruptcy in October of 2001, reportedly listing $1.81 billion in assets and $948.4 million in debt.
In 2002, the private equity unit of Bank One (later acquired by JPMorgan Chase & Co.) purchased a 65-percent stake in Polaroid for $255 million. Three years later, ownership shifted again—this time to Petters Group Worldwide (in a transaction valued at $426 million), a holding company that already owned licenses for Polaroid DVD players and plasma televisions. For all the marketplace challenges Polaroid faced, its biggest problem soon became the parent company's CEO. In October 2008, Tom Petters was arrested—and later sentenced to 50 years in prison—for running a $3.65-billion Ponzi scheme. One of the largest frauds in U.S. history, it was eclipsed by another arrest two months later: Bernie Madoff. Seeking protection from Petters' creditors, Polaroid filed for Chapter 11 protection again in December 2008. Its revenue at that time was reportedly about $365 million.
By April 2009, Polaroid had new ownership. Hilco Consumer Capital LP, a unit of Hilco Global that later became Hilco Brands, and Gordon Brothers Brands LLC provided the winning $87.6 million bid for Polaroid's assets, after a contentious auction that lasted several weeks. "I've never had one like that. They're usually over in about 24 hours," says Eric Kaup, Hilco Global's executive vice president and general counsel. The joint investors, which also included Knight's Bridge Capital Partners, received a 75-percent ownership stake, with the remaining 25 percent held by the Polaroid bankruptcy estate.
Hilco saw untapped value in the Polaroid brand—the intellectual property, the name, the color spectrum logo, the iconic white border. The firm also saw value in Scott Hardy, Polaroid's executive vice president and general manager at the time, and the group soon promoted him to president and CEO. "He's relentless," says Kaup, who recalls a license negotiation meeting in Hong Kong as a typhoon was approaching. "We got out of there a couple hours before the typhoon hit landfall, but (Hardy) wasn't going to stop until the license was done," Kaup says.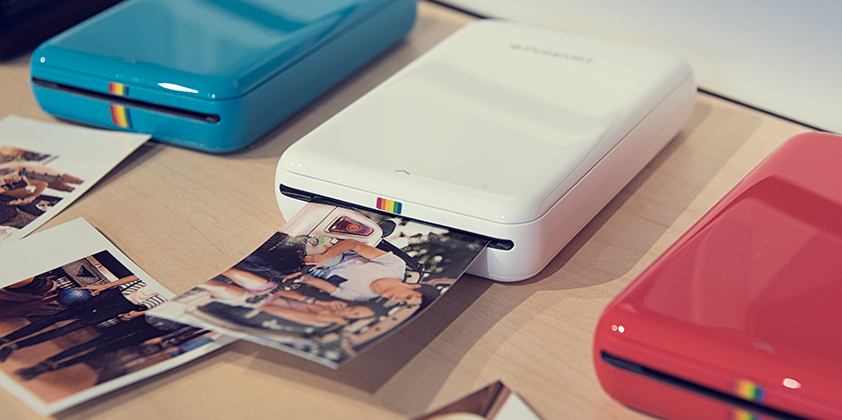 Hilco had transformed a half-dozen distressed brands into licensing businesses, but Polaroid was different. "It's clearly the most iconic company we ever bought," Kaup says. It was also a bit of an anomaly. While apparel brands are commonly licensed, that's not the case for consumer electronics.
"There were people who thought that it couldn't be done," Hardy says. "They said, 'You're going to lose control of [Polaroid's] quality and brand image.'" Hilco's expertise helped with structuring licensing deals and understanding who to hire for legal, marketing, finance, quality assurance and business development. Polaroid now has fewer than 50 employees—a mere fraction of its peak workforce of 21,000 in 1978. Hilco also brought much-needed licensing credibility to the bargaining table. But initially, it was still a tough sell.
Hardy recalls, "People would say, 'Well, is it really worth the value to me to license and pay you a royalty for using your brand on my product?'" Those people also wondered how Polaroid's most recent bankruptcy would sit with consumers. "What we found," says Hardy, "is that the brand is so much stronger than any kind of financial issue."
The reformatted company began with no more than five licensees. (Polaroid had already started to explore licensing by 2002). It took a couple years to find companies with the right financing and distribution capabilities, Hardy says. Now Polaroid has 90 licensees, including manufacturers of smartphones, smartwatches, tablets, drones, televisions, stationery and portable Bluetooth turntables. Not all product candidates match Polaroid's ethos—hoverboards, air purifiers and kitchen appliances are a few examples of licensee rejects. "You have manufacturers saying, 'Hey, I want to brand this Polaroid.' And we have to say, 'No, that doesn't fit with what we're trying to do.'"
'WHAT ABOUT THE KIDS?'
One overarching to-do: Attract the youngsters. "We knew from day one, we had to go after that Gen Y, Gen Z consumer—that's been the focus of our marketing," Hardy says. He wanted to avoid mistakes he'd seen in other licensed brands, namely, leaning too hard on a company's heritage and historical consumer base. "We were saying, 'Let's build Polaroid for the next 80 years and not just do it short term.'"
Serendipity also gave Polaroid's youth marketing a bump, in the form of Taylor Swift's 1989 album, which sold five million copies in nine months. Released in 2014, it featured a Polaroid photo of Swift on the cover, along with 13 Polaroid photos inside.
Even so, when Tommy Stadlen and Frederick Blackford began raising funds in 2015 for their new photo app—which had licensed the Polaroid name and white border—some would-be investors questioned whether the brand was a bit long in the tooth. During one meeting, a London banker spoke fondly of his childhood memories of Polaroid, but expressed caution. "Look, I'm 50," Stadlen remembers him saying. "What about the kids? Is it still relevant today?" Moments later, the banker was calling his 12-year-old daughter on speakerphone, asking if she'd heard of Polaroid. Her response: "What's that?"
"I thought, 'Oh no, this is not going well,'" Stadlen recalls. Fortunately, they quickly realized the squawky speakerphone made the brand sound like "Polloid." Once they clarified the word, the daughter recognized it immediately, saying "Of course I know Polaroid. I love Polaroid." The banker became an angel investor and also brought in two of his colleagues, Stadlen says. Meanwhile, Polaroid itself has invested in the app company. Twitter founder Biz Stone is also an investor and serves as chairman.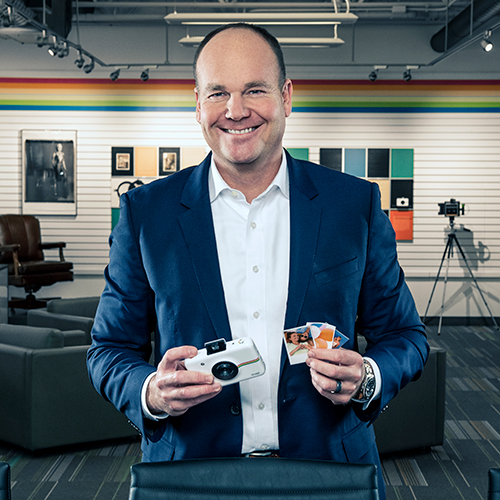 "What we found is that the brand is so much stronger than any kind of financial issue."
Scott Hardy, Polaroid President and CEO
Called Polaroid Swing, the app targets Polaroid's ideal demographics—80 percent of users are between 13 and 30 years old, Stadlen says. It works like this: When a photo is taken on a smartphone using the app, it captures one second of video. The user can watch the image move in film-like fashion by dragging a finger across the touchscreen (or tilting the device back and forth). The motion is surprisingly jitter-free. Although Polaroid Swing captures 60 frames per second, a proprietary computer vision algorithm fills in the blanks and increases that frame rate exponentially. Polaroid Swing launched in July 2016 in the Apple app store; an Android version is planned for this year.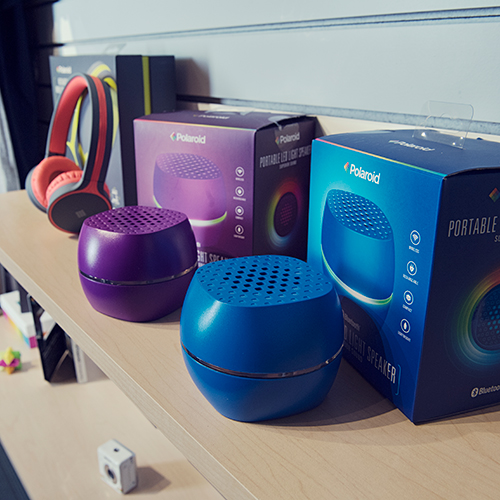 COLLABORATIVE INNOVATION
Although Polaroid no longer has an R&D department, the company still invests in innovation. To attract shoppers and licensees, the storied brand must evoke the smell of shiny new gadgets, not mothballs. Polaroid has added a 21st-century sheen to its retro image, with help from Ammunition, the San Francisco design firm founded by a former head of Apple's industrial design group. (It's a nice bit of innovation symmetry, because Apple's late CEO Steve Jobs cited Polaroid's founder as a personal hero). Collaboration with Ammunition has yielded several products, including the Polaroid Pop, introduced at CES in January [see sidebar on next page] as well as the Cube (launched in September 2014), a water-resistant HD video camera, measuring just 1.4 inches per side. Polaroid licenses its Ammunition-designed products to Edison, New Jersey-based C+A Global for manufacturing and distribution.
While Polaroid is discerning about new products, not all its licenses reflect its photo heritage. "The company has been very aggressive entering different product categories," says Ross Rubin, founder and principal analyst at Reticle Research, a New York-based market research company. "The ultimate goal of a licensor is to maximize the opportunity, and it's somewhat uncharted territory, how elastic a brand can be. And that is the boundary that they've been pushing. But so far, it seems to be successful."
Polaroid products are now sold in more than 100,000 retail stores in upwards of 100 countries. In 2016, 65 percent of those sales came from outside the United States. The company would like to further boost international business by expanding into India and Asia. Hardy is already well-equipped to foster Asian deals; he studied Mandarin in college and has lived in Taiwan.
Meanwhile, Polaroid saw yet another ownership shift in December 2014—a $70 million deal that gave Pohlad Family Capital Fund (and an unnamed family office investor) 65-percent; Hilco and Gordon Brothers still hold an undisclosed stake.
"The company has been very aggressive entering different product categories."
Ross Rubin, Founder and Principal Analyst at Reticle Research
And last year, Polaroid saw an encouraging consumer trend. Research from NPD Group showed U.S. sales of instant-print cameras rose 166 percent from September 2015 to September 2016. Sales of instant film doubled during that time.
"For Gen Z and Y, instant photography is something that is totally new and unique, because they were born into digital technology," Hardy says. "It appeals to that sense of nostalgia where people are looking for things that are hipster and cool from the past." Polaroid's heritage has proven to be a valuable currency, but the company refuses to be constrained by it. With licensing choices and product expansion, Polaroid knows how to think outside the iconic white border. //

S.A. Swanson is a business writer based in the Chicago area.