Republican Sens. Marco Rubio, R-Fla., and Mike Lee, R-Utah, on Tuesday said they were planning a proposal that would include eliminating interest deductibility, a longstanding tax break for many U.S. companies. Their plan, expected on Wednesday, would remove interest deductibility on debt payments; in exchange, it would call for the elimination of capital gains tax and the addition of an immediate write-off for business investments, according to reports by Politico and Reuters.
The proposal, labeled a "pro-growth, pro-family tax reform," would also reduce the corporate tax rate from 25 percent from the current 35 percent, according to the senators, who on Wednesday published a joint op-ed statement in the Wall Street Journal broadly outlining their plan.
The proposal is the first tax plan to be released in the 114th Congress. Meanwhile, Chairman of the Senate Finance Committee Orrin Hatch, R-Utah, and ranking member Ron Wyden, D-Ore., launched a bipartisan effort in January comprised of six working groups to tackle the various policy areas for comprehensive tax reform. A draft tax proposal is slated to be shared with the chairman before Memorial Day.
ACG is a member of the Businesses United for Interest and Loan Deductibility (BUILD) Coalition, a group of small and large businesses in all sectors aimed at preserving 100 percent of interest deductibility, a core component of the tax code for the past 100 years. The BUILD Coalition released the following statement in response to the proposal from Rubio and Lee:
"As lawmakers begin to release new proposals to fix our tax code, the BUILD Coalition reiterates its support for reform that boosts long-term economic growth, strengthens businesses of all sizes and creates jobs. We are concerned that the Rubio-Lee proposal would eliminate interest deductibility, which has appropriately been a deduction since the start of the modern tax code. Maintaining full interest deductibility, an ordinary and necessary business expense, is essential to growth and should be fully maintained as part of reform efforts. We look forward to reviewing this proposal more closely and continuing to engage lawmakers and policy experts on pro-growth tax reform."
A 2013 Ernst & Young study found that limiting interest deductibility to finance lower rates would deter economic growth in various industries including services, retail, wholesale trade, manufacturing and construction. It would reduce GDP in all 50 states; the most impacted states include California, Texas and New York with decreases in overall investments, GDP and economic welfare.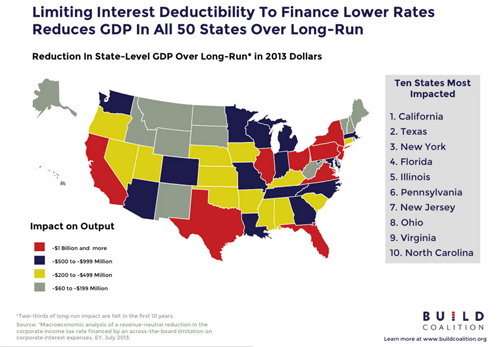 To see the impact on individual states, visit the BUILD Coalition's website.