The middle market ended 2014 with strong performance and a bullish outlook for 2015, according to the "4Q 2014 Middle Market Indicator" report, released on Tuesday by the National Center for the Middle Market. Some 70 percent of midsize companies polled in the survey indicated improved year-over-year performance, up from 62 percent in the third quarter.
Middle Market Growth Editor Deborah Cohen asked Tom Stewart, the Center's Executive Director, about the results:
Q. Is this a fairly bullish report?

A. Yes. This is the twelfth time we've done this … I think it's fair to say that this is the strongest across the board. Last quarter the top line growth was 7.5 percent (year on year). This quarter it's 7.2 percent (up from 5.0 percent in Q3 2013). If you look at everything—employment, confidence, investment plans, top-line growth spread across all industries, size segments of the middle market and geographies—there are not a lot of clouds in this picture. 2014 was a really strong year and middle-market executives are looking to 2015 with aggressive plans and a lot of confidence.
Q. Is it significant that employment growth in the middle market is now approaching revenue growth?
A. We knew it was going to happen. You know the metaphor of a kid passing a graveyard having to hold their breath—companies act that way in any recession. They stop the marketing, hold everything still until they can exhale and breathe again. This recession was so long and so deep. Middle-market companies are so basically conservative that they held the line as long as they could on capital investment and human capital. But now they have reopened the purse strings. You should always see a gap between top-line growth and payroll growth; it's called productivity gains. But seeing that gap close is a real indication that people are hiring. They're hiring full-time staff. They see sustained growth ahead of them, so they're willing to make that commitment.
Q. Which areas are showing the most strength?
A. It's across the board. If you take a look at the middle market cut by size, we saw in the middle two quarters of 2014 that the smaller guys were really roaring ahead and the guys in the middle were a little wonky. They have caught back up. And so across the size segments, you see everybody basically hitting well and the bigger guys and the midsize guys had a really strong year, as well as the small guys. Across industries, construction was last to the party, and it's back. We're going to see some changes—the fall of oil prices will be good news for a lot of sectors, but not for the energy sector.
Q. Who does stand to gain from the weakness in global oil prices?
A. Anybody in the transportation business: airlines, truckers, all of those people. Manufacturers stand to gain, anybody for whom fuel is a cost will find that cost go down. Retailers will also benefit because consumers have a little more money in their pockets. They're spending less money at the BP, and more money at the A&P.
Q. What feedback did you get on the policy front from this survey?
A. We asked some questions about infrastructure. We said, "Are there weaknesses to infrastructure? Did the state of infrastructure have an effect on your business?" Eight out of 10 said yes. A large majority said U.S. infrastructure needs improvement. About 44 percent of everybody said they would be willing to pay for that—bridges, highways, railroads, sewer systems in cities, modern municipal structures.
Q. Did you learn anything new about taxes?
A. Every businessperson always says they're too high. One of the things (about) the middle market is that tax complexity is actually written to benefit people who have firms on K Street. I liken the middle market to people who have only W-2 income and don't itemize, and so they can't play games about hiding money in Liechtenstein—they're only operating in Dayton. They also don't have big staff. So complexity is a good bread and butter issue.
Q. What about health care?
A. Well, we always hear about health care. We always hear about the overall cost of living. On health care, the light isn't glowing as bright red as it was, I think, because people are understanding the Affordable Care Act and health care costs are coming down a little.
---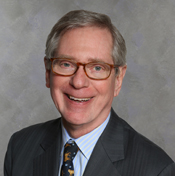 Tom Stewart is executive director of the National Center for the Middle Market.