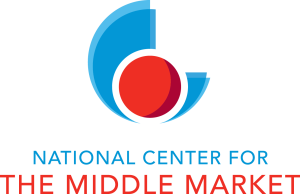 This article is brought to you by the National Center for the Middle Market.
---
American middle-market companies are setting the gold standard for national growth, reporting 5 percent revenue growth during the fourth quarter of 2013 and projecting 4 percent growth in the year ahead. These survey results, part of the National Center for the Middle Market's (NCMM) latest quarterly Middle Market Indicator (MMI), also reveal that mid-sized firms grew employment at a rate of 2.5 percent over the same time period.
The U.S. middle market, made up of businesses with revenue of $10 million to $1 billion, contributes one-third of non-government U.S. GDP and accounts for 44.5 million jobs, or one-third of total U.S. employment. With a projected employment growth rate of 2.2 percent in the year ahead, the middle market could add as many as 1 million jobs to the U.S. economy in 2014.
"The middle market continues to deliver consistently strong performance during both recessionary and growth periods of the overall economy. That this sector grew revenue five times greater than S&P 500 companies demonstrates the capacity of this agile sector to contribute to the broader economic recovery, but there is still work to be done. For starters, enduring uncertainty over federal policy must finally be addressed," says Dr. Anil Makhija, Academic Director at NCMM, a partnership of GE Capital and The Ohio State University Fisher College of Business.
Despite delivering consistently strong performance, there are indications that projected growth in 2014 may be impacted by a variety of factors. According to the MMI, the federal government is viewed as a barrier rather than an enabler of growth; 52 percent of mid-market executives believe that government uncertainty is stifling economic growth and 58 percent say federal policy uncertainty has impacted their business planning.
---
Doug Farren is Associate Director for the National Center for the Middle Market at The Ohio State University.