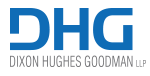 This article is brought to you by DHG Private Equity.
---
Amazon's launch a year ago of its Prime Air service seemed like something out of a William Gibson sci-fi novel. Shipping to consumers via aircraft drones? So we were startled to discover the identity of the company's recent partner to speed delivery this past Christmas: the U.S. Postal Service!
Turns out the paradigm of 21st century e-commerce sought out the symbol of mail's bygone era to help with Sunday shipping. Amazon also added seven additional sorting centers from which pre-boxed and labeled packages could be sent by truck to regional post offices.
Little did we suspect, when placing our last-minute pre-holiday Amazon order for hot pink ice skates for our 5-year-old daughter, who else was in the loop. In fact, it was the first time in its 240-year history that the post office was open for business on Sunday.
New and old players teaming up is just one twist in today's logistics environment. Moving boxes from point A to point B no longer happens in a straight line. Thanks to multiplex shopping options, manufacturers must follow customers wherever they order products—via stores, or online using tablets and phones.
---
Randy Schwimmer shares his perspectives in MidPoints each issue. A former member of senior management and investment committees for two leading middle-market debt platforms, he is also founder and publisher of The Lead Left, a weekly newsletter about deals and trends in the capital markets.