A bipartisan effort is underway to update compliance requirements for private equity funds in the U.S. House of Representatives. The move was designed and led by the Association for Corporate Growth to align federal reporting obligations for PE funds with private equity's specific investment model.
Reps. Robert Hurt, R-Va., and Juan Vargas, D-Calif., are taking the lead on drafting The Investment Advisers Modernization Act of 2016, which will eliminate some of broad-brush federal provisions applied to multiple classes of funds, while offering more clarity to other regulations that apply to private equity.
The legislation, which was reported in the Wall Street Journal on Monday, amends the longstanding Investment Advisers Act of 1940, which was created before the development of separate classes of private investment funds, including private equity, venture capital, hedge funds, real estate funds and others.
The House Financial Services Subcommittee on Capital Markets and Government Sponsored Enterprises held a legislative hearing on the draft legislation on Tuesday, May 17, at 2 p.m. EDT. ACG Private Equity Regulatory Task Force member Joshua Cherry-Seto, chief financial officer of Blue Wolf Capital, testified Tuesday on ACG's behalf.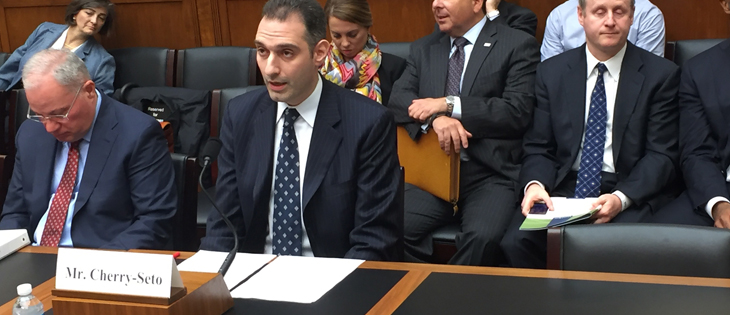 "Due to the 1940 Act's ambiguity, firms like ours spend many hours and significant dollars trying to comply with ill-fitting rules for our industry that don't further the intent to protect our investors, including spending investor resources on advisers and lawyers to try to interpret regulations not specifically written with our industry in mind," Cherry-Seto told the subcommittee.
Changes in the bill include updating Form PF to remove burdensome information about private equity funds' portfolio companies, eliminating provisions that should apply only to public companies, and modernizing the "books and records requirements" regulation, among others.
In meetings with House Financial Services members, ACG has noted the important need to modernize rules set decades ago and tailor compliance to the differences in size, structure and complexity of investment adviser firms.
"The bipartisan leadership of Reps. Hurt and Vargas will attract investment in middle-market companies that is critical to economic growth," said Gary A. LaBranche, president and CEO of ACG, adding the hearing examined "the complicated reporting requirements under the IAA and the need for changes to allow ACG members to focus on growing Main Street companies and the jobs that follow."
As a result of increased regulation under the Dodd-Frank Act, advisers of private funds with $150 million or more in assets under management must register with the SEC and comply with the reporting and compliance regime of the IAA.
The Wall Street Journal noted that the legislation would cause the SEC "to scale back certain reporting requirements for the funds. While the funds would continue to disclose basic information about their structure and investment strategies, they would be exempt from disclosing financial details about their underlying portfolio companies that the funds say is time consuming and burdensome to complete." //
Watch the archived webcast of the testimony: