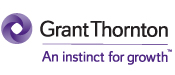 This article is brought to you by Grant Thornton.
---
A year ago, it felt like we were riding a runaway train toward the fiscal cliff, bracing for a crash that promised recession and unemployment. Congress avoided that disaster, only to return to the brink this fall with a federal shutdown. Yet despite lawmakers' best efforts to manage recovery, the engine of the United States—manufacturing—continues to motor along.
It's amazing, really. Even with the government shutdown in October 2013, unemployment stood at 7.3 percent, a drop from 7.9 percent in January—and from nearly 10 percent in October 2010.1 Manufacturing actually added jobs during the shutdown. I believe there's a good chance U.S. manufacturing will accelerate in 2014, further boosting profit—and job growth.
I know that others, including the Congressional Budget Office, are predicting tepid growth in 2014. And many executives are still cautious about their markets, customer demand, and the potential for the government to again cause havoc. But I also sense an ability to plan and put in place longer-term, growth-oriented strategies that have not existed in years. Even cautious business leaders are plotting a growth path rather than considering cost-cutting and retrenchment.
---
Wally Gruenes is National Managing Partner, Industries and Client Experience, for Grant Thornton LLP.